Good day! I am so excited that it is finally Fall. The leaves will start changing colors soon and it will be cooler so Trinket and I can play outside more. What is your favorite season? 
Fall also means that there are holidays coming up soon. My family started decorating for Fall and Halloween. Mama and my sister made us some costumes. They let me watch them make the costumes and some other crafts for the holidays.
They used stuff we had around the house to make new things out of them. My family likes to recycle and reuse stuff so it doesn't go to waste. It was fun to watch the pretty things my sister made.
She took an empty jar and glued colored tissue paper on it and made a candle holder. She put a fake candle in it to be safe though. It looks so cool in the dark.
We have lots of empty cans, so she used yarn and paper to wrap around them and made pencil holders out of them. She said they will make good gifts for the holidays.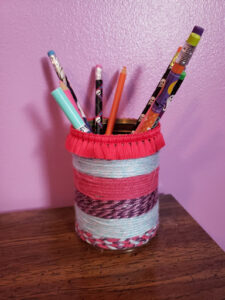 I didn't know you could make so many different things out of stuff just laying around the house. You just have to use your imagination and you can make just about anything.
Maybe you can find stuff to make at your house too. Make sure you have a grown-up with you when you do it. Some stuff, like scissors and hot glue can hurt you. You want to have a good time and be safe. 
I am going to go see what else we can make today. See you soon, friends!
P.S. Here are some good craft books you can find at the library if you need more ideas. Happy crafting!
"Earth Friendly Animal Crafts" by Veronica Thompson
"Upcycle Cast-Off Clothing" by Marcy Morin
"Upcycled Plastic Projects" by Marcy Morin
"Crafts From Junk" by Violaine Lamerand