By Connie Hocking Ι March 23, 2016
A recent display at the library asked patrons to tell of their favorite library
memory. Many mentioned their children and what a special place the library has been. I, too, enjoyed bringing my kids to the library, encouraging them to pick out books, reading to them and listening when they began reading on their own.
With each, I would check out "Hush Little Baby" by Aliki, singing the words and knowing they
wouldn't mind my less than perfect pitch. What would growing up be with no soft "Pat the Bunny" to touch, without "The Very Hungry Caterpillar" to turn into a butterfly or "Goodnight Moon" to end the day? They moved up to board books, easy readers and favorite serials, like Bunnicula and Babysitter
Club, biographies, Gary Paulsen adventures and all types of books on how things work. All three are still readers with wide and varied interests.
My granddaughter, Mia, was just a week old when her mother and I took her to the library in Southlake, Texas, and got her a card. She
loves to spend time at SPL when she comes to visit, gathering up bags full of books and videos. At age 9, she has moved on from the wonderful picture books like "Mr. Pusskins" and "No Kisses Please." She, too, has read the Bunnicula series, along with the Junie B Jones books and is working through Harry Potter. She read to me via FaceTime when her school read "Like Pickle Juice on a Cookie."
Although the picture book
days may be behind me, I still enjoy looking at those displayed in Youth Services. The imaginative illustrators who bring the words to life make each book its own work of art. There are covers that make you stop and take a second look. Books like "It Rained on the Desert Today," a beautiful watercolor of the Southwest. "Those Darn Squirrels!" tells me it will be a fun book where the squirrels probably come out ahead.
"Wild Child" sparks the imagination. "The Raft" makes me wish all children had the chance to spend some time in the wild. And "The Cats in Krasinski Square," because how can you not love cats! There are books with Salina connections. Look for "Together We Eat this Earth" by Kristen Van Tassel and illustrated by Priti Cox.
The summer I was 8, my parents, sisters and I went to Colorado on a family vacation. I had never been west of Hays so had questions about the mountains. One day, while riding with my dad, we talked about the trip. We were near the Co­op grain elevator at Cawker City, so I pointed to it and asked if the mountains were taller than that. I can still see his smile. Nothing, not even pictures in books, could prepare me for my first sight of the Rockies. Years later, when my daughter Jillian was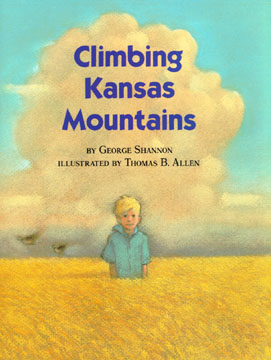 8, Thomas B. Allen came to Happy Corner School to give a talk. He had recently illustrated a book called "Climbing Kansas Mountains" by George Shannon. It was the story of a young boy, probably about 8 years old, who is taken to the top of a Kansas grain elevator by his father. They see the square sections of ground, just like the squares on the tablecloth in their dining room at home, but these squares were edged by roads instead of ribbon. The young boy could see his town, his Kansas, his whole world from that mountain filled with wheat. I felt like this book was written just for me, and it was an honor to have Mr. Allen sign my copy.
I have a children's book or two rattling around in my head. Maybe someday I'll find one of those wonderful artists who can take my words and transform them. Maybe we can make them go from thoughts and pictures in my brain to words and art on a page. Just maybe, someday, you'll be able check it out at the library.