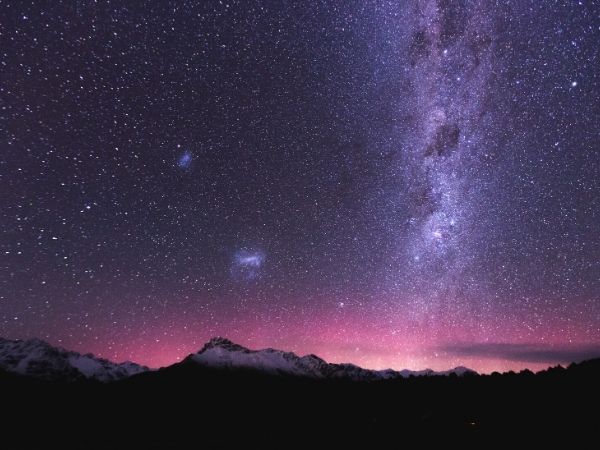 By Ashley Will | July 16, 2018
On Tuesday, July 17, an astronomy program will take place in the Prescott Room, presented by Dr. Dorothy Hanna, president of the Salina Astronomy Club. Personally, I have always been fascinated with the concept of space exploration and the universe beyond our planet Earth. I grew up watching "Star Trek" with my dad, "Star Trek Voyager" in particular. If you are not familiar with this show, Kathryn Janeway is the captain of a starship that is lost in space and must travel across an unexplored region of the galaxy to find its way back home. Salina Public Library has all seven seasons of "Star Trek Voyager" available to check out if you would like to travel with USS Voyager across the vast regions of outer space. 
This fictional television show inspired my interest in outer space as I dreamed of being an astronaut; visited the NASA Johnson Space Center in Houston on vacation; and asked for a telescope for my birthday. While I became a librarian rather than an astronaut, I am still very interested in learning all I can about outer space and still dream about being a crew member of a ship on Star Trek. The best part about my job is helping people, including helping people like you find resources to learn more. Several new books and films have been published about astronomy that Salina Public Library owns to check out, as well as many older titles.
Neil deGrasse Tyson is the director of Hayden Planetarium at the Rose
Center for Earth and Space in New York City. He has recently written a book, published in 2017, titled "Astrophysics for People in a Hurry". This book would be a great introduction to anybody who wants to start learning about topics from the Big Bang to black holes.
For breathtaking views of the universe, check out the new updated and expanded edition of "Hubble's Universe: Greatest Discoveries and Latest Images" that
was published last year. This book features more than 300 high-resolution photographs taken with the Hubble Space Telescope, including distant galaxies and new stars. Looking at these photos takes one's breath away — it does for me, anyway, as I, and perhaps you as well, contemplate how vast the universe is and how much more there is to the universe than humans on Earth.
Relevant to this week's program, our new book "Yearbook of Astronomy 2018" is a good resource to check out because it includes monthly sky charts
for 2018 and more — use this new book as you keep an eye on the night sky. Another book on our new bookshelf is "See it with a Small Telescope: 101 Cosmic Wonders Including Planets, Moons, Comets, Galaxies, Nebulae, Star Clusters and More" that will give you tips and tricks on how to use your telescope at home to observe the night sky.
In addition you can can check out two books released
in 2017: "101 Amazing Sights of the Night Sky: A Guided Tour for Beginners" that includes tips on viewing targets for people wanting to start a new hobby of looking into the night sky, as well as "Firefly Night Sky Atlas: The Moon, Planets, Stars and Deep Sky Objects" with maps to planet observations as well.
"El Libro de la Astronomía" is a new book from 2018 in Spanish that is in our Spanish book collection. This book has a beautiful cover as seen from our library catalog. Check out this new book that will tell you all about astronomy if you prefer to read in Spanish.
A new astronomy DVD in our collection published this year is "Black Hole Apocalypse" about the most powerful and mysterious objects in the universe, and a classic astronomy DVD collection is "Cosmos," presented by Carl Sagan.
This is just a small sample of the many books and DVDs that Salina Public Library owns to check out regarding astronomy.
As you learn about the night sky from our upcoming astronomy program and resources in our collection to check out, be sure to mark your calendar to watch the Perseid meteor shower. According to Space.com, "The meteor shower's peak will be visible both the nights of Aug. 11-12 and Aug. 12-13." Drive out of town to see as much sky as possible without any city lights — bring a blanket or chairs, snacks and bug spray; and relax. Let your eyes adjust to the dark, and you may see as much as a meteor a minute. This is a perfect opportunity to disconnect from electronic devices and connect instead with a friend or family member or to reflect alone, by watching the night sky on this special event or any other night to search for stars, planets and other celestial objects.