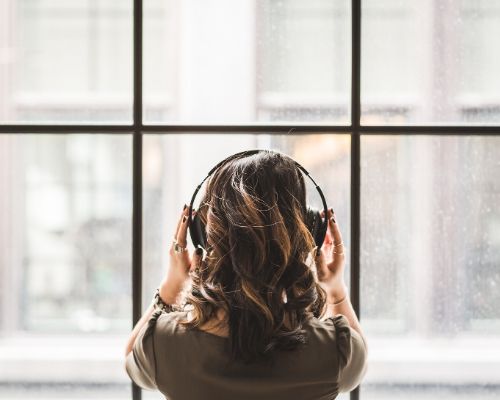 By Connie Hocking | Oct. 29, 2018
With more than 8,000 music CDs in our collection, there is no doubt a genre that will appeal to anyone who may want to kick back and listen to their favorite type of music. But have you ever thought of listening local? Try seeking out artists from the area who have a recorded CD in the SPL catalog.
Look for albums by Ann Zimmerman, USD 305 school board member as well as folk musician, in the CD781.642 section. Have you been to the Summer Reading reception? If so, you'll be familiar with the beautiful harp music of RoJean Loucks. We have six of her albums, and they can be found at CD784.2 Loucks.
Did you catch "Tuck Everlasting" at the Salina Community Theater last
spring? The lyricist for this wonderful work is Nathan Tysen, a graduate of Salina South High School. You can find the Broadway Cast album telling the musical story of Winnie Foster, the Tuck family and the Man in the Yellow Suit at CD782.14 Tuck. Nathan also wrote the lyrics for the musical adaptation of the movie "Amelie," which was also on Broadway. That cast recording is also in the 782.14 section, CD782.14 Amelie. (For all you trivia people — Phillipa Soo played the role of Amelie on Broadway. She also starred as Alexander Hamilton's wife, Eliza, in HAMILTON)
Last spring also brought the live TV broadcast of "Jesus Christ Superstar."
Salinan Adele Stein played the electric cello in that production. In case you missed it the first time around, there's a DVD of that performance (DVD 782.14 Jesus), and you can spot Adele on stage. And should you see another DVD with that same call number, it is a performance of "Jesus Christ Superstar" recorded over the Easter weekend in 2006 at the Stiefel Theater. It showcases the music brought to life by local bankers and lawyers, music teachers and yoga instructors, students and newspaper reporters. Salina is filled with talent!
Moving outside the 67401 zip code, but not too far out of the region, we'll find Deliberate Kin. This dynamic duo, Amanda and Al Reisenweber, live on a farm near Courtland and recently released their first album. They performed at Ad Astra just a few weeks ago as part of the First Friday festivities. You can find their CD at CD781.62 Deliberate. Great vocals and lots of energy.
One of my favorite acts at last summer's Smoky Hill River Festival was The
Skirts. These women are from the Emporia and Chase County area and have two albums out for our enjoyment. Find them at CD781.62 Skirts! Elexa Dawson, who wrote much of the music, is part of the Potawatomi Nation, and her songs speak of her experiences and that of those before her. The Skirts are also featured on a DVD, "Prairie Women: Engaging Women of the Flint Hills." Check it out at DVD978.1 Prairie.
My parents were musical people. Mom had a beautiful voice, singing at weddings and in the church choir. Dad played the guitar and was part of the Cottonwood Trio back in the 1940s and the DAL Trio in the '60s and '70s. My total musical talent consists of putting these CDs in a player and taking in the extraordinary sounds. Try listening local, and support the voices that are part of us.