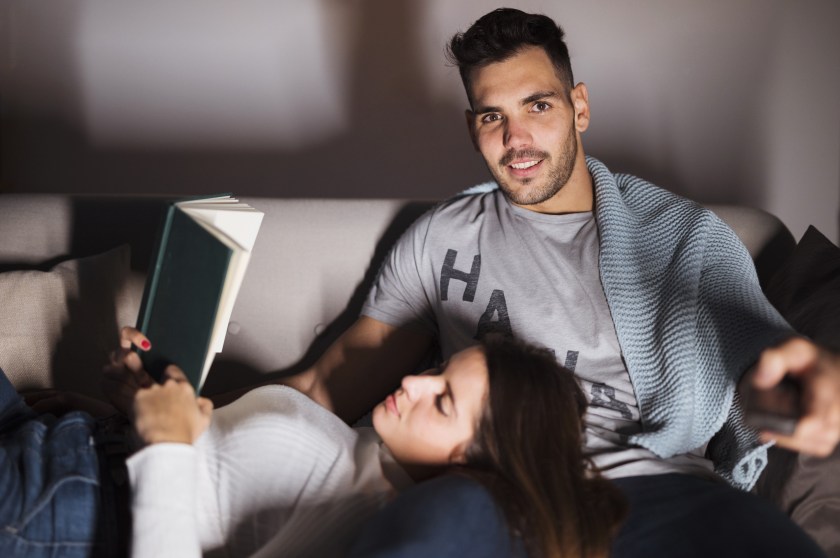 By Glory Benacka | Jan. 3, 2019
It finally happened during Christmas 2018. I found myself searching for family appropriate background TV. I never thought I'd be 'that person' looking for background noise for the guests. I like to think of myself as a more sophisticated media enthusiast. But, there I was, hosting Christmas in my new place and the stereo wasn't hooked up yet. Is that a good enough excuse, would Emily Post approve? As I browsed the streaming library, I came across "Puppies Crash Christmas." Yes, that's it. This was sure to fill in the conversation lulls with just the right amount of cute distraction and holiday cheer. I was apparently in good company because I found an entire series of "Season's Streamings" titles providing hours of holiday background video. Not only that, but this was an ALA (American Library Association) fundraiser! That made me feel less guilty and even a little classy.
Why is it that watching TV makes me feel so guilty? I grew up in the '80s and '90s at the height of MTV, Nickelodeon and cable television, partaking in hours of watching silly stories. But, I was also a proud member of the Babysitter's Club Book Club, a youth library card holder and read every night before bed throughout my childhood. Whether I was watching stories unravel during the latest TGIF episode or turning just one more page in a book as my eyelids drooped, I enjoyed all the stories, regardless of their format.
I believe we are currently amidst the second Golden Age of TV. TV shows have evolved out of the cable model, which limited content to what could be programmed between commercials, and developed into a powerful big-budget serial storytelling medium. Chances are you're in good company while binge-watching after work. You may have gathered that I am watching a lot of TV and have some embarrassment and guilt about it.
Matt Groening, creator of "The Simpsons" says, "I grew up completely overwhelmed by TV, and part of the reason why I have gone into television is as a way to justify to myself all those wasted hours of watching TV as a kid. I can now look back and say, 'Oh, that was research.'" Yes, research! That's exactly what I've been doing too all these years…
Note that Groening also mentions feeling overwhelmed and wasting time. But, I love stories and storytelling, in all of its forms. Everything in moderation. So my 2019 reading resolution is two-fold. I want to read more and watch less, but I also want to stop feeling guilty about enjoying the peak of TV. I loved Puppies Crash Christmas and that doesn't have to compete with my love of puppies in real life nor reading books about puppies. So instead of pitting two storytelling mediums against one another, I will rebalance the scales. I will start reading before I fall asleep again, so I can get through more books regularly. I also vow to be more selective with my TV choices and throw some books into the recreational mix. I can also commit to reading for the same amount of time I watch TV.
Follow the addition of new items (DVDs, books, audiobooks, ebooks and digital audiobooks) weekly to Salina Public Library's collection through Wowbrary. Wowbrary links are available through the library's website, Saturday's on social media or subscribe to their weekly email. Place a hold on a new item and be the first to enjoy the stories within!
P.S. Background TV doesn't count in this equation.