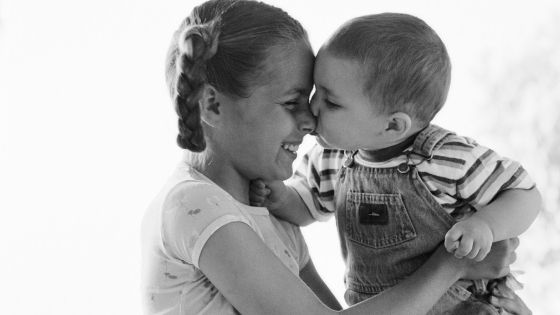 By Ashley Will | Feb. 25, 2019
This week is my brother's birthday, but since we are many miles apart, it has been a while since I have celebrated his birthday with him. I wish I could this week, but he is in busy with school in California, and I am in Kansas. As my card is on the way to him with birthday wishes, my thoughts are on brothers or siblings in general.
When I was in first grade, my mom brought my baby brother to school for my turn at show and tell. I was quite excited to have a little brother.
As we became older, we enjoyed playing video games together, such as Halo on Xbox . This was, and still is, a great game to play with others because you can play cooperatively at the same time with a controller for each player. It was a lot of fun for my brother and me to work through each level together, destroying enemy aliens. Sometimes one of us drove a vehicle to get to the next area, and the other person defended us, shooting enemy aliens who came toward our vehicle. I would recommend this game, which is now available on Xbox One, to play with a brother or someone who feels like a brother to you.
As time went on, we enjoyed seeing movies together, and I am proud to say that he has become an avid reader. Salina Public Library has many books and movies about siblings. There are multiple books about traveling with a brother and the growth that came with the journey. Prominent author Nicholas Sparks wrote a memoir about a trip that he and his brother took around the world titled "Three Weeks With My Brother." Their lives have been full of loss and love, and this trip helped them heal and rediscover themselves. If you are a fan of Nicholas Sparks' novels, you may want to read about his personal life too.
Another memoir book about a trip composed of brothers is "Honeymoon With My Brother" written by Franz Wisner. This book is about a man who is about to get married, but his fiancee calls off the wedding. Rather than drown in misery, the author uses his planned honeymoon expenses to go on a trip with his brother instead, The sibling travel the world together for a couple years. During the trip, their brotherly relationship is rekindled.
"A Blessing Over Ashes: The Remarkable Odyssey of My Unlikely Brother" by Adam Fifield is a memoir about his adopted brother, Soeuth, from Cambodia. Adam and Soeuth journey to Cambodia to meet the family Soeuth once thought dead. While Soeuth is on a quest to reunite with his biological brothers, he grows closer to Adam.
A book, other than a memoir, that caught my eye is "The Barefoot Book of Brother and Sister Tales" which is a collection of folk stories, retold by Mary Hoffman, including the familiar "Hansel and Gretel." The stories showcase siblings' loyalty and devotion to each other. Check this book out to read tales from around the world of siblings and overcoming peril.
If you want to read a book to understand sibling bonds and how to make them more positive and fulfilling, you may want to check out "Brothers & Sisters: How They Shape Our Lives" by Jane Mersky Leder. In it you will learn to understand the sibling bond from childhood to old age.
Another book about the bonds between siblings is "The Sibling Effect: What the Bonds Among Brothers and Sisters Reveal About Us" by Jeffrey Kluger. In this book, the author explains the importance of siblings in our lives. It examines birth order, ongoing twin studies, genetic encoding of behavioral traits, how emotional disorders can affect and be affected by sibling relationships, and more. Learn more about siblings, which may the longest-lasting relationships we have in our lives.
Although fictional, "The Chronicles of Narnia: The Lion, the Witch and the Wardrobe" is a great book, as well as movie, that focuses on siblings, as two sisters and two brothers encounter a land beyond a wardrobe door. The tales of these siblings continue in subsequent volumes of the series.
Another children's book series about siblings is the 39 Clues series. In this series, siblings Amy and Dan, members of the powerful Cahill family, try to uncover the 39 clues which will reveal the secrets of their lineage and find out what really happened to their parents. The first one in the series is titled "The Maze of Bones"; this one and several others are available to read.
If those interest you, check those titles out from Salina Public Library with your library card! Read or watch about the close bond that a brother can have with a person. Whether or not you have a brother of your own, one of these tales may become a new favorite.