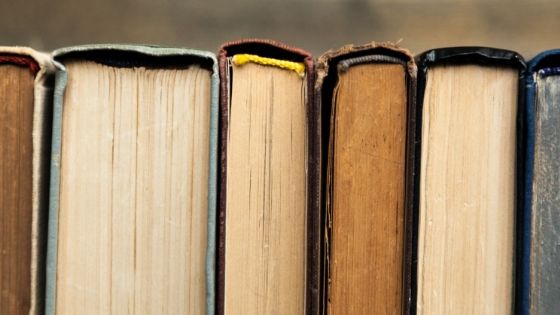 If you're like me you've read a good number of books over the years. Most of those books, while enjoyable, have faded from my memory. Calling up authors' names or titles can be a study in frantic googling, head-scratching and defeat. There are only a handful of books that have stuck with me so that I find myself reliving a scene or recalling how the story sucked me in. This is actually why I read — I'm always looking for the book that will stick.
Here are the five books that have stuck with me, in no particular order. I've been thinking about a couple of them since childhood!
"My Name is Asher Lev" by Chaim Potok.
This was a reading assignment in a college English class in 1977. I dreaded reading it but was soon caught up in the story of a boy named Asher Lev and how his natural artistic talent and need to create smacks up against his family's Hasidic Jewish conservatism and traditions.  At that point in my life, I was taking art classes and, while I was no Picasso, I was in awe of Asher's talent. The author's way of describing artwork was spot on. Asher Lev grows up over the course of the book and must make his own decisions concerning his paintings and his religion.
2.  "Wuthering Heights" by Emily Brontë
Unlike most people, I didn't read this one until I was an adult. It was a friend's favorite book, and she told me I must read it. I quickly adapted to the writing style, and was wowed by the passion that teemed throughout the story. Every emotion was over the top, and yet made so much sense. The lesson here is don't discount a book just because it's a classic! It's a classic for a reason.
3. "Station Eleven" by Emily St. John Mandel
In 2015 the committee charged with picking the library's Salina Reads book snapped this one up. It is a very discussable book and one that makes you think. What would you do if a flu virus wiped out 99% of the world's population in a matter of days? We follow several characters through the new version of the world and see how something of this magnitude can affect people in very different ways. A traveling theater group puts on Shakespeare plays and musical acts "because survival is insufficient." The story sounds bleak, but it's full of heart and hope.
4. "Johnny Tremain" by Esther Forbes
This is the very first book that stuck with me. I read this book in second or third grade as a reading assignment. It was the first time I registered the use of suspense in a story, in making the reader follow along behind the author in finding out how conflict is solved. Of course, I didn't think that at the time. I just thought it was a really good story. I also have maintained a fascination with all thing Revolutionary War because of this book. Not long ago I found a used copy of "Johnny Tremain" and bought it for myself.
5. "The Velvet Room" by Zilpha Keatley Snyder
I read this book around fifth grade, I'd say. First, I was drawn to the cover which featured a room all done up in red velvet. Second, the main character was a girl about my age who was feeling all the constraints of being a member of a poor family during the depression. She also wanted to escape her siblings and have some peace and quiet, and did that quite often by wandering off to explore. The family moves to a ranch where Robin's dad takes a permanent job, and it is there Robin discovers the velvet room and claims it for herself. It's a place where she can dream, take on her fears and essentially feel all the feels a 10-year-old girl possesses.