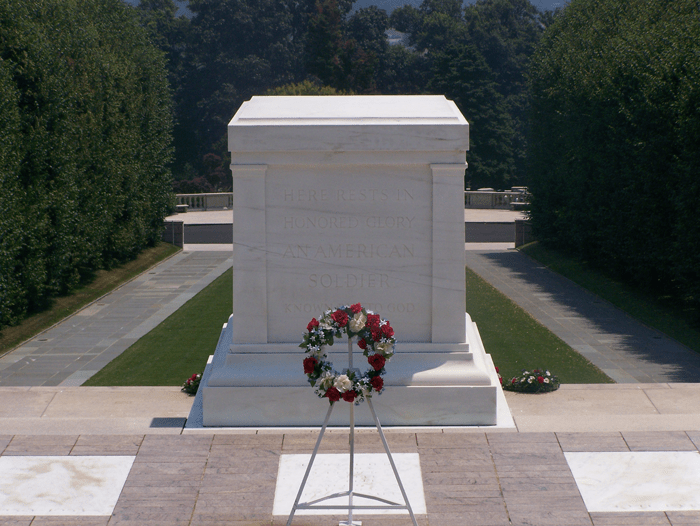 Tomorrow is Memorial Day: Maybe you have the day off or maybe you are working today, but either way, it is a day to visit cemeteries and think of loved ones who have died while serving in the United States Armed Forces.
You can learn about Memorial Day by accessing Britannica Online, provided by the State Library of Kansas. Britannica Online Academic Education, Britannica Online Public Library Edition, and Britannica Online School Edition can all teach you about Memorial Day, with varying reading levels, from children to adults.
Memorial Day is formerly known as Decoration Day, originating during the Civil War when citizens placed flowers on the graves of those who had been killed in battle.
According to the Britannica Online, three women in Boalsburg, Penn., are said to have decorated the graves of loved ones who died during the Civil War in October 1864 and then returned in July 1865 accompanied by many of their fellow citizens for a more general commemoration. That same year, a large observance, primarily involving African-Americans, is said to have taken place in May 1865 in Charleston, S.C.
In addition, in 1866, Columbus, Miss., hosted a formal observance for Union and Confederate soldiers, who had died during the recent war. Waterloo, N.Y., was also said to be the birthplace of Memorial Day in 1866. No matter where the birthplace of Memorial Day actually was, it is clear that people in various parts of the country were remembering soldiers who had died during the Civil War and doing something special in their honor.
In 1868 John A. Logan, the commander in chief of the Grand Army of the Republic, an organization of Union veterans, promoted a national holiday on May 30 "for the purpose of strewing with flowers or otherwise decorating the graves of comrades who died in defense of their country during the late rebellion."
Decoration Day became known as Memorial Day after World War I. Rather than a day to decorate the graves of Civil War soldiers, the day became a day to honor those who had died in all U.S. wars. According to the Arlington National Cemetery website, on Memorial Day in 1921, four unknown soldiers were exhumed from four World War I American cemeteries in France. Memorial Day is observed with the laying of a wreath at the Tomb of the Unknown Soldier in Arlington National Cemetery in Arlington, Va., and by religious services, parades and speeches nationwide.
You can read more about the Tomb of the Unknown Soldier in the book "The Unknowns: The Untold Story of America's Unknown Soldier and WWI's Most Decorated Heroes Who Brought Him Home" by Patrick O'Donnell.
Since 1971, Memorial Day has been observed on the last Monday in May.
Flags, flowers and other decorations are placed on the graves of veterans in local cemeteries.
In addition to the previously mentioned book and databases, Salina Public Library has several more books to read to learn about Memorial Day and to honor soldiers who have fallen in battle.
There are multiple books targeted to children about Memorial Day available to check out at Salina Public Library. These books, which are easy for children to read, include crafts, recipes, facts, history, lots of pictures, a glossary and much more, including a quiz to see if readers remember what they learned.
In addition to children's books, there are several other books to check out in honor of Memorial Day. "Red, White, and Blue Letter Days: An American Calendar" by Matthew Dennis explains various American holidays, including Memorial Day. Drawings and photographs regarding Memorial Day are also included.
A couple of books about fallen soldiers are "Brothers Forever: The Enduring Bond Between a Marine and a Navy SEAL That Transcended Their Ultimate Sacrifice" by Tom Sileo and Colonel Tom Manion, and "Peace Mom: A Mother's Journey Through Heartache to Activism" by Cindy Sheehan.
"Brothers Forever" is about best friends and roommates, U.S. Marine Travis Manion and U.S. Navy SEAL Brendan Looney, who were killed three years apart, one in Iraq and one in Afghanistan. President Obama commemorated the two young men in his Memorial Day address in 2011 in Arlington Cemetery by saying: "The friendship between First Lieutenant Travis Manion and Lieutenant Brendan Looney reflects the meaning of Memorial Day: brotherhood, sacrifice, love of country."
"Peace Mom" is about a mother who learns that her son has been killed in Iraq while serving in the U.S. Army. Cindy Sheehan's grief spurs her on to a path to become an activist for peace and justice in the world.
"Children of the Dust: An Okie Family Story" by Betty Grant Henshaw tells about a family's life as they traveled from Oklahoma to California. The reader learns how the family spent their time, including on Memorial Day.
The day has also come to signal the beginning of summer in the United States with families going camping and for picnic.
In "Happy Holidays From the Diva of Do-Ahead: A Year of Feasts to Celebrate with Family and Friends" by Diane Phillips, you'll find a section with suggested recipes to prepare on Memorial Day as well as a list of non-food essentials for a picnic, such as sunscreen, insect repellant, and a blanket. These delicious sounding recipes for a special Memorial Day picnic include watermelon lemonade; white gazpacho with avocado corn relish; tuna Nicoise sandwich;  shrimply deviled eggs; layered picnic chicken caesar salad; orange, red grapefruit, and mozzarella salad; mocha-cream cheese brownies; and lime pound cake with fresh lime glaze and strawberries. Yum!
Perhaps try one or several of those recipes while on a picnic today or anytime during this summer. Enjoy the holiday today, while also remembering its purpose to remember those who have died while serving in the United States military.