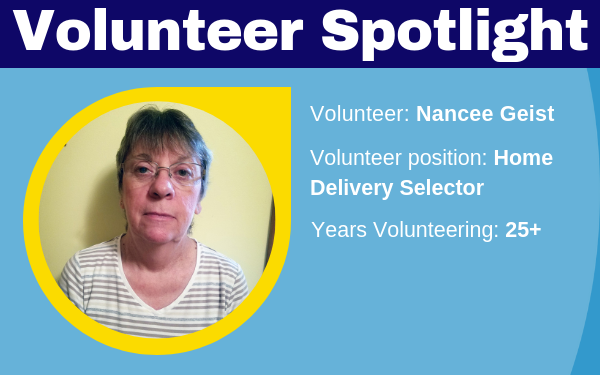 Editor's Note: Last month, the library benefited from 340 volunteer hours! It is not a stretch to say that some programs and services would not be possible without the help of volunteers. In recognition of this work, we'll highlight these generous community members with a Volunteer Spotlight.
Volunteer: Nancee Geist
Volunteer position: Home Delivery Selector
How long have you been volunteering?
Over 25 years — no one, including me, really knows the exact number of years I've been doing this. I have worked for a couple of Home Delivery supervisors over the years, and we've figured out it's probably a bit over 25 years.
(Note: Nancee has the distinction of being our library volunteer with the most years of continuous service.)
What does your volunteer work entail?
Selecting books for homebound patrons each month. Patrons say what types of books they want and I do my best to find books that fit their preferences.
What do you enjoy about this work?
Being able to help people to continue their reading enjoyment. And a nice perk is that it's a great way to find books for me, too!
Why did you decide to volunteer for the library?
I love to read and like helping people, and both of those things came together in selecting books for the Home Delivery service. It must be a good fit since I've done it for so long!
What books are you reading?
"The Night Before" by Wendy Walker
"Cemetery Road" by Greg Iles
"Furious Hours" by Casey Cep