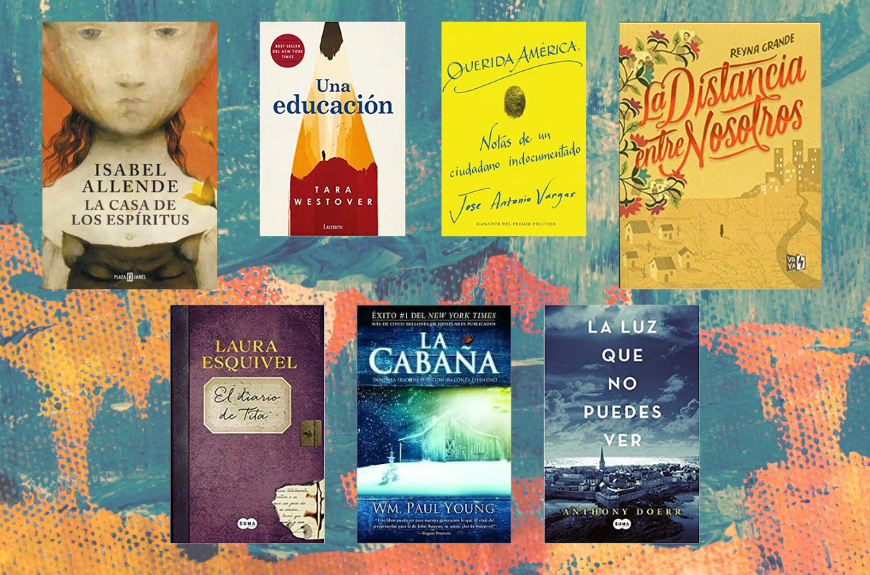 Editor's note: Guest Blogger Elisheva Diaz, Salina Public Library Information Services Assistant, contributed to this article.
¿Sabías que la Biblioteca Pública de Salina es bilingüe? Nuestra collección incluye materiales en Español. Ya sea que estes estudiando Español o sea tu lengua materna, hemos incluido unas ¡hemos incluído unas recomendaciones para ti!
Did you know that Salina Public Library is bilingual? Our collection includes materials in Spanish. Whether you are a native speaker or student of Spanish, we've put together these library recommendations for you!
Recomendaciones en Español de la Biblioteca
5 Libros en Español que recomendamos / Top 5 Spanish Book Picks
1. Querida América: Notas de un Ciudadano Indocumentado de  Jose Antonio Vargas
2. La Distancia Entre Nosotros de Reyna Grande
3. El Diario de Tita de Laura Esquivel
4. La Casa de los Espirtus de Isabel Allende
5. Una educacion de Tara Westover
5 Audiolibros en Español que recomendamos / Top 5 Spanish Audiobooks
1. Amiga Deja de Disculparte de Rachel Hollis (Hoopla)
2. El Código Da Vinci de Dan Brown (CDs en Salina Public Library  / Sunflower eLibrary)
3. La Casa de los Espíritus de Isabel Allende (Sunflower eLibrary)
4. La Cabaña de WM. Paul Young (Sunflower eLibrary / Hoopla)
5. La Luz que no Puedes Ver de Anthony Doerr (Sólo Sunflower eLibrary)
5 Películas en Español que recomendamos / Top 5 Spanish Movie Picks
1. Todos lo Saben (Everybody knows)
2. La Habitación  (Tales of México)
3. El Laberinto del Fauno (Pan's Labyrinth)
4. La Cara Oculta (The hidden face)
5. El Secreto de sus Ojos (The secret in their eyes)
Las credenciales de la Biblioteca son gratuitas, para obtener una, necesitas una identificación con fotografía puede ser una licencia, una tarjeta consular, una credencial de elector, credencial de estudiante, pasaporte, etc.  y un comprobante de domicilio, un recibo de agua o luz, una carta que te haya llegado a tu casa.
¡Todos son bienvenidos!
*Recepción de la exposición de fotografías del 50 Aniversario del aterrizaje en la Luna de la misión Apollo 11, en la galería 708, el 18 de Julio de 4 a 6 p.m. Después de la recepción quedate a ver la película "El primer Hombre en la Luna" en la Sala Prescott inicia a las 6 p.m. Habrá bocadillos.
*Disfruta de una muestra de Ballet por la escuela Tamara Howe el 18 de Julio afuera de la biblioteca en el área verde de la Plaza Caldwell
*Ven a las historias semanales infantiles para niños de 3 a 5 años. Revisa nuestro calendario para que escojas la fecha y el horario que mas te convenga.