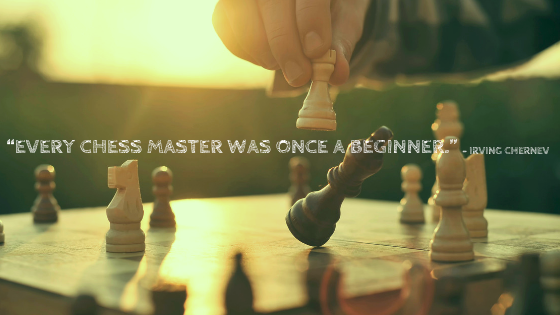 There are many reasons chess has enjoyed staying power worldwide through the centuries, most notably the possibilities within the game are endless. Though modern times have brought a proliferation of exotic video gaming options, there is perennial value to be found in the classics. Perhaps you're growing tired of charging batteries? What if you could play a game outside, in the sunshine, on a nice day in the park? Maybe you're looking for a new hobby to share with family and friends in real life? Chess is an affordable lifetime hobby that easily spans languages, locations, economics and generations.
Want to learn the basics chess?
Join other beginners on Tuesday, Sept. 3, 6-8:30 p.m. for Introduction to Chess class at the library's McKenzie Center. This introductory one-time class will be co-taught by Dwight Ford, president of the Anatoly Karpov School of Chess in Lindsborg, and Glenn Gustitus, president of the Salina Area Chess Club. Learn the basics of gameplay, pieces and their movements. The class will conclude with a battle against a partner. Register by Aug. 27; the class fee is $10 per person.
Ready to hone your chess skills?
You know the basics, but practice makes perfect, right? Join other local chess enthusiasts for Chess Club Series 1, Tuesdays, Sept. 10-Oct. 8, 6-7:30 p.m. at the McKenzie Center for $15. Each week players will be supported with handouts and encouraged to use a new strategy during club gameplay. Chess club resumes in Series 2 after a short break on Tuesdays, Oct. 22-Nov. 19, 6-7:30 p.m. Chess Club is a great opportunity to have fun learning and playing with all kinds of players. Register with friends and family for some screenless social time together. Consider this an hour and a half of weekly mental exercise this fall!
Could the Midwest be an up and coming chess hub?
Many experts say that American enthusiasm for chess peaked during Bobby Fischer's epic games of the 1970s. Though, recently bright upcoming American Grandmasters have brought new enthusiasm to the game. Included in the list of current top 10 chess players in the world are 3 Americans — Hikaru Nakamura, Fabiano Caruana and Wesley So. Their competitive skills have put the U.S. back into the international chess fray. And though New York City has been a popular epicenter of American chess, businessman and entrepreneur Rex Sinquefield began and sponsors the Sinquefield Cup tournament in St. Louis. The 2019 Sinquefield Cup is an elite tournament drawing grandmasters from around the world who will compete Aug. 15-29, 2019 for a $325,000 prize fund!
Looking for some chess drama, history or inspiration to enjoy?
Our top 10 chess checkouts at Salina Public Library include the following:
The Dark Horse 2016 (DVD) — In this inspiring drama based on actual events, Cliff Curtis plays Genesis Potini, a Maori speed-chess champion from New Zealand who suffers from bipolar disorder. Searching for meaning in his life, Potini decides to mentor disadvantaged children at the Eastern Knights chess club; through his work there, he finds an escape from his demons and the youths obtain the confidence they need to compete against their more privileged opponents.
Pawn Sacrifice 2015 (DVD) — In a gripping true story set during the height of the Cold War, American chess prodigy Bobby Fischer finds himself caught between two superpowers when he challenges the Soviet Empire. It chronicles Fischer's terrifying struggles with genius and madness, and the rise and fall of a kid from Brooklyn who captured the imagination of the world.
Birth of the Chess Queen: A History by Marilyn Yalom 2004 (Book) — Everyone knows that the queen is the most powerful piece in chess, but few people know that the game existed for 500 years without her. In India, Persia, and the Arab lands, where the game was first played, a general, or vizier (chief counselor to the king), occupied the square where the queen now stands. Not until the year 1000, two hundred years after Arab conquerors brought chess to southern Europe, did a chess queen appear on the board. Initially, she was the weakest piece, moving only one square at a time on the diagonal, yet by 1497, during the reign of Isabella of Castile, the chess queen had become the formidable force she is today. Illustrated with beautiful art throughout, this book takes a fresh look at the politics and culture of medieval Europe, the institution of queenship, and the reflections of royal power in the figure of the chess queen.
Queen of Katwe by Tim Crothers 2016 (This story is available in multiple formats including audiobook, ebook and DVD at Salina Public Library ) — The astonishing true story of Phiona Mutesi, a teenager from the slums of Kampala, Uganda, who, inspired by an unlikely mentor — a war refugee turned missionary — becomes an international chess champion. Now a major motion picture starring Academy Award winner Lupita Nyong'o and David Oyelowo, directed by Mira Nair. 
A History of Chess by Jerzy Gizycki 1972 (Book) — Originally published in Polish in 1960, this book is quintessential for those interested in the long history of chess. Perhaps the most internationally popular pastime, Gizycki aims to entertain and enlighten you on the many places the game has journeyed throughout history. Full of beautiful illustrations in full color throughout.
Magnus 2017 (DVD) — Norwegian documentary filmmaker Benjamin Ree profiles Magnus Carlsen, tracing his journey from a bullied, introverted 13-year-old boy to a World Chess Champion. The use of home movies and archival footage reveals a unique coming-of-age story combined with a narrative about a boy determined to succeed in his chosen field.
The Mathematics of Games and Puzzles From Cards to Sudoku Great Courses 2013 (DVD) — This course takes a mathematical approach to playing games and solving puzzles. In this course, you will be introduced to all kinds of games, from games of pure strategy (like chess) to games of pure luck (like many casino games) to games that mix strategy and luck (like blackjack, backgammon and poker). You will analyze puzzles that have stumped people for centuries to modern favorites like sudoku and Rubik's Cube. You will improve your ability to play these games and solve these puzzles, but you will also learn some interesting mathematics along the way.
How Life Imitates Chess by Garry Kasparov 2007 (Book) — One of the most highly regarded strategists of our time teaches us how the tools that made him a world chess champion can make us more successful in business and in life. With candor, wisdom and humor, Kasparov recounts his victories and his blunders, both from his years as a world-class competitor as well as his new life as a political leader in Russia. An inspiring book that combines unique strategic insight with personal memoir, "How Life Imitates Chess" is a glimpse inside the mind of one of today's greatest and most innovative thinkers.
Grandmasters of Chess by Harold Schonberg 1973 (Book) — Chess and eccentric characters seem to go hand in hand. The grandmasters of chess are a strange and fascinating group of men. "This charming history of modern chess will not be surpassed in our time … Mr. Schonberg has given us a playful, musical, haunting account of huge, often irresponsible, unsociable animals who have devoted their lives to thinking that is pure as snow." — Kurt Vonnegut