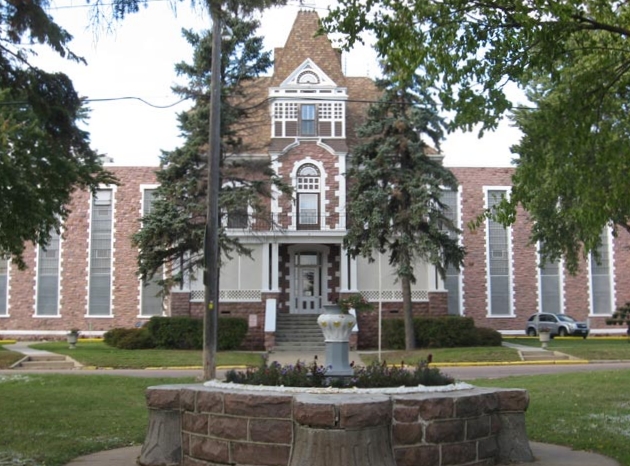 Recently I returned from vacation visiting family in South Dakota, including my brother-in-law, currently an inmate at South Dakota State Penitentiary. I asked him about the library at the prison he was at and we talked about books in general. While he is serving his time, books are a solace to him. This can be true for inmates anywhere. Some people may think, "Why should inmates read if they are being punished?" The organization Books Through Bars explains: Years spent behind bars deprive people of formal education and job experience, even though most will eventually reintegrate. Books allow inmates to improve their literacy skills, knowledge, self-confidence and more. Like many others, prisoners want an education, a job and simply a good book to read to cure boredom.
I have sent books to my brother-in-law while he is serving his sentence. Since he likes fantasy, I sent him "The Name of the Wind" and "The Wise Man's Fear" by Patrick Rothfuss, as well as "Ready Player One" by Ernest Cline. And my husband has sent him a few Japanese light novels.
If you want to send books to prisons, you should know that each facility has its own guidelines. For example, at the South Dakota State Penitentiary, books must be paperback, new and sent directly from the publisher or company such as Amazon. Some prisons have restrictions on books' content. However, there doesn't seem to be a lot of content censorship at South Dakota as my husband and I have successfully sent fantasy books with violence and suggestive covers.
In addition to receiving books in the mail, any prison that I know of has a library. Some may have a master's degree-level librarian working at the prison library. The American Library Association asserts a compelling public interest in the preservation of intellectual freedom for individuals of any age held in jails, prisons, detention facilities, juvenile facilities, immigration facilities, prison work camps and segregated units within any facility, whether public or private.
Unfortunately, not all correctional facilities have librarians to order books and manage the collection. Instead, they rely on donations, with inmates working in the library. This is how my brother-in-law described the library available to him. Although stocked by donations, the content in the library seemed decent despite not having much newer material. Just like Salina Public Library, a patron of the prison library has a few weeks to read a book before it is due. If it is late, the inmates receive a notice to return the book. If the book is still not returned after a period of time, someone will search for the book in the inmate's cell.
My brother-in-law explained the various sections in his library. He said that there used to be a law section, but the physical law books were replaced with law resources on a tablet. There is an educational section, self-help section, other nonfiction and fiction, which is separated into genres such as fantasy. My brother-in-law said it can be frustrating when he wants to read a book in a series but it isn't there; perhaps it is checked out or it's not in the collection. This frustration happens to Salina Public Library patrons, too, though! He is currently waiting for one of the Game of Thrones books to be available.
The same types of books that are very popular at Salina Public Library are very popular in prisons too. Books Through Bars, a nonprofit in Pennsylvania, has a list of books always needed from true crime to investing to paganism to automotive books to manga, topics you or your friends may also be interested in. Another popular request is dictionaries. My brother-in-law wished he had a dictionary to be a better speller. A dictionary can also be helpful when encountering an unfamiliar word in a book. Unlike you and me, inmates do not have access to the Internet to ask Google the meaning and spelling of words.
Not every prison library has what every inmate would like to read. Fortunately for inmates in Kansas, interlibrary loan comes to the rescue via Salina Public Library. In addition, Salina Public Library patrons can request books that it does not have but some correctional facilities do have. You can browse the Kansas Library Catalog, and you may notice some titles that have the name of a correctional facility listed as owning a particular title.
Salina Public Library's Interlibrary Loan Coordinator, Connie Hocking explains, "We do interlibrary loan with Kansas correctional facilities. Ellsworth, Norton and El Dorado correctional facilities are all on courier, and we ship to them fairly often. We have also borrowed books from them. We also send to Hutchinson correctional facility, but they are not on courier so items go through the United States Postal Services. At one time, we also lent to a correctional facility in Topeka but haven't had any requests from them for several years." Salina Public Library's mission of "connecting people to information, learning and culture" also applies to inmates.
Salina Public Library has a few books about books in prisons that may be worth your time reading. I have read "The Sun Does Shine: How I Found Life and Freedom on Death Row" by Anthony Ray Hinton, which is the true story of a black man from Alabama wrongfully convicted of murder, who is sent to death row. While on death row, the author used his time to create a book club for death row inmates. No matter what crime was committed, each inmate learned something new about themselves and others as they read and discussed. I learned about the book when I read a passage online, and I was awestruck by the emotional connections that each inmate drew from reading for the book club, cementing in my mind how important reading was for inmates. I would highly recommend that you check out this one out.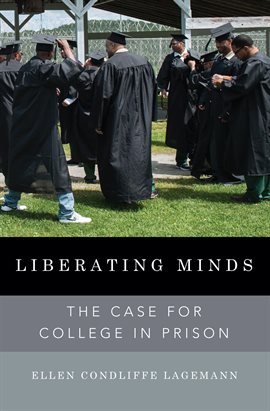 Related to reading is education. On Hoopla you can check out a book titled "Liberating Minds: The Case for College in Prison" by Ellen Condliffe Lagemann. This book is about how college-in-prison programs have been shown to greatly reduce recidivism; increase post-prison employment, allowing the formerly incarcerated to better support their families and to reintegrate successfully into their communities; and decrease violence within prisons, improving conditions for both correction officers and the incarcerated. The author illustrates her point by sharing stories from formerly incarcerated college students.
A title that Salina Public Library owns via Hoopla, both in ebook and digital audiobook formats, is "The Maximum Security Book Club: Reading Literature in a Men's Prison" by Mikita Brottman. The author, on sabbatical from teaching literature to undergraduates and wanting to educate a different kind of student, starts a book club with a group of convicts from the Jessup Correctional Institution in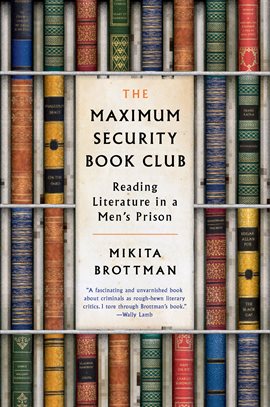 Maryland. She assigns them 10 challenging classics and the convicts discuss them. The book's synopsis says, "Gradually, the inmates open up about their lives and families, their disastrous choices, their guilt and loss." It sounds intriguing learning how inmates backgrounds influence how they decipher dark classics from Shakespeare, Edgar Allen Poe, and more. This is definitely going on my to-read list. 
As you partake in your next book club discussion or read any book, pause and think about how that book may stimulate the mind of an inmate and or decrease their chance of returning to prison after their release. Inmates may enjoy the same books that you do. Perhaps even donate a book or two to an inmate or to a library in a correctional facility. Donations are often appreciated since many prisons do not have excessive funds to order new books if they even have a book budget at all.
Other than working and routine daily activities, reading is the best pastime for anyone imprisoned or not. It is good to remember that reading is important for inmates, especially to keep them out of trouble as they are enjoying a great book and to keep them intellectually stimulated, from education in nonfiction to escapism in fiction as life outside bars becomes closer with each passing day.