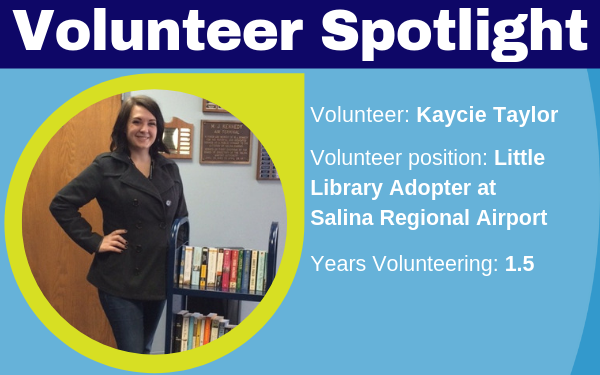 Name: Kaycie Taylor
Volunteer position: Little Library Adopter at the Salina Regional Airport
How long have you been volunteering? Since April 2018
What does your volunteer work entail? I typically straighten up the books and pick up more books from the library when we run low
What do you enjoy about this work? I love being able to go through the little library book selection and picking my favorites and some that I have never read before.  (I know they say not to judge a book by its cover, but sometimes there are some really interesting looking covers!) It's always fun to be able to introduce people traveling through the airport to new and great books!
Why did you decide to volunteer for the library? I already work at the Airport, so it was fairly simple to step in and take over and it gives me an excuse to get to the library more often.

What books are you reading? I have two girls ages 5 and 3, so I don't have much time to read, but I definitely squeeze as much reading in as possible and listen to audiobooks when I don't have time to sit down and read. I love that my Kindle allows me to listen when I can't read and pick up reading when I do have time. Being able to check out digital books through the library saves me TONS! I recently finished reading/listening to the Red Rising series by Pierce Brown for the second time and haven't had the chance to start on something new, but you can usually find me with my nose in a sci-fi, mystery or fantasy novel! My Goodreads want-to-read list is entirely too long!