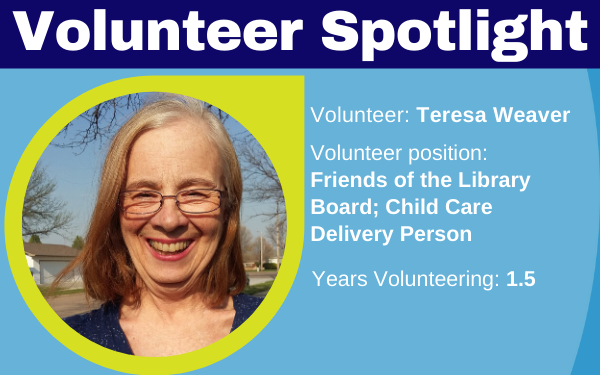 Volunteer position(s):   
I'm a member of the Friends of the Library Board. I also deliver books once a month to child care centers through the Child Care Delivery program.
How long have you been volunteering?    
About a year and a half.
What does your volunteer work entail?
The Friends of the Library organization supports our public library through fundraising, volunteering and activity sponsorships. For example, the Friends organize two book sales per year; these are significant fundraisers. I have not been a board member very long, but it was my privilege to help out with the October book sale. Lots of work, but lots of fun! 
The Child Care Delivery program gets books to child care providers so the children in their care can enjoy a rotating collection of age-appropriate books. It makes life easier for the providers and exposes the children to books.
What do you enjoy about this work?  I enjoy being around books (they even have their own unique smell!) and I love to read. Also, I have met and gotten to know several wonderful people through my involvement with the board — board members, Friends of the Library members, and library employees.  I loved working at the book sale — our "customers" consisted of lots of interesting people who love books.  
Delivering books to the little kids is so rewarding; I don't get to see the kiddos much, but I know I'm delivering fun and learning to them!
Why did you decide to volunteer for the library?  I'm very proud of our library and am honored to be able to be part of what goes on there. Being retired, I wanted to contribute to my community and, selfishly, I wanted to feel useful too!
What books are you reading?  "Cold, Cold Heart" by Tami Hoag  (recorded book); I just finished reading "East of the Mountains" by David Guterson, and have started on "A Train in Winter" by Caroline Moorehead. I'm getting ready to start "Suspect" by Michael Robotham — sometimes I like to have more than one book at a time to read.