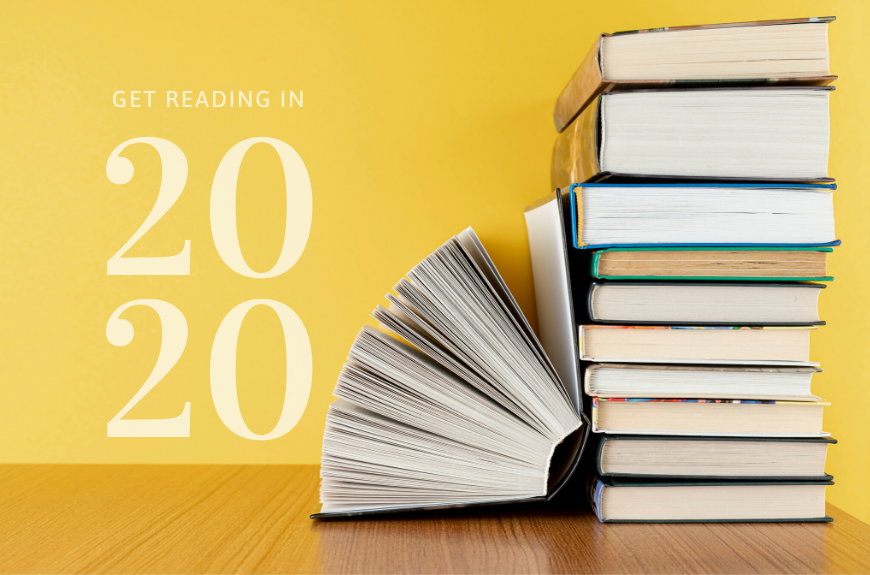 A new year has begun, and you may have already made one or several New Year's resolutions. Do any of them involve books? If not, I encourage you to challenge yourself to make a resolution involving books. Some people make book challenges based on quantity and set a goal for number of books to read. Others challenge themselves to read a variety of types of books via various checklists. Another book challenge is to join a book club. 
On Goodreads, you can set a number of books to read in 2020 for yourself. Here you can see the average books pledged, which is 45 at the time of me writing this. The cool thing about setting a goal on Goodreads is that it tracks your progress and feels positive as it tells you that you're on track even when you haven't finished any books yet. You can also change your number at any time if you feel underwhelmed or overwhelmed by your initially chosen number. As you read, you can see the number of books read on a progress bar. In addition, if you have friends on Goodreads that are doing a challenge, you can cheer them on by liking, commenting, or starting a conversation after seeing what books they have read. If you haven't joined Goodreads, it is free to join and you can be as private or public as you want to be regarding sharing the books you read and your reviews.
You don't have to use Goodreads to set a quantitative goal; you can set your goal and write it on a sticky note on your fridge, on your nightstand, or anywhere else that is visible for you to see and remember to stay encouraged to read more. Perhaps aim for 50 books, about a book per week, or 12 books, one for each month. 
If you want to read quality rather than quantity, try searching "2020 reading challenge" online. browse through the results to find one you'd like to challenge yourself with.
Book Riot is a popular website dedicated to reading, and they annually publish a reading challenge. Their Read Harder Challenge 2020 is available in a printable PDF. Information and recommendations are continually being added for the various topics on the challenge. Goals on the Read Harder Challenge include reading a graphic memoir; read a book by or about a refugee; read a book about a cuisine you've never tried before; read a romance starring a single parent; and 20 other topics that you may not have thought of on your own.
Other challenges include the Nerd Daily 2020 Reading Challenge (PDF), Reading Women Challenge and Math Reading Challenge 2020 (PDF). You can also find a wide variety of challenges on Girlxoxo.com. Many of these challenges encourage you to share your participation with the designated hashtag on social media. This allows you to follow others reading in the same challenge, as well as the organizer of the challenge. 
In addition to worldwide reading challenges online, there's also a challenge somewhat closer to home. The Wichita Eagle and the Wichita Public Library have published their 2020 #ReadICT Challenge. Even if you are not eligible for a prize not living near Wichita, you could still use this challenge from a nearby city.
A book with a number in the title

A fix-it, how-to or self-help book

An epistolary novel

A speed read (less than 100 pages)

A book about someone you admire

A book that has been (or is being) adapted to the screen

A selection from a celebrity book club

A book by an author who is new to you

A book that features a strong female lead

A book that everyone's talking about

A "cli-fi" (climate fiction) novel or book about a natural disaster

A book by an author slated to visit Kansas in 2020
For authors visiting Kansas in 2020, you can check out the names of the authors in the upcoming Salina Public Library's Poetry Series for some inspirational ideas.
Don't forget that you do not have to find a pre-made list. You can also create your own. Think of genres you have not read or fun ways to find a hidden gem such a book starting with the first letter of your middle name. Maybe aim to read from every genre section of Salina Public Library — romance, fantasy, science-fiction, mystery, western, fiction and nonfiction. Or maybe you want to challenge yourself to read some of the books that you have bought from the previous Friends of the Salina Public Library Book Sale. 
If you don't feel like being tied to a checklist or a number, or would like to strive for more interaction and discussion regarding reading, join a book club — physical or online. For a physical book club, consider checking out the monthly book discussions at Salina Public Library. You are welcome to attend to all or any of the meetings. There is no pressure to come to every meeting, and don't worry if you haven't finished the book as long as you don't mind being possibly spoiled during the discussion.
In addition to physical book clubs, maybe you'd be interested in joining one online. An online book club often doesn't have a set time and place to meet, which may be helpful if you are a busy person. You may find multiple options when you search for online book clubs, but one that I participated in for 2019 is Life's Library Book Club. I plan on participating throughout 2020 as well. I really like Life's Library Book Club because it's broken down into smaller groups called shelves. Because of this, the community doesn't feel overwhelming, and there is a steady flow of conversation. And if you would rather be in a shelf that talks less or more, a moderator can move you to a shelf that is best suited to you. Another aspect of Life's Library that I love is that a different genre of book is chosen each month so that I read a wide variety in 2019, much more than if I wasn't participating in this community. In 2019 we read "If You Come Softly" by Jacqueline Woodson, "A Field Guide to Getting Lost" by Rebecca Solnit, "We Crossed a Bridge and It Trembled" by Wendy Pearlman, "The House of the Spirits" by Isabel Allende, "The Yiddish Policemen's Union" by Michael Chabon, "Stories of Your Life and Others" by Ted Chiang, "Mountains Beyond Mountains" by Tracy Kidder, "The Summer Book" by Tove Jansson, and "Howl's Moving Castle" by Diana Wynne Jones. 
By being part of an online book club, you can talk about the same book with people from all over the world, which I think is really neat and gives you a variety of perspectives. I gained insights from books that I would not have thought of on my own. In addition, each month there is a question and answer session with either the author of the chosen book or the book club organizers who selected the title. There is no cost to join the book discussions, which uses the free platform Discord. You can choose to purchase a digital subscription that includes a podcast or a physical subscription that includes the book and more, but there is no pressure to do so. If you do, all of the profits from Life's Library are donated in support of efforts to reduce child and maternal mortality in Sierra Leone.
If you join today, you can read and discuss "Howl's Moving Castle" until Jan. 28. After that, the first new book discussion book of 2020 is "The Parable of the Sower" by Octavia Butler, followed by "All Systems Red" by Martha Wells. The rest of the year's titles will be slowly announced one by one as the year progresses. 
If you'd rather start your own book club, ask friends and family members if they'd be interested and pick a consistent date and time. The organizer of the book club could pick all of the books or group members could take turns choosing.
In a book club that I was in with my friends, each month a different group member would host at their home or, if their home was unavailable, then we'd meet at a park or a cafe. At the beginning of the year, everyone in the club would write down their name with the name of a book and author on a piece of paper. All of these slips of paper would be tossed in a bowl. Then each month's title was chosen in the order of the draw. The person who chose the particular title would host that month at a location of their choosing. This was a lot of fun and everyone was involved in choosing a book.
Another book club I was in consisted of only myself and a friend. The two of us had not read everything in our English literature anthologies and some other classics. We took turns deciding what we both should read.
If you are looking for titles that will be easy to check out for a group, pick from past years' Salina Public Library book discussion titles. The library has multiple copies from past years in one location on the tall bookshelf near the Checkout Desk. 
The best advice to complete a challenge is to set aside time for reading with minimal distractions. Try your best to ignore your cell phone, turn off the television, and become immersed in your book. No matter what reading goal you choose, don't stress about it and enjoy reading more books or more diversified reading material. Happy reading in 2020!