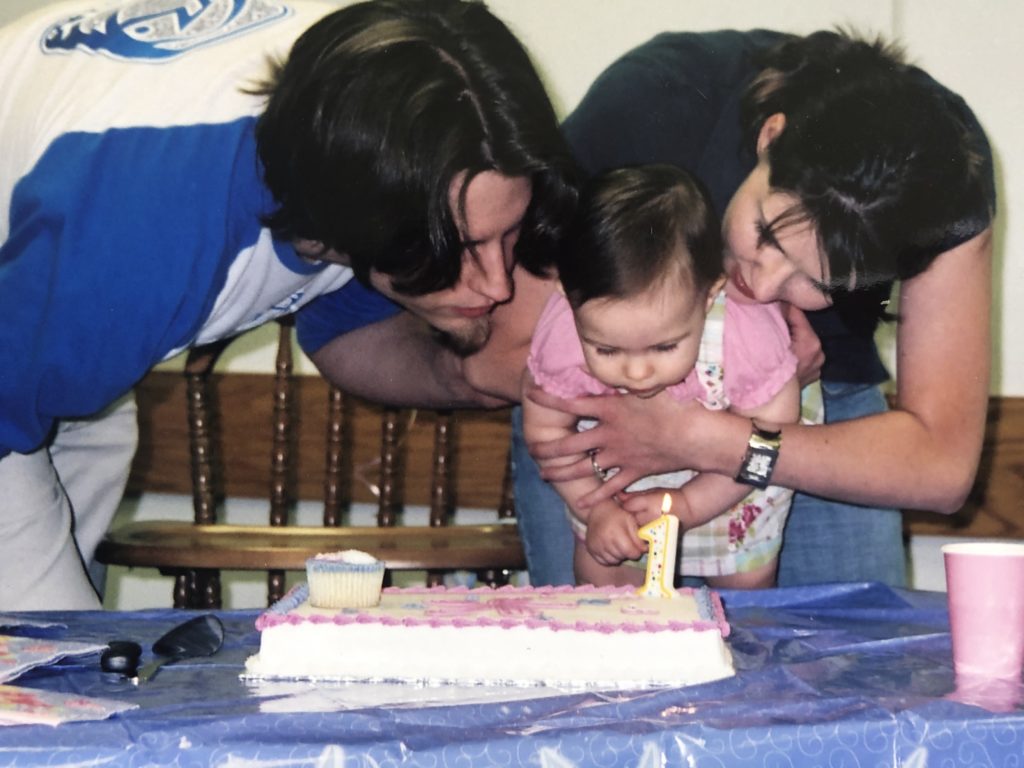 Butter yellow daffodils, raspberry-colored hyacinths, neon green willows of weep, cloud white petaled Bradford Pear trees. Storm purple clouds and swollen pink sunsets. Diamond clear, bright, warm sun.
Yeah, April, you're beautiful. But my favorite thing about April? It's Birthday month!
April gave life to me, and then 24 years later, I gave life in it. My oldest child and I, 24 years and two days apart. That's 8,768 days. Or 12,625,920 minutes. Every year since her birth, it's been 72 hours of birthday celebrations jam-packed with rainbow-colored balloons, chocolate cakes, Hello Kitty cakes, ice cream cakes, streamers, tufts of tissue paper, sometimes confetti, shrieking-girl narrated sleepovers, and always a BBQ and party bursting with our family and closest friends.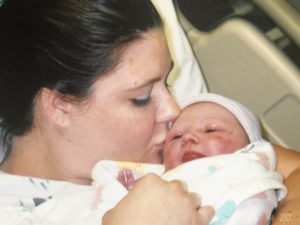 Birthdays are a thing to be celebrated. It's the day you arrived on this planet, on the day something magical in the universe began. A child breathes its first breath. A mother breathes hers. A father takes his. A family exists. In those first days and weeks and months, you are all at once taken aback by how amazing it is that you created this human, that this miracle of life was formed in your body, and also by the overwhelming responsibility and exhaustion of it all.
It's a blur of feeding and sleeping (and not), diapering, bathing, cleaning, and large amounts of time wasted just staring at this fragile, spellbinding, little mess of legs and arms and fingers and toes, coos and cries and the sweetest murmurs when nestled against your chest. But not every day is bliss. Some days are hard. It's hard to be a brand new human, and harder to be a brand new parent. Some days are so unendingly long that you have nothing left. Not a loving word, or a tear, or even a shred of pride. There are some days, being a parent defeats you.
But then, at the end of that hardest day, after the baby is finally snuggled sleepily into your arms and you run your fingers through her fine, silky beachsand-colored hair and hold your hand over her tiny heart and feel her breathe, in and out, in and out — you breathe too, your heart expands and jumps against your rib cage. And somewhere, something whispers gently across your shoulder, "look at the fathomless beauty of the being in your arms." Suddenly, you are filled with the strength to do it again another day.
And the day after that, and the ones that follow that. Before you know it, that baby is now nearing a birthday. She eats solid food and loves ice cream and giggles and walks with a determination more solid than her legs. She says "dada" (because they always do say that first; Jimmy Fallon even wrote a book titled that — "Your Baby's First Word Will Be DADA"). She has no idea she's about to turn one big whole year old, but you do, and you are so filled with pride and joy and love for the whole world that you invite everyone you know to her first birthday party. You even have to rent an event space to host it, because you can't possibly fit all those people into your teeny-tiny little bungalow.
You order the cake, and the napkins that match. You stress and strive for perfection at every turn. Table cloths, party favors, balloons, thank-you notes, the flavor of the punch! Suddenly, that birthday feels more like a burden than a party, and the morning of the big par-tay, you have a near breakdown because you realize this tiny baby will have no idea this party even happened, she'll never have any recollection of all of this, and you totally just gave yourself an ulcer for absolutely no reason at all.
The party goes off without a hitch, and you are so thankful for all the people who love your girl, and your little family. You are also the most exhausted mom in the world in that day, and by the end of it all, you nearly cry in the shower. But before you crawl into your own bed, you tiptoe into hers and whisper-sing her happy birthday, and your heart remembers its first beat as a mom. The first second your eyes drank in that wrinkly little human, arms flailing and eyes so big and wide trying to acclimate Earthside. A birth day. For everyone.
It's fifteen years (and two more kids) later, and this month of birthdays is on track to look unlike any of the ones before it. There will be no big BBQs, event spaces, 3 a.m. movies with a crew of besties, massages or even hugs from grandma. But one thing that won't have to be distanced: this momma's heart that beats every year like it did on that first day, birth day.
To all the April babies, I send hope that you enjoy this birthday in spite of the strangeness of our current reality, and that your plans for the biggest bash next year go unparalleled. To all the April mommas, my heart hears yours. While words may not comfort the sadness of your babes and loss of a celebration, I wish that they might ease the disappointment even in the smallest bit.
And for those of you with littles celebrating a birthday this month, we invite you to indulge in some of the books featuring birthdays we offer through our digital services (Sunflower eLibrary, Hoopla, Tumblebooks, etc.).
Happy Birthday, April babes!