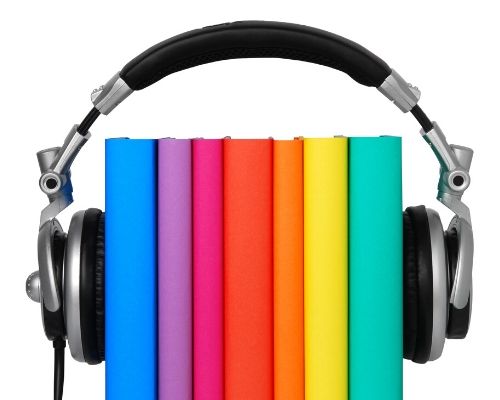 If you would have told me a year ago that I'd be addicted to audiobooks, I would have told you you were nuts. I was the traditional book girl: I greatly preferred physical books so I could bookmark, take notes and dog-ear my favorite passages. However, if you give a good audiobook a chance, you'll be hooked too. Audiobooks are perfect if you're often driving long distances, run out of podcast episodes quickly, or have those books you just never seem to have time to finish. Audiobooks also come in a variety of forms: CDs, playaways and digitally, through apps like Libby, so you can listen to books from your phone. I've compiled some of my favorite audiobooks that had me struggling to press pause! If you're looking for your new favorite read, listen to one of these!
Famous People Read Fabulous Novels
"Aristotle and Dante Discover the Secrets of the Universe" by Benjamin Alire Saenz, Narrated by Lin-Manuel Miranda
Set in El Paso, Texas, Saenz's novel follows two Mexican-American teenage boys as they spend a summer together and learn about race, identity, sexuality and family relationships. They discover both themselves and one another through their discussions of poetry and reading books like "The Grapes of Wrath" and "War and Peace." A true bildungsroman, the boys deal with painful family secrets, self-acceptance, injuries and setbacks, moving and separation, and difficult realities. Read by Lin-Manuel Miranda, the creator of the beloved musical "Hamilton," this novel is a perfect summer read. 
"The Testaments" by Margaret Atwood, Narrated by Margaret Atwood, Derek Jacobi, Tantoo Cardinal, Mae Whitman, Ann Dowd, and Bryce Dallas Howard


2020 Audie Award Nominee for Audiobook of the Year


I didn't think I could sing praises for Margaret Atwood anymore than I already do, but that was before I read/listened to "The Testaments." With "The Handmaid's Tale" being one of my favorite novels, I was hesitant to read the sequel, hoping it would live up to the hype. It's now easy for me to say that this is one of the best sequels I've ever read. Atwood beautifully combines her original story with that of the popular TV show based off her novel. Set roughly 15 years after the original work, the novel is narrated by Aunt Lydia (Dowd, who plays Lydia in the Hulu TV Series); Agnes (Howard), a young woman living in Gilead; and Daisy (Whitman), a girl who lives in Canada. 
"The Dutch House" by Ann Patchett, Read by Tom Hanks
2020 Audie Award Nominee for Audiobook of the Year, Nominee for Best Male Narrator
Brother and sister, Maeve and Danny grew up in the suburbs of Philadelphia living in the Dutch House. The house was bought by their father as a gift for their mother, Elna. However, Elna is displeased with the house and eventually abandons the family to work with the poor in a foreign country. After their father dies and the children are kicked out by their stepmother, Danny and Maeve become reliant on one another. Upon discovering a trust, Maeve sends Danny to Columbia University and medical school, which Danny attends in an attempt to please his sister. Family drama narrated by Tom Hanks

—

what's not to love?!
Non-Fiction Read by the Author
"Me: Elton John Official Autobiography" by Elton John, Narrated by the author and Taron Edgerton
2020 Audie Award Nominee for Memoir Audiobook of the Year
His only autobiography, Elton John tells of his extraordinary life in a moving, funny and open story. Now known as one of the most successful singer/songwriters that has transcended generations, Elton John tells of his childhood as Reginald Dwight all the way through his rejections, dancing with the Queen, his famous friendships and falling in love. Narrated by Taron Egerton, who played Elton in the biopic "Rocketman," and the author himself, this autobiography will grip you from start to finish.
"Becoming" by Michelle Obama, narrated by the author
2020 Audie Award Winner for Best Memoir Audiobook of the Year, Audie Award Nominee for Audiobook of the Year
I'll admit, I was really excited to read this, but I was surprised it took me a while to get into. However, once Michelle gives you a better idea of who she is, where she comes from and what she's about, it doesn't take long to become hooked. She creates such a fluid storyline and carries themes and what's important to her throughout the book and her life. It's so interesting and insightful learning about her struggles and triumphs and things never before heard all from her.
"Untamed" by Glennon Doyle, Read by the author
This book was recommended to me by a friend, and since then I've been recommending it to all my friends! Doyle's quirky yet insightful vignette-like chapters slowly open up readers to not only her world but also the ugliness and beauty within our own society. She discusses what it took to really examine her own life, when she supposedly "had it all" and what it took to leave and truly discover what she needed. Doyle explains finding her "knowing" and how all women can find it within themselves. She touches on topics like how we should raise all children to find equality and acceptance, her addiction and eating disorder, and racism. Readers will easily fall into each short story she tells about her life and how it taught her something important. This makes a great story for you and your friends to read (or listen) to together.
Perfectly Performed Fiction
"Circe" by Madeline Miller, Performed by Perdita Weeks


First off, this story is amazing. I was so skeptical going into this thinking the storytelling of ancient Greek gods might be a little highbrow. While Miller's writing is exceptional, she makes Circe so relatable in a number of different ways. Not only is the story well-paced and intriguing, Weeks' narration will put you in a trance; her voice is smooth and silky and is a perfect fit for Circe (especially as you learn more about the character). I love listening to Weeks' interpretation of the story so much, I have my next book narrated by her on hold right now! This was the book that got me completely hooked on audiobooks!

"Daisy Jones and the Six" by Taylor Jenkins Reid, Read by Jennifer Beals, Benjamin Bratt, Greer Robinne, Pablo Schreiber, and a full cast
2020 Audie Award Nominee for Best Multi-Voiced Performance
Taylor Jenkins Reid allowed me to live out all my '70s music dreams in this awesome novel. She transports you back in time as you listen to the story of a '70s band's formation, their heyday and their break up. So well told, you'll think that "Daisy Jones and the Six" is a real band, and you need to go listen to their music (definitely inspired by some of the bands from the '70s 😉). The cast is awesome, with a different narrator for every character, so you'll get the full picture with each band member's side of the story. Definitely a must-read if you're a music lover!
"The Nightingale" by Kristin Hannah, Performed by Polly Stone
2016 Audie Award Winner for Best Fiction Audiobook, Nominee for Best Audiobook of the Year Nominee, Nominee for Best Female Narrator
This novel hooked me from the instant I started listening! Based in France on the eve of World War II, "The Nightingale" tells the story of two sisters who fight against the German occupation of their homes. Each sister, Vianne and Isabelle, have their own methods of defying the Germans and remaining strong and true to their families against all odds. Hannah's characters are intriguing and captivating with Stone's narration transporting you to France, 1939, and making it difficult for you to press pause. If you love historical fiction, place a hold on "The Nightingale!"
For more recommendations, visit Information Services or chat with librarians on our website.