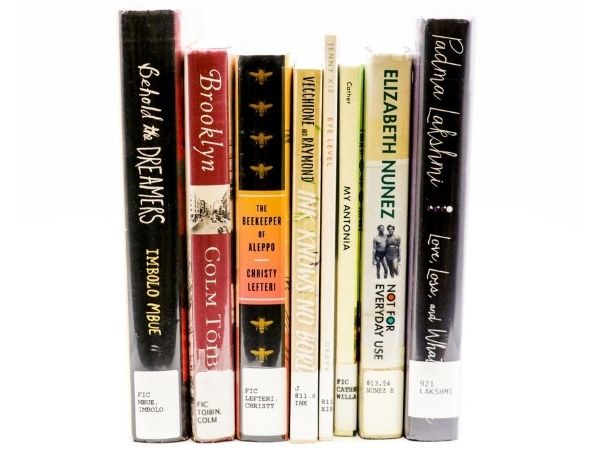 Art and literature have power. It's easy to see why certain pieces of art have transcended time or why people reread the same novel time and time again; why multitudes gather at an art exhibit and people pass their most beloved books to family and friends. Art and literature not only become important, they also reflect importance: stories and experiences that people should know and learn to have a better understanding of the world around them. Both visual art and reading can spark empathy and a greater understanding of experiences of others. This is likely why you can find a plethora of shared experiences via art and literature in relation to the immigrant experience. These stories and perspectives bring both an awareness to and appreciation for those that have migrated and pioneered a new life for themselves and their families. It also helps reflect a wide array of human experiences so that everyone may find a piece of themselves in art and literature. 
We are excited to partner with the Salina Art Center on programming for their current exhibit "Birdwatchers" from their most recent artist-in-residence, Fidencio Fifield-Perez. Having immigrated to the U.S. from Mexico as a child, Fidencio draws inspiration not only from his heritage and customs but from migration and his own experience as a migrant.
Salina Art Center's exhibit "Birdwatchers" runs July 29-Oct. 4, 2020. Check the art center's exhibit page for additional details about the exhibit and visiting hours. On Aug. 19, Noon-1 p.m., Glory Benacka and I will give a Lunch & Learn book talk, "Reading for Empathy & Immigrant Experience," via Salina Art Center's Facebook Live. Here is a sneak preview of a few of the books we plan to discuss!
Fiction
"Brooklyn" by Colm Tóibín
Set in the 1950s, "Brooklyn" follows a young Irish woman, Eilis Lacey, as she makes the move from Ireland to Brooklyn, New York. Leaving behind her mother, older sister and a small town with limited job opportunities, Eilis seizes the chance to start a new life in the big city. However, life in Brooklyn comes with its own set of challenges when you're thousands of miles from home and don't know a single soul. As Eilis begins to find her way, meet new friends and falls for a young man, tragedy sends her running back to Ireland. The question is: is Ireland still her home?
"Behold the Dreamers" by Imbolo Mbue
In 2007, the Jonga family moved to New York City from Cameroon in hopes of creating a better life. Clark Edwards, a Lehman Brothers executive, offers Jende Jonga a job as a chauffeur and Jende and his wife, Neni, are over the moon with excitement. Neni is even hired to work seasonally at the Edwards' home in the Hamptons. It seems that life is looking up for their family as the jobs allow them to pay for Neni's education and even provide them with enough money to send to relatives back home in Cameroon. However, the lives of both families begin to spiral with the bankruptcy of Lehman Brothers and the perfect facade of the Edwards begins to slip away. With their jobs, an asylum request, and their marriage on the line, the Jongas realize they must make an important decision.
"Girl in Translation" by Jean Kwok
Kimberly Chang lives a double life. After immigrating from Hong Kong to Brooklyn with her mother, she learns to present herself as the perfect student during the day at school while working in a Chinatown factory in the evenings. With not only the pressures of maintaining grades and falling for a boy in the factory but also the dependency of her family, Kimberly must quickly learn to navigate both a new culture and language. Deeply moving, "Girl in Translation" tells the story of a young woman trying to find American success and stay true to herself all while translating the new world around her.
"My Ántonia" by Willa Cather
This beloved classic tells the story of Jim Burden, a boy who moves to live with his grandparents in Black Hawk, Neb., at the end of the 19th century. There, he meets the Shimerdas, a family from Bohemia settling land on the Nebraska prairie. The two families are each other's closest neighbors with Jim befriending

Ántonia, the Shimerdas' eldest daughter. While life proves especially difficult for Ántonia and her family, she and Jim continue their adventures and both eventually move to town to continue work and school. However, in time, their lives take them on very different paths

. "My

Á

ntonia" is the final book in Willa Cather's "Prairie Trilogy" following "O Pioneers!" and "The Song." Both are also excellent reads!
Nonfiction
"Not for Everyday Use" by Elizabeth Nunez
Chronicling a four-day experience, Elizabeth travels back to her family in the Carribean for the burial of her mother. She tells of the hardships her parents faced living in the confined structures of colonialism and their strict religion. A serious woman, Elizabeth's mother taught her how to face the difficult realities of life. She writes of her parents' complicated yet passionate and loving relationship. "Not for Everyday Use" is not only a moving memoir but a love letter to both the flaws and virtues of family and home.
"Love, Loss, and What We Ate" by Padma Lakshmi
Before she ever stepped onto a TV set, Padma learned that food played an important role in culture and acted as a language of love and home. Moving from place to place, Padma has found herself living a similar situation as an adult. But no matter where she ends up, she can always imagine her life back in India with a few simple dishes. Throughout her memoir, Padma tells of the fiery family and friends that helped make her who she is today and, of course, the food that brought them together.
"Purpose: An Immigrant's Story" by Wyclef Jean
Wyclef was just nine years old when he immigrated from the slums of Haiti to New York with his family. After living in the projects before moving to New Jersey, Wyclef struggled to fit in, especially as he learned English while simultaneously acting as a translator for his parents. He eventually learned to express himself through rap battles, being an MC at school, singing in the choir at his father's church, learning multiple instruments, and was inspired by certain genres of music like funk and reggae. When he decided to pursue music instead of following in his father's religious footsteps, the decision nearly tore Wyclef and his father apart. Wyclef not only tells the astounding story of his childhood but also discusses his time with the Fugees, their rise and fall, and how the group became one of the defining sounds of the 1990s.
Additional Literature
"The Boat" by Matt Huynh – Digital Interactive Graphic Novel


This type of digital literature has recently emerged within the past several years. Incorporating graphics, sounds, motion, and photographs, digital interactive graphic novels provide an immersive and unique reading experience. Based on a true story, "The Boat" follows Mai, a young girl fleeing Saigon via ship during the Vietnam war. The story chronicles her journey on the boat, the people Mai meets while there, and the struggles they face as they seek asylum with optional and interactive moments that flashback to earlier times with Mai's family. "The Boat" is a unique, moving piece of literature with beautiful graphics and sound that will transport readers. 

"Un Mango Grows in Kansas" by Huascar Medina – Poetry Collection
As a Latino and first-generation immigrant living in Topeka, Kan., Medina uses both English and Spanish in his third poetry collection, "Un Mango Grows in Kansas." In the collection, he works through ideas regarding language, what it means to be a Kansan as well as his experience immigrating. Medina is also the 2019-21 Poet Laureate of Kansas.
"Ink Knows No Borders: Poems of the Immigrant and Refugee Experience" edited by Patrice Vecchione & Alyssa Raymond – Poetry Collection
This anthology of poetry highlights some of the best and upcoming voices in the literary world. Each poet offers a glimpse into the world of immigration, settling, and what it means to be an ex-pat. Including works from Elizabeth Acevedo ("The Poet X"), Ocean Vuong ("Night Sky with Exit Wounds," & "On Earth We're Briefly Gorgeous"), Javier Zamora ("Undocumented"), and many more, "Ink Knows No Borders" provides a plethora of stunning and insightful poetry.
For more reading recommendations, drop by Information Services at the library, chat with library staff on the website, or follow us on Instagram. Want a reading list personalized just for you? Check out Your Next Read!
Reading for Empathy and the Immigrant Experience
Wednesday, August 19 | Noon-1 p.m.
No registration required.
Location: Salina Art Center, Facebook Live
This Salina Art Center Lunch & Learn will feature library staff Portia Montoy and Glory Benacka. They will discuss the power of literature to nurture empathy and understanding while offering reading recommendations.