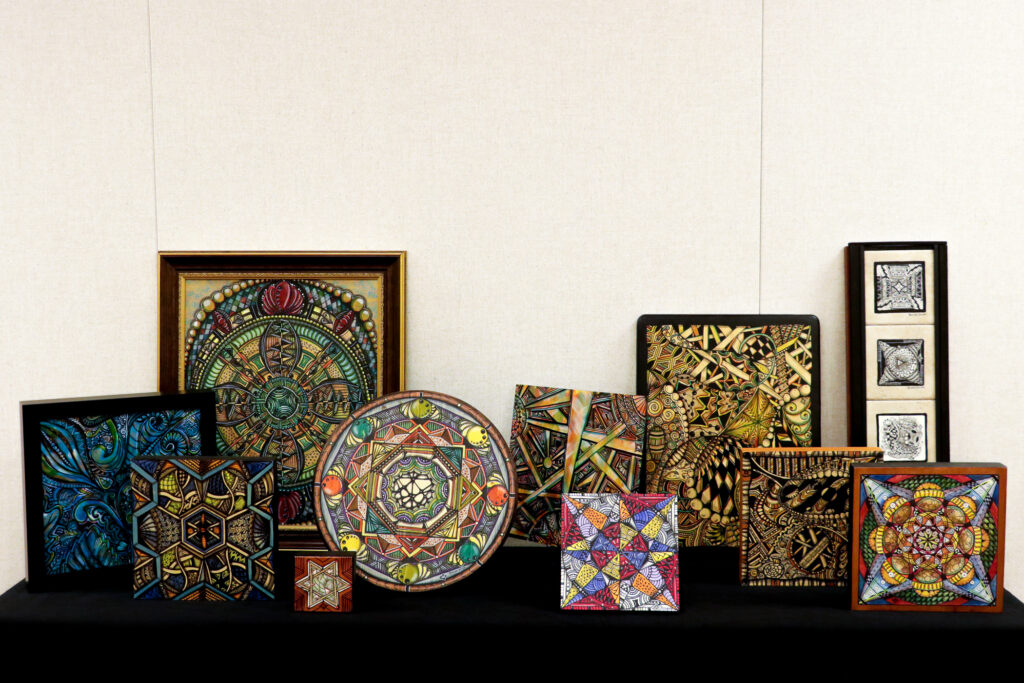 EDITOR'S NOTE: Programs Coordinator Glory Benacka sat down with Zentangle artist Brenda Smith to talk about her work and her virtual exhibit featured on the library's website from Sept. 20-Oct. 20.
Glory: You've described your artwork as meditations, could you tell me more about what's behind that?
Brenda: When I first heard about Zentangle, they said it was an art form that anyone could do and was a meditational art form. Both of those points spiked my interest. I went to Wichita to take a course in Zentangle and I enjoyed it and thought it was relaxing. I started all of this because I needed to find something to calm me down. I was getting stressed out a lot at work. The class was held at a retirement home for nuns, and it was a rowdy bunch of people, but it was quite fun (laughs). So I enjoyed it, but didn't continue after that class. Then two years later I said, I need to go on a vacation, and I wanted to go somewhere that I could relax and not come back stressed out. On my vacations I try to fit so much stuff in and see so many things and do so many things that I come back exhausted. So I said, I think I want to travel and learn this art form from the people who created it. This whole thing started out as a vacation for me. I went to Providence, Rhode Island, to do this seminar over the weekend and had never been so relaxed in my life. I don't even know how to describe it; it was like walking around like Gumby [relaxed and flexible]. And I was like, okay, I think this is going to stick this time. I continued drawing once I got home. It was actually Peggy Medina that saw some of the stuff I was doing when I got back from that class and said, "You should teach a class." I responded, "It's kind of interesting you said that, because we got certified to teach by going to the seminar." I didn't do it for that purpose; it was more of a personal thing for me. She helped set up a class out at Debbie Wagner's studio in Bennington.
Glory: I took that class! 
Brenda: That was my first time ever teaching. And so, it kind of just went from there. 
Glory: What year was that? 
Brenda: That was in 2013.
Glory: And before you started Zentangle, what other types of art did you do?
Brenda: I have done different kinds of artwork for all my life. I started out when I was 6 or 7 doing oil painting in 4-H. I took drawing and that kind of stuff and then I really got into art in high school. I took art all four years and got to participate in a lot of shows during high school. I received a scholarship for art in college, and I took about one semester of it before I realized it was never going to work out. I wanted to become an art major, but you were required to take a foreign language. Foreign language was not working for me so I dropped out of it and changed my major. I've always done it for my own enjoyment. I've made a lot of gifts for birthdays and holidays. People are probably sick of my stuff, because that's mostly what I had done instead of going out and spending money on retail stuff. 
Glory: So are you still teaching Zentangle classes?
Brenda: Right now I am not. 
Glory: Did you teach locally through SPARK's arts and healing program?
Brenda: No, I was just about to when COVID-19 hit, the weekend prior. I think it's something that could be very beneficial.  My focus in the beginning was to do classes for several years, so people could learn about Zentangle. My main point was trying to show people that Zentangle is very versatile and works with all kinds of mediums. I think it is a great thing for groups of people to do too, because no matter what they all do it tends to fit together. 
Glory: So if someone is interested in Zentangle how would you recommend they get started?
Brenda: They can go online to www.zentangle.com. I am listed there to do teaching, so if people want me to teach a class I could. I'm just not actively out there setting up classes now and especially not since COVID. In the past, I have gone into people's homes and done small groups. When I first started I did an in-service for art teachers here in Salina and also taught some small groups for Girl Scouts and 4-H.
Glory: You started with the Zentangle square format. How and when did you break into the different sizes, styles and materials? 
Brenda: That was probably several years after beginning, because the first few years I mainly did black and white. That was enough for me. Sometimes I wasn't even working on a paper tile. I liked learning and just practicing different patterns. I'd just take a scrap piece of paper  or an envelope from junk mail every morning, and I'd sit down and do some tangles. I might not even keep these scraps of paper; I might throw them away.
Glory: Could you describe the feeling that you have when you're doing Zentangle?
Brenda: What I like about Zentangle is that it takes away the thinking process. Other than deciding what to put it on and what to use to do it, nothing is planned out. I really enjoy that process. It just unfolds and becomes a really creative environment by taking the monkey mind out of it. You're not having to choose what you're doing. Even when I do color, I'm not spending a whole lot of time coming up with elaborate colors. Just whatever hits me, goes on. I don't know what it's going to look like until it's done. That's what I like about it; it is very freeing. I used to get really bogged down on other artwork, because I could never come up with a subject, what or how to do a peice. The fact that it lends itself to so many different kinds of artwork was enthralling for me. I like the fact that it's really simple to do. It's funny because the longer you do it, the more creative you get. In the beginning my patterns were so tight you could just sense the stress, but now my work is more free-flowing. Like this blue piece, (Meditation 9). I would've never been able to do that in the beginning because I wasn't open enough to do so it's so interesting how that works.
Glory: Now you're also moving into these sculptural pieces and pieces with electricity and light. Is that a new evolution for you? 
Brenda: Yeah, it all kind of got started with SPARK. When we were talking about trying to do art downtown, certainly thought light should be a part of it. I think that lends itself to the dynamics of coming alive at night. This sparked my interest in incorporating light in my art. I kind of played with some solar panels and hung a piece up in the SPARK window for a little that was backlit with light. So SPARK kind of led me on that journey. 
Glory: What do you think is next for you?
Brenda: [Laughs] I don't know Whatever ignites my interest. I never really plan it out. 
Glory: How much time do you Zentangle?
Brenda: Lately, I haven't been doing as much, but when I was really into it, I was doing it everyday, even just for 2 minutes a day, 20 minutes a day, over a weekend. Every time I was stressed out. I was tangling and within 15 minutes I was calm. 
Glory: So nowadays, maybe you're less stressed out? [Laughs]
Brenda: [Laughs] Ugh, busy doing other things, I think. During COVID, trying to do house stuff, and help with aging parents and then I injured my shoulder so I haven't been doing as much, because it was agitating my shoulder. I am probably a lot less stressed than when I began.
Glory: So maybe now you're combining a lot of different pieces. 
Brenda: I got rid of everything in my studio that could not be combined with Zentangle. I narrowed it down to that, 'cause it's pretty broad, as you can see. You can use a lot of different things with Zentangle. 
Glory: Looking at this collection of work in your studio. You've got wood, canvas, paper, metal, tile, ceramic, silk, fabrics…magnets, jewelry… What about the shapes, do the shapes have any meaning to you?
Brenda: I am into geometric designs, if you can't tell. [Laughs] I like triangles and hexagons.
Glory: So are triangles your favorite shapes, or do you like shapes equally? 
Brenda: I do like triangles, I do like hexagons as you can see…but a hexagon is nothing but triangles. [Laughs]
Glory: [Laughs] You also mentioned that you enjoy mandalas. 
Brenda: Yes, I do, I like the circle. And I also like mixing circles with the square. Because in this form, unlike other art forms they tended to have everything in a square, where most have a rectangle. The canvases used to be rectangle, but they're starting to get into the triangle canvases, hexagons and all that. Zentangle certainly introduced me to the square, because I didn't do that many things that were square before. I think the square also enhances the nondirectional aspect of this method.
Glory: What about your bio? Are you from Salina?
Brenda: I grew up in Western Kansas. Tribune. I was out in North Carolina for about …15 years. Then I moved to Salina, which is where my mom and dad grew up, but I didn't grow up here. I do have family here. 
Glory: How long have you lived here then?
Brenda: I have lived here since 2002. A good while now. 
Glory: So, almost two decades! [Laughs]
Brenda: [Laughs] Wow, it's amazing.