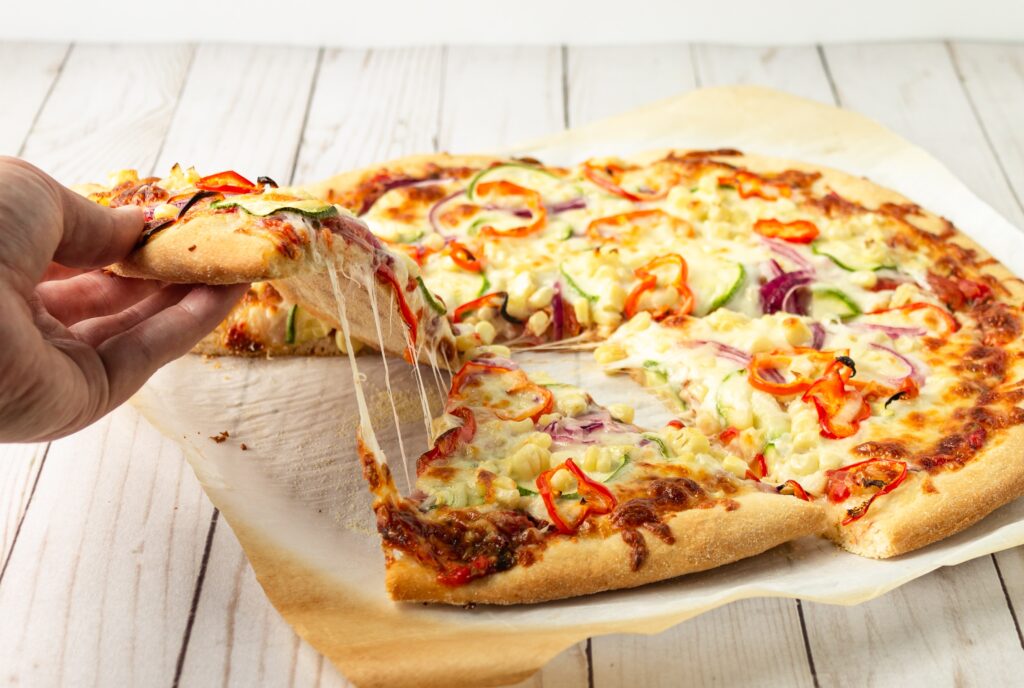 October is National Pizza Month and since pizza is my favorite food, this topic seemed perfect to write about. I believe pizza is the best food because it is so versatile as the toppings are limitless, including fruits, vegetables, meats and sweet dessert toppings. The sauces can be interchanged, as well. From as far back as I can remember, I've loved pizza and have fond memories of reading enough in order to get a free personal pan pizza from Pizza Hut through the Book-It program, which still exists. My husband works at a local pizza plant, and I am jealous of the free pizza he gets on breaks. 
National Pizza Month also includes Pizzamas, which is an annual two-week celebration (this year October 5-16) that involves merchandise with author John Green's face with a mustache on it, along the word "pizza" in many variations, that can be found here. According to a recent video from the vlogbrothers, which consists of brothers John Green and Hank Green, profits from Pizzamas will go to charity to support COVID-19 relief efforts around the world and efforts to reduce child and maternal mortality in impoverished communities. 
Perhaps you love pizza, too, and have tried nearly every pizza from your local restaurants that serve pizza. Now what to do? Well, Salina Public Library has several books that will teach you how to make your own pizza at home! This will enable you to experiment with different ways to make pizza yourself. You can check out a variety of books on this topic, both physically at the library and digitally via Hoopla and Overdrive. Some examples you can pick up and take home at the library are "Pizza: Grill It; Bake It; Love It!" by Bruce Weinstein and Mark Scarbrough; "The Art and Practice of Handmade Pizza, Focaccia, and Calzone: Mastering Pizza" by Marc Vetri and David Joachim; "Artisan Pizza to Make Perfectly at Home" by Giuseppe Mascoli and Bridget Hugo; and "Grilled Pizzas and Piadinas" by Craig W. Priebe with Dianne Jacob. In these books you'll find a seemingly limitless number of pizza recipes to try, as well as instructions on how to make different types of dough. You'll also find explanations of the best equipment to use, including grilling tools and kitchen tools. The books include recipes with pizza toppings that you may never have thought of before, such as various fruits and fish. Try something new this month with one of these recipes or be inspired by them to create your own pizza experiment for dinner. 
In addition to the books in the physical library, there are also pizza recipe books in Hoopla including "Perfect Pizza Recipes" by Jennifer S. Larson; "20 Best Pizza Recipes" by Betty Crocker; "My Best Ever Homemade Pizza Recipes" by Victoria Pirelli; "Pizza Pilgrims: Recipes from the Backstreets of Italy" by James and Thom Elliot; and many more that you'll find if you just search "pizza" in Hoopla's search box. In Overdrive via the Sunflower eLibrary, there is a recipe book titled "Skinny Pizza: Over 100 Healthy Recipes for America's Favorite Food" by Barbara Grunes that has recipes that focus on trimming away the excess fat, cholesterol and calories that usually come with pizza, but still taste great. 
There are plenty of children's books that center around pizza because kids, especially, love pizza! Some examples of children's books at the library to check out involving fun photos of pizza on the covers include "Pterodactyls and Pizza", a book of poems selected by Lee Bennett Hopkins and illustrated by Nadine Bernard Westcott; "Grow Your Own Pizza" by Constance Hardesty and illustrated by Jeff McClung, which includes a recipe for pizza using ingredients from your garden (tomatoes, garlic and basil leaves); "The Deep Dish on Pizza!" by Stephen Krensky and illustrated by Daniel Guidera, contains a lot of interesting historical facts about pizza, as well as geography, science and geometry; "Pizza Day" by Melissa Iwai, a picture book about a father and son who spend a day together gathering vegetables and herbs and includes a recipe for Garden Pizza on the last page; "Pete the Cat and the Perfect Pizza Party" by Kimberly and James Dean, which is about the iconic cat and his friends trying various toppings on pizza at his party; and "A Pizza the Size of the Sun", a poetry book by Jack Prelutsky and illustrated by James Stevenson. 
There are also more children's books that focus on pizza available digitally through Overdrive and Hoopla. In Overdrive you'll find "Curious George and the Pizza Party" by H. A. Rey and Margret Rey; "Pizza for Sam: Puppy Sam First Reader" by Mary Labatt and Marisol Sarrazin; and "The Pizza Mystery: The Boxcar Children Series", a favorite series of mine as a kid, by Gertrude Chandler Warner. In Hoopla, there are many ebooks for kids involving pizza seen here such as "Pickle Pizza" by Beverly Lewis; "Pizza Counting" by Christina Dobson and illustrated by Matthew Holmes; and "Pizza With Extra Creeps" by Fred Katz.
There is even a comic about pizza titled "Pizza Tree" by Mark Poulton, whose intriguing synopsis says "Friday night means pizza night for the Poulton family. However, when Chase plants a slice of pepperoni in their backyard, every night becomes pizza night after a mysterious Pizza Tree appears. The Poultons soon learn free pizza comes with a price. For those with a taste for horror, sink your teeth into the Pizza Tree!"
Hoopla also has some films centered around pizza, including a documentary about pizza titled "Pizzas"; a quirky comedy short film about a pizza delivery guy titled "Pizza King"; another documentary titled "Scott's Pizza Tours", about a New York tour business; a read-along to "Secret Pizza Party" and "How Do You Measure A Slice Of Pizza?: A Film About Geometry." There's also a music selection to check out that includes the word "pizza" here. 
In addition, Salina Public Library has fictional stories for adults about pizza to check out. Examples include pizza-themed mysteries in the Sunflower eLibrary by Chris Cavender: "A Pizza to Die For"; "A Slice of Murder"; "Pepperoni Pizza Can Be Murder"; "Rest in Pizza"; "Killer Crust"; and "The Missing Dough."  A new fiction book that I read recently was "Pizza Girl" by Jean Kyoung Frazier. I honestly checked out the book based on the title and the cover with a slice of pizza. The main character, known as Pizza Girl, works at a pizza shop and delivers pizzas. She doesn't know what she wants in life and cannot picture a future with her and a baby, although she can imagine her mom and her boyfriend with the baby. One day a woman calls crying and wants a pickle pizza — the pizza shop doesn't have that ingredient so Pizza Girl goes to the store and gets a jar of pickles helping the cooks make that pizza that was ordered like the woman used to order in her previous residence. Pizza Girl delivers the pizza and does so each week, and each week she anticipates her phone call; she becomes obsessed with this pickle-pizza ordering woman who seems perfect in an imperfect way. Pizza Girl is a fun quick read that I found enjoyable. 
Speaking of pickle pizza, my favorite pizza at the local downtown Blue Skye Brewery and Eats includes pickles on top: Bacon Cheeseburger, consisting of BBQ sauce; ground beef; bacon; tomatoes; onions; cheese; and pickle slices! It is the one pizza that my husband and I never have leftovers of after ordering.
Happy National Pizza Month and Happy Pizzamas!