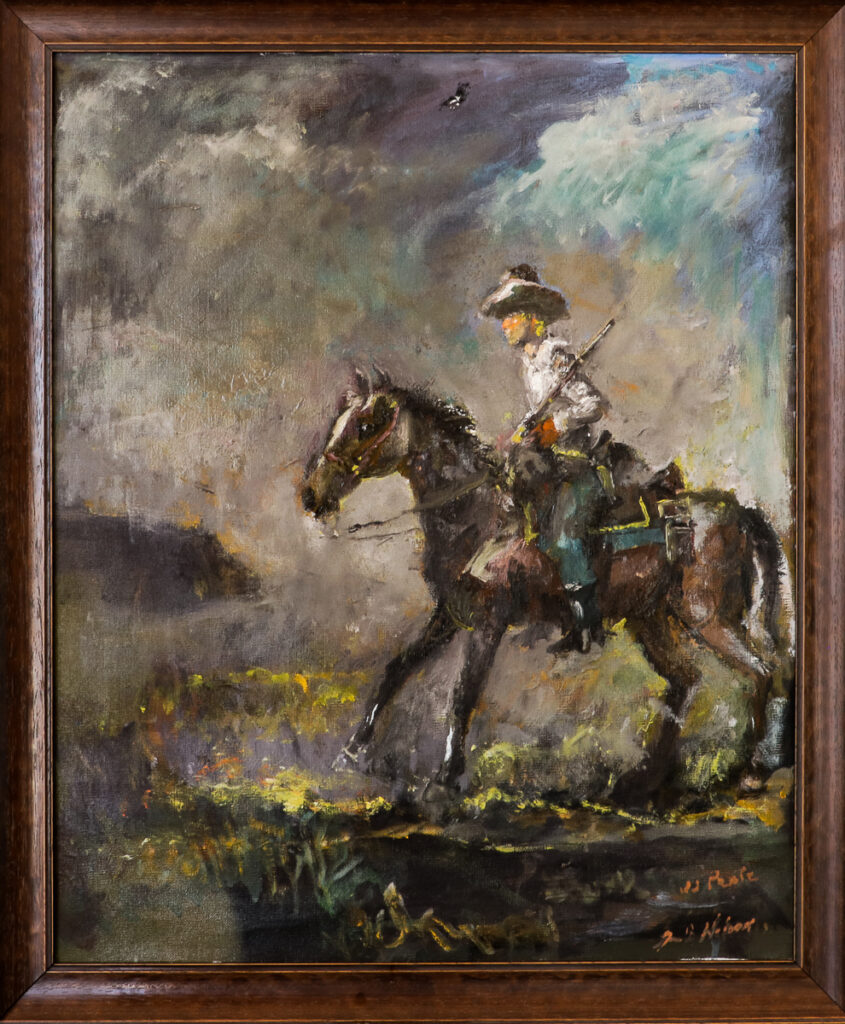 J.J. Peate from Lincoln County 1868
2020, Jewell County, Kansas
48×36"
Oil painting on canvas
I met up with painter Jim D. Nelson at his friend Michael's antique store in downtown Beloit, Kansas, to photograph paintings we originally intended to have on display in the library's Gallery 708 this fall. Though the photographs do not do justice to Jim's brushstrokes, I am pleased that creating a virtual gallery experience expanded our collection of library interviews with Jim. We last heard from Jim when now-retired librarian Barbara Mulvihill interviewed him in 2018 as part of the "Kansas Stories of the Vietnam War" project. Not only is Jim an accomplished painter, but his unique life story combines experiences as a Vietnam veteran, military artist, muralist, portraitist, tractor mechanic and Kansas farmer.
Old West history, local legends and lore of the days when European settlers first entered the prairie, once solely inhabited by Native Americans, continue to fascinate modern Kansans. As a painter, Jim has found a lucrative career in creating and selling portraits, military paintings, religious paintings and Western murals. These days he lives at his family's homeplace in Jewell County, Kansas, where the stories of the prairie have been providing Jim with a wealth of subject matter for his paintings.  In 2019, history enthusiasts remembered the 150th anniversary of the Spillman Creek Native American Raid on May 30, 1869, in Lincoln, Kansas. This collection of paintings documents from Jim's mind's eye and research, scenes from this tumultuous time in north-central Kansas 150 years ago alongside portraits of modern Kansans with a pioneer spirit.
Jim describes this collection of paintings in our recent library interview as follows. "The body of work mainly, the intent was to emphasize the Forsyth Scouts which were a volunteer group of farmers from Lincoln County numbering 52 that signed up with General Sherman at the Shimeron Ranch, which was Southeast of Lincoln in 1869. That party of ex-Colorado first calvary members and farmers headed by J.J. Peate proceeded with the calvary and the Pawnee Native Americans to attack the Cheyenne at the Battle of Summit Springs North of Adalia, Colorado at Beecher Island also known as the Battle of the Arickaree. They were surrounded on this little island dug in, they were attacked by many thousands of Native Americans and there were only three hundred of them and they were able to survive for three days. They were rendered to eat rotten horse meat at the last stage of the battle. They were also reinforced by an element from Fort Wallace at the conclusion of the battle and they survived. My painting is not only to honor these Forsyth Scouts but also the paintings depict the Spillman Creek Massacre, the Moffet Massacre and other Native American raids in North Central Kansas that occurred in the late 1860s. I've researched quite a few of these paintings and tried to make them historically correct."
Alongside the impressionistic paintings depicting the Forsyth Scouts and Native American raids of the 1850s in north-central Kansas, Jim included a self-portrait "On the Other Side" and the portrait of Chuck Johnson and his dog Dodge, "Partners." Like Jim, Chuck Johnson was a Vietnam Veteran. He was from Penokee, Kansas, (west of Hill City, Kansas) and heard about Jim and his paintings. One day after completing some business errands in Salina he popped over to Jim and his wife Cheryl's place in Lincoln, Kansas, where he visited with the couple and asked to be painted alongside his dog. Jim took him out to his studio and painted his portrait quickly, while also taking reference photographs to complete the painting after the brief visit. Jim fondly remembers Chuck sitting for the painting commenting, "Chuck Johnson was of the old generation, he mimicked the pioneer spirit of Kansas. He was self-made and self-educated and he had this dog that was a very fine companion. A lot of the pioneers existed in that same way."  The painting has turned out to be a favorite of Jim's and his fans, capturing, "the special relationship between a dog and its master," Jim says.
In a nod to the old painting masters and perhaps in celebration of the breadth of his experience, it seems fitting for Jim to include a self-portrait alongside any grouping of his work these days. In our recent interview he commented, "If you try to be a professional painter like I have, you need a self-portrait."  Jim described, "On the Other Side" as a philosophical painting. It shows me on the other side of the canvas painting a brush with a brush, with the paint streaking across the canvas, which means, am I on the other side? What is reality? Can we get to the other side of the canvas?"
Due to COVID-19, in-person exhibits and receptions have been suspended until further notice. A virtual exhibit of Jim's paintings will be "on display" October 21—November 30 on the library's Gallery 708 webpage.
J.D. Nelson (Jim) was born in Beloit, Kansas, and after a trip to New York City and seeing old master paintings at the age of fourteen he was inspired and determined to become a painter. When he was 18 years old, Jim moved to New York City where he began studying on a Ford Grant with The Art Students League of New York. He has worked as a muralist with industrial designer Raymond Loewy and a plethora of his Western-style paintings have been used by Caxton Press as book covers. During the Vietnam war, Nelson worked as both a combat artist and mapmaker. Today his military paintings depicting the Vietnam War are included in 25 military museums nationwide. After the war, Nelson continued his study in Europe where he copy painted in the Louvre and Prado Museums. He is a passionate realist specializing in portraiture, military and western-style subject matter. Please visit jdnelsonportraits.com to learn more about his paintings.