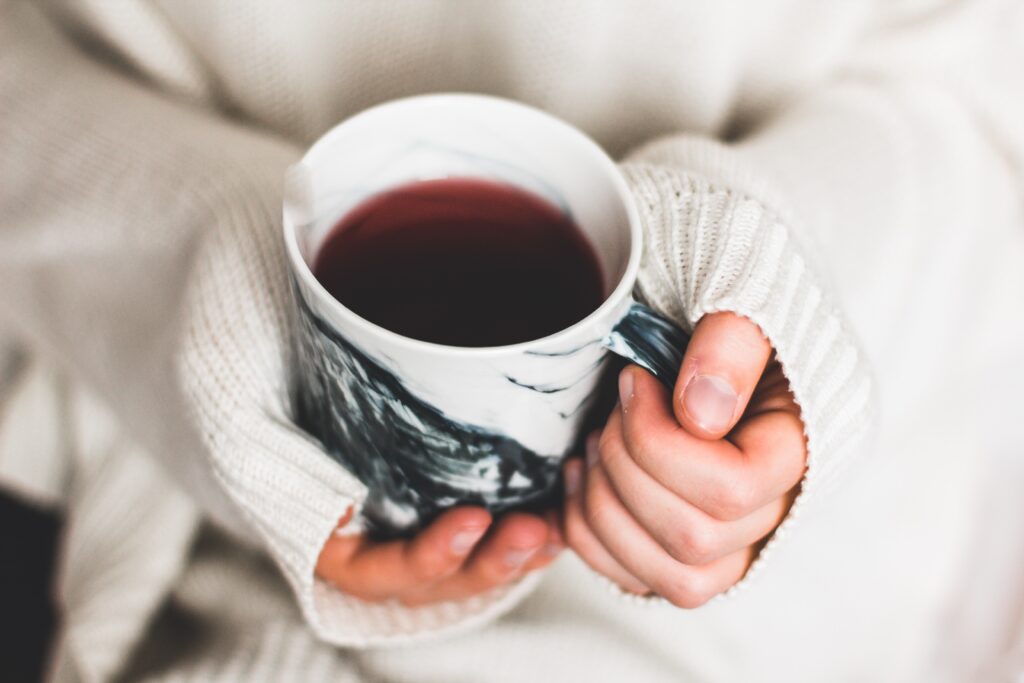 While it is chilly outdoors, it is a perfect month to enjoy a nice hot cup of tea to warm up. The Tea Council of the USA was founded in 1950 and recognizes National Hot Tea Month every January. Tea is enjoyed by many people all over the country. If you would like to be like them, you can learn more about tea at Salina Public Library as well as read fictional  books about tea! 
Tea makes me think of tea parties as a young child and later on in life, my friend — library director at Western Wyoming Community College — hosted a lovely tea party at her house with tea and snacks, such as cucumber sandwiches and dessert items. I also attended afternoon tea, which included an assortment of flavors with a variety of sweet and savory petit fours, with this same friend and others on multiple JoCo Cruise vacations. A highlight of the 2019 JoCo Cruise was Afternoon Tea — Hosted by Shmanners. Shmanners is a weekly funny and informative podcast hosted by husband Travis McElroy and wife Teresa McElroy where they discuss etiquette. The afternoon tea was hosted by them because they had done an episode titled Afternoon Tea and High Tea that is fun to listen to if you want to check it out.
Attending a variety of settings drinking tea, and listening to that podcast did not make me a tea connoisseur. Instead, Salina Public Library is the place to go to become a tea connoisseur with many informative books, and even a documentary about tea!
A great book to learn all about tea would be "The World Atlas of Tea: From the Leaf to the Cup, the World's Teas Explored and Enjoyed" by Krisi Smith. Its description says, "This guidebook will take readers through the art of tea drinking, a journey from plants and their varieties to tea-brewing techniques, tea blending, and finally profiles on several tea-prominent countries." When I paged through this book, I was marveled by the beautiful full-color photos regarding the history of tea and its current production . 
"The Tea Lover's Companion" by James Norwood Pratt calls itself "the ultimate connoisseur's guide to buying, brewing, and enjoying tea." In this book, you can learn about various blends; a history of tea; tea ceremonies; specific utensils to use when preparing tea; health benefits of tea; and more. This book also includes a directory of so-called exceptional tea rooms of the United States listed by city, as well as a directory of blenders, wholesalers, and tea shops. This is a neat feature but since this book is not new, many may have moved or no longer be in business. 
"The Republic of Tea Book of Tea & Herbs" is a comprehensive introduction to the world of tea and herbs, with specific information about fine tea varieties, organized by country. There are illustrations of the plants used for tea in this book, with a detailed description of each. This book would also be a helpful reference to learn about tea, especially for beginners. The Republic of Tea published this book, making this title definitely a good source of information. 
According to its description, "The Book of Tea" by Kakuzo Okakura discusses the impact of "Teaism" on all aspects of Japanese culture and life. Kakuzo elaborates on the relationship between tea ceremony and Zen and Taoism. He also talks about the tea masters and their contribution to the tea ceremony. It is a long essay linking the role of tea to the aesthetic and cultural aspects of Japanese life. This book is available in physical format as well as in the Sunflower eLibrary in Overdrive and Libby as well as in Hoopla if you're a Saline County resident. 
Specifically about green tea, "The Book of Green Tea" by Diana Rosen tells you everything you wanted to know as well as you didn't know you wanted to know about green tea. In this book you'll find history and lore of tea; a detailed chart of the chemical compounds found in tea leaves indicating their concentration and a description. This book includes recipes for drinks and foods, all using tea, including green tea ice cream; traditional matcha; green tea banana iced tea; jade oolong shrimp; green marbled eggs; jasmine sorbet; cold tea noodles; Chinese green tea chicken salad, and more. There are also recipes for non-edible products such as green tea teeth cleaner; antifungal foot powder; green tea mask; green tea soap; bath salts; and more. 
Other books to check out specifically talk about the alleged health benefits of tea. One of these is "The Ultimate Tea Diet: How Tea Can Boost Your Metabolism, Shrink Your Appetite, and Kick-Start Remarkable Weight Loss" by Mark Ukra. The description of the book says, "The food plan includes tasty tea-based meals for breakfast, lunch, and dinner as well as tempting choices for midday snacks and sweet treats. All are made deliciously with tea so not only is your food incredibly flavorful, but you're also getting the health and weight-loss benefits in every single bite you enjoy." In this book, you'll learn more history of tea; learn how to steep leaves; general health and diet advice; an exercise plan; detailed information about types of tea; meal plan recipes; and more. The recipes from breakfast to dessert indeed sound good. Even if not interested in losing weight, read this book to learn how to merely enjoy using tea for flavor. Examples include apple-cinnamon tea oatmeal; tea garden grilled salmon; BBQ tea-grilled chicken; vegetable mushroom tea frittata; tea chicken tostadas with tomato tea salsa; blueberry pie frostea; vegetable tea soup with chicken; tea rice; yogurt tee parfait; tea fruit salad; apple tea cobbler; tea ice cubes; and much more. Tea may be like a miraculous substance and seems wise to continue or start drinking tea. 
Also digitally, you can find more general books about tea regarding its history and use. Some excellent examples include "15 Herbs for Tea" by Marian Sebastiano; "Tea: 50 Ways to Prepare, Serve, and Enjoy" by Sara Perry; "Tea: The Drink That Changed The World" and "History Of Tea" by Laura C. Martin; "The Tea Cyclopedia" by Keith Souter; "Modern Tea" by Lisa Boalt Richardson; "Grow Your Own Tea" by Christine Parks; "A Dark History of Tea" by Seren Charrington Hollins; and "Tea Culture" by Beverly Dubrin. 
A fun graphic novel series based on tea include the books The Tea Dragon Society and The Tea Dragon Festival. Both are available in physical format inside the library as well as digital format on Hoopla. According to the description in our library catalog, "The Tea Dragon Society is the two-time Eisner Award-winning gentle fantasy that follows the story of a blacksmith apprentice, and the people she meets as she becomes entwined in the enchanting world of tea dragons. After discovering a lost tea dragon in the marketplace, Greta learns about the dying art form of tea dragon care-taking from the kind tea shop owners, Hesekiel and Erik. As she befriends them and their shy ward, Minette, Greta sees how the craft enriches their lives–and eventually her own." At the end of the book, there is information about tea dragon husbandry, including pictures and descriptions of each type of tea dragon that are cute and it is fun to find how your favorite tea to drink is depicted as a tea dragon. A new companion story has been published titled The Tea Dragon Festival, whose description says, "Rinn has grown up with the Tea Dragons that inhabit their village, but stumbling across a real dragon turns out to be a different matter entirely."
There are also several mystery books with tea as the theme, from the Tea Shop Mystery Series by Laura Childs and other titles such as "English Tea Murder" by Lessie Meier and "Tea with Jam and Dread" by Tamar Myers. There is also one on the new book shelf that was just released this past year titled "Tea & Treachery" by Vicki Delany.   These are cozy mysteries, often with recipes at the end. Many of the titles consist of amusing puns. These books may be good to curl up in a blanket with a cup of tea and a murder to solve. In addition to the physical library, you can find these and other tea-themed mystery novels in Hoopla and the Sunflower eLibrary on Overdrive and Libby. Some examples of tea-themed mystery titles that are only available digitally are "Tea Cups and Carnage" by Lynn Cahoon; "Murder with Lemon Tea Cakes" by Karen Rose Smith; "Tea Or Consequences" by K.C. Burn; and "Murder and Mint Tea", "Murder and Poisoned Tea", "Murder and Tainted Tea"; and "Murder and Herbal Tea" by Janet Lane Walters. There are so many tea-themed mysteries!
In addition to books, Salina Public Library offers a documentary about tea to check out via Hoopla. "The Story of Tea: The History of Tea & How to Make the Perfect Cup." It is a basic introduction to tea, showcasing the history; manufacturing; brewing; a wide assortment of blends of tea, and how to make the perfect cup every time. If you haven't signed up for Hoopla yet, all you need is a library card number and pin, e-mail address; create a password for the account; and to be a Saline County resident. You can stream titles instantly through your desktop browser or the mobile app. If you use the mobile app, you can also download titles to your device for offline playback later, where Wi-Fi may be unavailable. Titles are automatically returned and removed from your device at the end of the lending period.
Personally, my favorite thing that involves tea in its title is the Life's Library Book Club shelf named Chamomile. The free worldwide book club Life's Library is broken down into multiple servers so that discussion isn't overwhelming and feels like the amount of people who would attend an in-person book club. Chamomile is the shelf that I was drawn to because of the cozy look of the tea pot, cup of tea, chamomile flowers, fairy lights, and polaroid pictures. Therefore I picked that image to join the server with others who picked that image to talk about books with others from all around the world. I recommend the Chamomile Life's Library Book Club Discord server, (or any of the other shelves whose images attracts you the most to click on and join) where I've found a cozy place to drink tea and read with its friendly members, to anyone looking for new books to read and discuss with others in a forum-like environment.
Happy National Tea Month! Enjoy tea of any kind, as the variety is seemingly limitless. A couple of my favorite tea selections have been a tin of English breakfast tea from a librarian in England and a box of Hobbiton Meadow Mint tea from a friend who remembered that my favorite book is "The Lord of the Rings". Be bold and try a new kind of tea this month while you read some tea-themed books.