When the holidays have ended, and January comes upon us, many individuals decide to start the upcoming year by declaring a change is going to come. One of the most common New Year's resolutions is to lose weight and/or eat healthier. However, statistics show that most resolutions beginning on January 1 frequently end by mid February. I would never want to sabotage another person's willpower, but if any month would be the month to grab your stretchy pants and pull up a chair to the dining room table, it would be February, in this humble writer's opinion. 
Now you are probably wondering, why would I say that? Why would I purposely send ill will towards someone's goal like that? In case you did not know, February is the month that the great American pie is celebrated. A pastry dough with endless filling or topping possibilities, raise your hand if you would not want to experience something as tasty as a freshly baked apple pie ala mode, the tart yet sweet lemon meringue pie, or the decadent french silk pie. Any of these aforementioned desserts would be worth a small cheat session to binge on your pie fantasies, or to share the recipe with your friend or family so they, too, can partake in the goodness. For those of you with unbreakable willpower, perhaps researching a recipe to make a lighter version of the pie you crave is the best option.
Pies have been around for centuries. Ancient Egyptian bakers used to serve the Pharaoh a bread dough filled with fruit, nuts, and honey. Drawings depicting this practice were discovered on the tomb walls of Ramses II. In the United States, the first pie was known to be eaten in 1620, when the pilgrims brought their favorite family pie recipes with them to America. These pies were English in style, more meat-based recipes. A 1675 cookbook recorded the first pumpkin pie recipe, which later became popular in the 1800s. 
In America, it is our love for a sweet-tasting pie that sets us apart from the rest of the pie aficionados in the World. The versatility of the pie is hard to rival and has become a huge staple of the traditional American experience. This is supported by the notion that Independence Day happens to be one of the most popular days to bake and eat pie. The term ''as American as apple pie'' upholds the argument that it is our nation's favorite dessert. America's love for pie has become so ingrained within the culture, that in February of 1990, the Great American Pie Month was officially declared.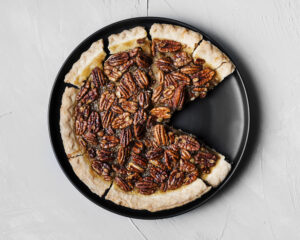 I personally do not recall ever meeting a pie I did not like, but if I had to choose, my favorite pie would probably be pecan. The sweet "goo" that engulfs the crunchy pecans is a little piece of Heaven in my book. However, this Kansas local, by the way of Connecticut, does not represent the Midwest, the East Coast, or the entire country. A West Coast favorite is the olallieberry pie. Similar to a blackberry, this fruit is a cross between the loganberry and the youngberry, which are breeds of other berries. This pie is typically made with a standard butter crust which captures the fruit filling between the top and bottom layers of crust. In the Midwest, the unofficial pie of Indiana is the Hoosier Pie. This sugary cream pie is more like a custard. It is considered one of the easier pies to make because the ingredients are ones most people probably already have on hand in their pantry and refrigerator. It includes sugar, heavy cream, vanilla, flour, and nutmeg. This pie has a bottom crust, but the top is all about the rich, creamy custard. 
Southern folks are fond of a hand pie that is deep-fried and dusted with powdered sugar. These compact desserts, which come in a variety of flavors, including several fruits, jellies, and creams, are not just native to the South. Familiar versions of these pies can be found in restaurants all over the country such as McDonald's. New Englanders cherish the marlborough pie, the custard cousin of apple pie. Roasted apples are mixed with milk, eggs, and sherry before being baked into a nutty tasting dessert. Of course, the most widely consumed pies across the United States are tried and true standards such as apple and cherry. If you ask my almost 80-year-old father, cherry is the only pie.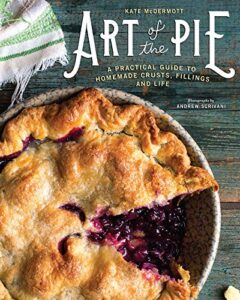 If by some chance you have been trapped underground or living in an all cake world, and have yet to indulge in the joy that only a pie can bring, consider checking out "The Art of Pie: A Practical Guide To Homemade Crust, Fillings, and Life" or "Pie Camp: The Skills You Need To Make Any Pie You Want" by Kate McDermott. As stated by McDermott, "It's always the right time to make a pie." Her books provide recommended tools, ingredient lists, instructions, photos, and detailed, yet humorous insights to assist bakers of any level and experience in creating a variety of pies. From the highly rich and caloric to the slimmed down lighter version of the pies you would love to devour, and even those with specific dietary needs, these books are sure to get you diving into a delicious concoction known simply as pie very soon. 
Another great consideration for your next checkout and all your pie adventures is "For The Love of Pie" by Felipa Lopez. This book definitely has its share of sweet American style pies including basic, intermediate, and professional chef level pies. It also provides a nice selection of savory pies that caters to all palettes and diets, for those times when The Great American sweet style pie is not on the menu. Check out these books and more from the Salina Public Library's online catalog. Happy pie making, eating, and sharing.