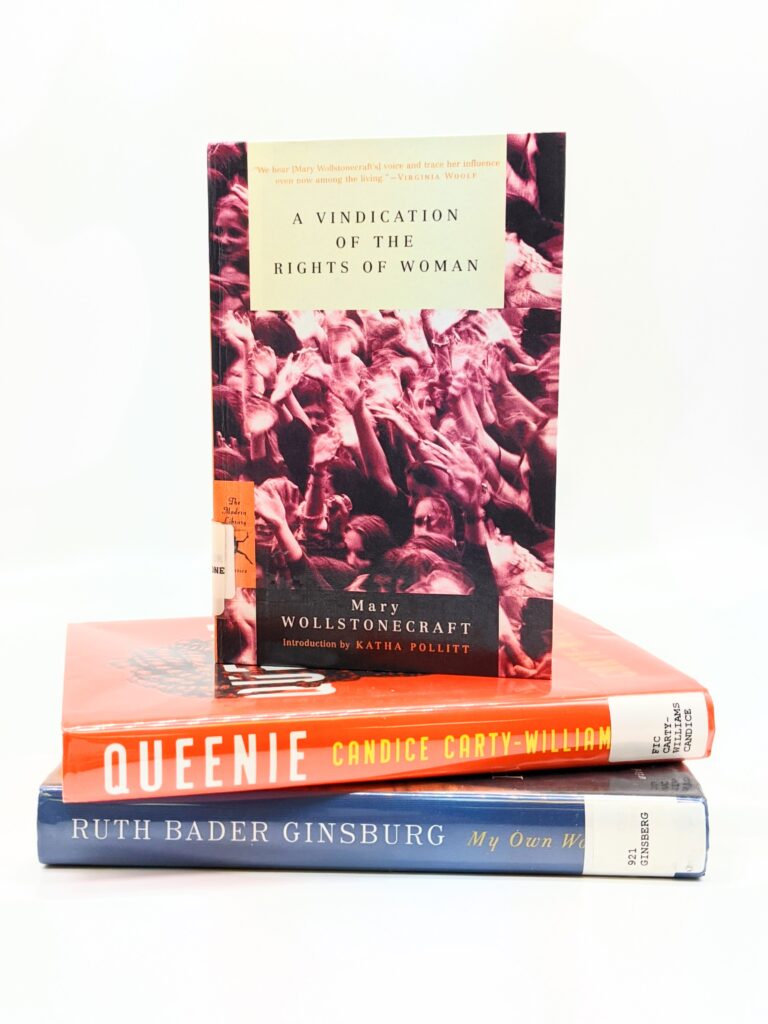 March is Women's History Month, so to celebrate, grab one of these reads by and/or about rad women:
Fiction 
"Queenie" by Candice Carty-Williams


Williams 2019 novel ponders over questions the modern woman asks herself: Who are you and who do you want to be? Queen, a Jamaican British 25-year-old, works for a newspaper based in London where she is constantly juxtaposed with middle-aged white men. Having recently broken up with her white boyfriend, Queen's search for happiness leads to poor decisions. After several missteps, she begins to ask herself the important questions in an attempt to truly find who she's meant to be. 

"The Bell Jar" by Sylvia Plath


Sylvia Plath dives deep into the psyche through her character Esther Greenwood as she begins to slowly unravel. Esther begins questioning her place after spending a month in New York where she is surrounded by girls that she doesn't entirely relate to and attempts to date with devastating outcomes. After returning home, she still struggles to regain control of her life and slips further from reality. Will she be able to find her way back?

"In the Time of the Butterflies" by Julia Alvarez
Based on the true story of the Mirabal sisters, Julia Alvarez's novel, "In the Time of the Butterflies," became an instant classic after it was originally published in 1994. Set in November of 1960, three of the Mirabal sisters are found dead after their Jeep went over the edge of a cliff. Everyone knows but doesn't say who's at fault: Ragael Leonidas Trujillo, the Dominican dictator the sisters worked to oppose. But a fourth sister survives. Alvarez tells the story of Las Mariposas, the Butterflies, giving a voice to each sister while relaying their experiences of love, activism, and life under Trujillo's regime.
Nonfiction
"The Women's Suffrage Movement" edited by Sally Roesch Wagner, Foreward by Gloria Steinem


Published nearly a century after the ratification of the 19th amendment, "The Women's Suffrage Movement" is an anthology comprised of historical writings from the women who took up the torch roughly two centuries ago. While it contains writings from well known suffragettes such as Elizabeth Cady Staton and Susan B. Anthony, the anthology also highlights works from marginalized voices such as Native American and Black women including Ida B. Wells. 

"My Own Words" by Ruth Bader Ginsburg


As one of the most influential American women of the last century, the late Ruth Bader Ginsburg chronicles her journey to and life as a Supreme Court Justice. With introductions to each chapter by Mary Hartnett and Wendy W. Williams, her chosen biographers, Justice Ginsburg writes on the inner workings of the Supreme Court, her experiences as Jewish and a woman in law, working with Sandra Day O'Connor and Gloria Steinem, and interpreting the U.S. Constitution. With both wit and wisdom, "My Own Words" allows readers a peek inside the mind of America's Great Dissenter. 

"A Vindication of the Rights of Women" by Mary Wollstonecraft


Writing in the late 18th century, Mary Wollstonecraft wrote on women's education and declared that women should have the same basic rights as men, making "A Vindication of the Rights of Women" one of the very first feminists texts ever published. She argued that since women are responsible for the upbringing of society's children, they should receive the same education as their male counterparts as essential people in society as mothers and partners. In addition to this, her radical idea (of the time) that women are more than mere property was later influential in the foundation of the suffrage movement. 
For further reading recommendations, check out our service "Your Next Read" or chat with our librarians in Information Services. Visit our Instagram page to view a full month of reads by rad women.