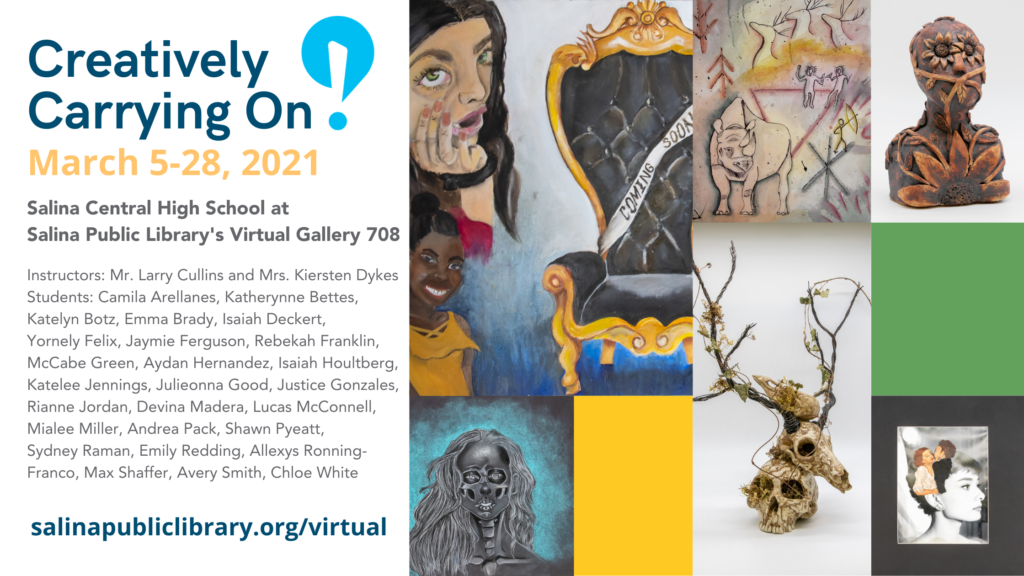 Salina Central High School art instructors Mr. Larry Cullins and Mrs. Kiersten Dykes faced unique teaching challenges in 2020-21. Virtual and online learning changed traditionally hands-on visual classes into independent studies as students worked from home at times. Despite challenges, creative assignments and work continued. Some art was produced at home during remote learning and other pieces were created through a hybrid classroom format. It's our pleasure to present artwork from the following Salina Central High School students in Virtual Gallery 708, March 5-31, 2021 in their group show, "Creatively Carrying On"; Camila Arellanes, Katherynne Bettes, Katelyn Botz, Emma Brady, Isaiah Deckert, Yornely Felix, Jaymie Ferguson, Rebekah Franklin, McCabe Green, Aydan Hernandez, Isaiah Houltberg, Katelee Jennings, Julieonna Good, Justice Gonzales, Rianne Jordan, Devina Madera, Lucas McConnell, Mialee Miller, Andrea Pack, Shawn Pyeatt, Sydney Raman, Emily Redding, Allexys Ronning-Franco, Max Shaffer, Avery Smith, and Chloe White.
We hope you enjoy this online exhibit of student work. If you'd like to find your own inspiration from Mr. Cullins and Mrs. Dykes high school art classes, the following assignments produced some of the work in the exhibit, and I've included some complimentary library media alongside the teacher's assignments for fun. Some artwork is based on additional assignments and students' individual sustained investigations. Mrs. Dyke's students chose a topic and created multiple projects based on their chosen topic for example. This format is based on AP guidelines for creating their own national portfolio.
Montage Assignment: Students reminisced about their summers and drew multiple images together as a narrative.
Draw your own Montage Library Media: 
Shoe Assignment: Students learned the fundamentals of oil painting and captured the personal feeling of a shoe important to them.
Shoes in Library Media: 
Cave Drawings Using Hand-Carved Sticks Assignment: Students learned about gesture, quick sketching, tribal symbolism, and foreshortened animals to create their own cave drawing style piece using water colors, splattering techniques, texturing a simulated rock surface, and twigs as tools.
Early Human Art Library Media: 
Fish Assignment: Students were visited by local guest artist, Curt Krob. Students engaged in discussion and observed Krob's process. In response to Krob's demonstrations and discussion students created their own fish inspired by Krob, but in their own aesthetic.
Fishy Library Media: 
Hand Sculptures Assignment: Students sculpted a hand in an interesting position as part of a project titled Metacarpus Mud.
Handy Library Media: