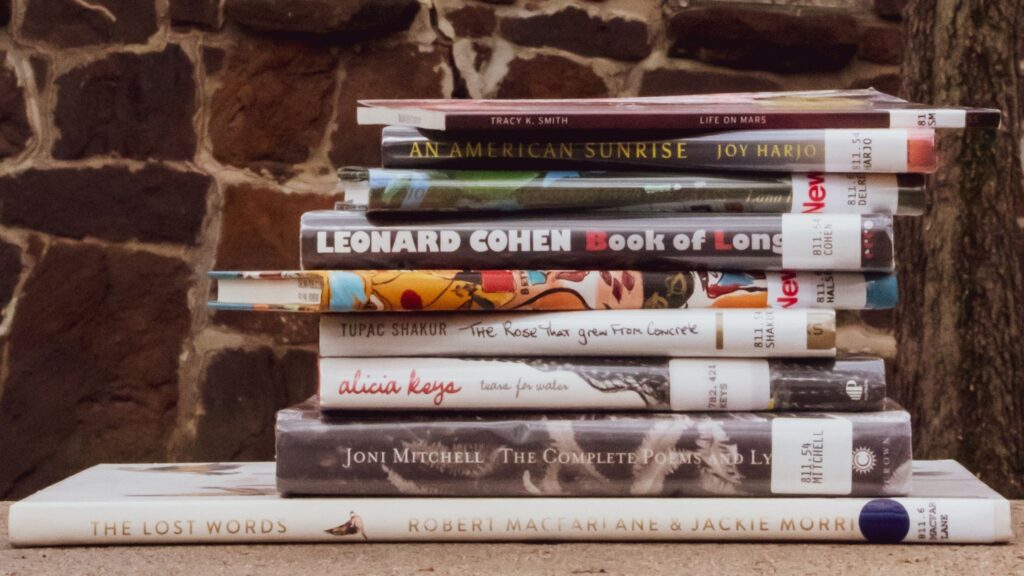 Maybe you're a poetry lover and have read some of the greats like Percy Bysshe Shelley or Langston Hughes. Or maybe you're more into contemporary poets like Rupi Kaur or Courtney Peppernell. What about music? Are you a rap and R&B lover or do lean towards pop and alternative? This year for National Poetry Month, combine your love of music and poetry and checkout poetry collections by your favorite musicians.
"I Would Leave Me if I Could: A Collection of Poetry" by Halsey
Published late last year, this is the Grammy Award winning artist's first published collection of poetry. Through her lyrics and poems, Halsey has become one of the standout voices of her generation by conveying her experiences of love, loss, and living with bipolar disorder.
Stealth.
It's moving silently.
It's heavy.
It started from my knees
and now it's creeping up already.
Just another second now,
'cause here comes the confetti.
Please, hold the camera steady.
I encore 7 more
and everybody's like "That's plenty!"
I would leave me if you'd let me
I would leave me if you'd let me
I would leave me if I could.
(I Would Leave Me if I Could, 22-34)
"The Rose that Grew from Concrete" by Tupac Shakur
Published posthumously, this collection of seventy-two poems was written by Tupac's own hand from the time he was nineteen years old, giving readers a very personal glimpse into the rapper's world view. 
The Rose that Grew from Concrete
Autobiographical

Did u hear about the rose that grew from a crack
in the concrete
Proving nature's laws wrong it learned 2 walk
without having feet
Funny it seems but by keeping its dreams
it learned 2 breathe fresh air
Long live the rose that grew from concrete
when no one else cared!
"Violet Bent Backwards Over the Grass" by Lana Del Rey  
The title poem is the first the artist wrote out of more than thirty poems featured in the collection. Shown alongside her photography, the hard copy showcases never before seen poems while Del Rey reads fourteen poems and features her own music in the audiobook version. 
Stay on your path Sylvia Plath

don't fall away like all the others
Don't take all your secrets alone to your watery grave about
Lovers and mother
The secrets you keep will keep you in deep like father and Amy
and brother
And all of the people you meet on the street will reiterate lies
that she uttered
(Bare Feet on Linoleum, 1-8) 
"Tears for Water" by Alicia Keys
Although Alicia Keys has bared her emotions through her songs and been very open about her career, the Grammy Award winner claims that this poetry collection contains some of her "most delicate thoughts," ones she never expected to share with the world. 
In my differences I am defiant
And that is more beautiful
Than any photo shoot
Than any cover story
Fixed with Photoshop
It's gotta stop
This image of beauty
Is all wrong
But it's been going on too long to realize
The prize is down inside the deepest region
Of your available soul
Behold
Read the story
And let it be told
Even in my beginning stages
I am more than just a silent woman
Frozen on white pages.
(Cosmopolitan Woman, 39-55)
"Book of Longing" by Leonard Cohen
Now best known for his career in music, Leonard Cohen didn't begin his career in the music industry until the late sixties after publishing four poetry collections. The Rock and Roll Hall of Famer published "Book of Longing" in 2006. From the title poem:
For less than a second

Our lives will collide
The endless suspended
The door open wide

Then she will be born
To someone like you
What no one has done
She'll continue to do
I know she is coming
I know she will look
And that is the longing
And this is the book
(Book of Longing, 29-40)
For more National Poetry Month reading recommendations, chat with staff on our website, visit our librarians in Information Services or complete Your Next Read. Visit our Instagram page to see other featured poetry collections throughout the month of April.
How else are we celebrating National Poetry Month? Click here to read about our Haiku Contest!