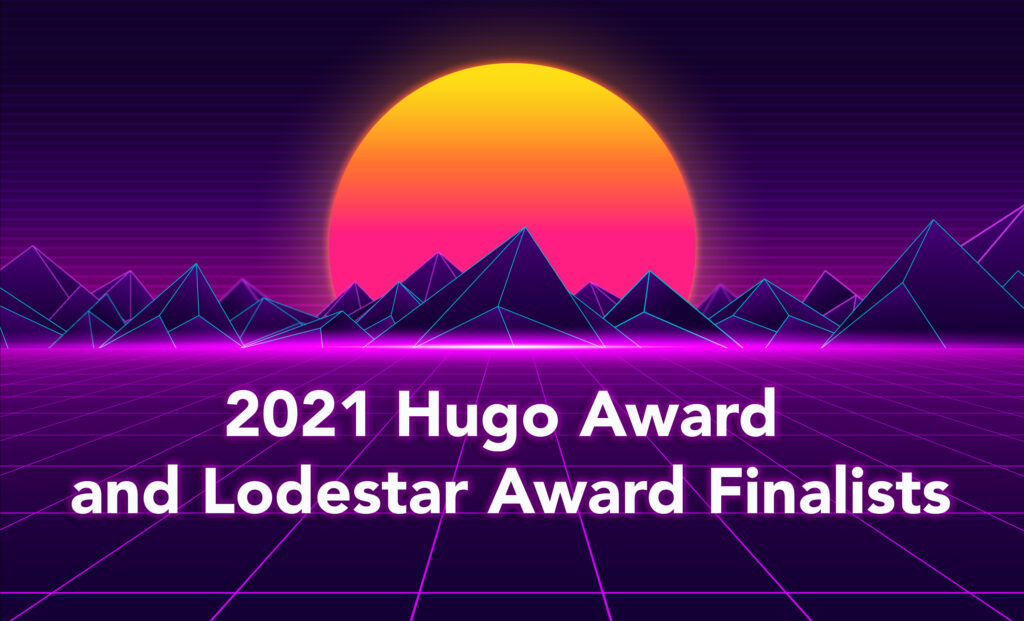 Recently, the Hugo nominees were announced. Many of the authors are women and represent a diverse set of voices. According to the Hugo Awards website, the Hugo Awards, first presented in 1953 and presented annually since 1955, are science fiction's most prestigious awards. Works of fantasy as well as horror have often won Hugos. This is possible since there isn't a defined agreement about the distinctions between genres and subgenres. 
The Hugo Awards are named after Hugo Gernsback, a famous magazine editor who did much to bring science fiction to a wider audience. Gernsback founded Amazing Stories, the first major American science-fiction magazine, in 1926. He is widely credited with sparking an increase in interest in written science fiction. In addition to having the Hugo Awards named after him, he has been recognized as the "Father of Magazine Science Fiction" and has a crater on the moon named after him.
The Hugo Awards are voted on by members of the World Science Fiction Convention ("Worldcon"), which is also responsible for administering them. The awards are run by and voted on by fans. Recently, last month, in April, the six finalists were announced in each category for the 2021 Hugo nominations. 
Salina Public Library currently has all of the titles available to check out for Best Novel, Best Novella and Best Graphic Story or Comic.
2021 Hugo Award finalists for Best Novel
"Black Sun" by Rebecca Roanhorse is the start of a high-fantasy epic that is inspired by the civilizations of the Pre-Columbian Americas. Settlements existed a few hundred years ago with tens of thousands of people before being abandoned, including at Etzanoa, a historic Wichita city, located in present-day Arkansas City, Kansas. This book includes prophecies, political intrigue and forbidden magic. A solar eclipse is about to coincide with the winter solstice, a foreboding omen, which is the time when the reincarnation of the Crow God would be able to take control of the world as feared by the Sun Priest. 
This book is the first of a to-be trilogy and is a great start to an ambitious epic that feels like it has a lot of depth to it. While the book didn't hook me as much as I expected and is slower paced than the other books I have read by the same author, I am definitely interested in reading book two to see what happens next.
"The City We Became" by N.K. Jemisin is another Hugo finalist from this award-winning author. The three books of her Broken Earth series — "The Fifth Season", "The Obelisk Gate" and "The Stone Sky" — made her the first author to win the Hugo Award for Best Novel in three consecutive years, as well as the first to win for all three novels in a trilogy. Jemisin is an innovative creative writer who is sure to draw you in once you become accustomed to a different format of storytelling that you may not be familiar with. 
In "The City We Became", cities have human embodiments of souls. Monstrous forces are threatening New York City and avatars of the different boroughs come together. It has been said to be both fantasy and an allegory for real issues in New York City. This novel has already won the British Science Fiction Association Award, which is open to any novel-length work of science fiction or fantasy, and perhaps it will win another best novel award this year.
"Harrow The Ninth" by Tamsyn Muir is the sequel to Muir's book "Gideon the Ninth" which are both part of The Locked Tomb trilogy that "mix funny tone with dark subject matter, and contain swashbuckling action, waves of bones, and lesbian necromancers in space," according to the publisher. Specifically regarding this Hugo Award finalist title, Harrowhark Nonagesimus, last necromancer of the Ninth House, has been drafted by her Emperor to fight an unwinnable war. Side-by-side with a detested rival, Harrow must perfect her skills and become an angel of undeath—but her health is failing, her sword makes her nauseous, and even her mind is threatening to betray her.
"Network Effect" by Martha Wells is the first novel in this author's Murderbot series; the rest have been novellas which I highly recommend. I read the first in the series "All Systems Red" and had to read the others as soon as I could, especially after attending a reading from Martha Wells. The series is about an artificial construct designed as a Security Unit, who calls itself Murderbot, which manages to override its governor module, gaining independence from a corporation. As it spends more time with others, it struggles with emotions and figuring out what it wants to do in life. These books have a lot of sarcastic humor and it is easy to identify with Murderbot, who can't resist helping others but actually just wants to binge television nonstop. In addition to the first book All Systems Red, the other published books in order, are "Artificial Condition"; "Rogue Protocol"; "Exit Strategy"; this Best Novel Hugo Finalist "Network Effect"; and "Fugitive Telemetry," which just came out this past month.
"Piranesi" by Susanna Clarke is Clarke's second novel and her first since her award-winning debut Jonathan Strange & Mr Norrell. "Piranesi" is a novel set in a dreamlike alternative reality. Piranesi's house is no ordinary building: its rooms are infinite, its corridors endless, its walls are lined with thousands upon thousands of statues, each one different from all the others. Within the labyrinth of halls an ocean is imprisoned; waves thunder up staircases, rooms are flooded in an instant. But Piranesi is not afraid; he understands the tides as he understands the pattern of the labyrinth itself. He lives to explore the house. There is one other person in the house — a man called The Other, who visits Piranesi twice a week and asks for help with research into A Great and Secret Knowledge. But as Piranesi explores, evidence emerges of another person, and a terrible truth begins to unravel, revealing a world beyond the one Piranesi has always known.
"The Relentless Moon" by Mary Robinette Kowal is the third Lady Astronaut book, the first being "The Calculating Stars" and the second being "The Fated Sky." "The Relentless Moon" takes place in the same time period as the events of "The Fated Sky" but from a different character's point of view. I would still recommend reading them in order to get the best full picture of the series but I believe you could read "The Relentless Moon" as a standalone novel if you understand that earlier events have taken place to reach the point that is happening now. 
This series is a science fiction alternate history which takes place in the 1950s but a huge meteorite obliterates much of the east coast of the United States, including Washington, D.C., causing Kansas City to now be the capital city. The ensuing climate cataclysm will soon cause Earth to be unhospitable for humanity and an accelerated effort takes place aiming to colonize space, such as the moon and Mars. Because of the time period, racial and women's issues are at the forefront as the main characters are women, including African-Americans, who are strong and intelligent, but prejudice seeks to prevent them from succeeding as leaders in this planetary effort to save humanity's future. 
2021 Hugo Award finalists for Best Novella
"Come Tumbling Down" by Seanan McGuire is the newest novella in the Wayward Children series, which is about a boarding school for kids who come home from portal fantasy worlds and can't adjust to their new, ordinary lives. Others in the series include "Every Heart a Doorway"; "Down Among the Sticks and Bones"; "Beneath the Sugar Sky"; "In an Absent Dream"; and "Across the Green Grass Fields." "Come Tumbling Down" focuses on characters introduced earlier, so it's best to read the series in order, but since they are all very short books—novellas—it won't be long until you're reading this 2021 Hugo Award finalist.
"The Empress of Salt and Fortune" by Nghi Vo is the first book in the Singing Hills Cycle series and its sequel was recently published, "When the Tiger Came Down the Mountain." Set in a world reminiscent of Imperial China, Nghi Vo's feminist high fantasy Singing Hills Cycle follows the rise of Empress In-yo, her friendship with the handmaiden Rabbit, and her determination to break free from the confines of her arranged political marriage and forge her own destiny.
"Finna" by Nino Cipri is the first book in the LitenVerse series. Its sequel has recently been published and is titled "Defekt." The author is a graduate of the Clarion Writing Workshop and the University of Kansas's MFA program. "Finna" explores queer relationships and queer feelings, capitalism and accountability, labor and love, all with a bouncing sense of humor and a commitment to the strange. When an elderly customer at a furniture store slips through a portal to another dimension, it's up to two minimum-wage employees to track her across the multiverse and protect their company's bottom line.
"Ring Shout" by P. Djèlí Clark is a dark fantasy historical novella that gives a supernatural twist to the Ku Klux Klan's reign of terror. Rising in power and prominence, the Klan has a plot to unleash Hell on Earth. Luckily, Maryse Boudreaux has a magic sword and a head full of tales. When she's not running bootleg whiskey through Prohibition Georgia, she's fighting monsters.
"Riot Baby" by Tochi Onyebuchi is his first novel for adults. In this novella, Ella seems to be able to see the future as she sees a classmate grow up to become a caring nurse and a neighbor's son murdered in a drive-by shooting. Kev, born while Los Angeles burned around them, wants to protect his sister from a power that could destroy her. But when Kev is incarcerated, Ella must decide what it means to watch her brother suffer while holding the ability to wreck cities in her hands.
"Upright Women Wanted" by Sarah Gailey is the sole novella finalist that I have personally read. I thought that "Upright Women Wanted" was an entertaining story as librarians travel from town to town passing out Approved Materials, but these librarians are more than what they seem. The main character Esther has stowed away in a librarian cart; her father has hung her best friend, her lover. In this setting, relationships that are not heterosexual are forbidden. Esther feels alone but she soon discovers that she does not need to feel that way. This book is like a Western with a caravan of people traveling with supplies, and on horses, camping and going town to town on a mission, including renegades ones. Also like Westerns, multiple shootouts occur. There is a lot of action in this short novel as well as character growth. I wish this book was longer because I would definitely read more with the characters and plot set up in this short novel.
2021 Hugo Award finalists for Best Graphic Story
"DIE, Volume 2: Split the Party" written by Kieron Gillen is the second installment of this series the author describes as a Goth Jumanji, which is a fantasy where a group of forty-something adults have to deal with the returning unearthly horror they barely survived as teenage role-players. This second volume starts to reveal the secrets of the world, and the heroes' pasts.
"Ghost-Spider Vol. 1: Dog Days Are Over" by Seanan McGuire is the first installment of a series detailing the events of the return of Gwen Stacy, the Spider-Woman of Earth-65, who makes her way to the Marvel Universe. With a cloud of infamy hanging over her head in her home dimension, Gwen now travels to the Prime Marvel Universe for super hero action and school, taking classes right down the hall from Peter Parker. McGuire details Gwen's day-to-day life as she begins attending college in one universe while juggling her commitments back home.
"Invisible Kingdom, Vol. 2: Edge of Everything" by G. Willow Wilson is the second book in the Invisible Kingdom series. Set in a far-flung star system, this epic sci-fi saga tells the tale of two women—a young religious acolyte and a hard-bitten freighter pilot—who separately uncover a vast conspiracy between the leader of the system's dominant religion and the mega-corporation that controls society. On the run from reprisals on both sides, this unlikely pair of rebels risk plunging the world into anarchy if they reveal the truth.
"Monstress, Vol. 5: Warchild" by Marjorie Liu is part of the Monstress series. Set in an alternate world of art deco beauty and steampunk horror, Monstress tells the epic story of Maika Halfwolf, a teenage survivor of a cataclysmic war between humans and their hated enemies, the Arcanics. In the face of oppression and terrible danger, Maika is both hunter and hunted, searching for answers about her mysterious past as those who seek to use her remain just one step behind and all the while, the monster within begins to awaken.
"Once & Future Vol. 1: The King Is Undead" by Kieron Gillen is the beginning of the Once & Future series. In this Hugo Award finalist title, when a group of Nationalists use an ancient artifact to bring a villain from Arthurian myth back from the dead to gain power, retired monster hunter Bridgette McGuire pulls her unsuspecting grandson Duncan, a museum curator, into a world of magic and mysticism to combat the deadly secrets of England's past that threaten its very future. 
"Parable of the Sower: A Graphic Novel Adaptation" by Damian Duffy adapts Octavia Butler's novel "Parable of the Slower" into an illustrated format, drawn by John Jennings. This re-creation of "Parable of the Sower" combines strong dialogue selections; artwork; color; and framing to make the most profound impact on the reader whether or not you are familiar with the original story. 
If you're not familiar with the original story, it takes place in the near future in California. The main character is an 18-year-old African-American woman named Lauren, who is able to feel others' pain as well as her own because of a powerful shared empathy trait that she was born with. The country is suffering from environmental and economic crises that lead to social chaos. Lauren, a preacher's daughter living in Los Angeles, is protected from danger by the walls of her gated community. However, in a night of fire and death, what begins as a fight for survival soon leads to something much more: a startling vision of human destiny and the birth of a new faith.
2021 finalists for Lodestar Award for Best Young Adult Book
"Cemetery Boys" by Aiden Thomas is the sole title of the Best Young Adult Book finalists that I have read. Yadriel, a trans boy, summons the angry spirit of a missing classmate, and agrees to help him learn how he died, proving himself a brujo, not a bruja, to his conservative family. When his traditional Latinx family has problems accepting his gender, Yadriel becomes determined to prove himself a real brujo. With the help of his cousin and best friend Maritza, he performs the ritual himself, and then sets out to find the ghost of his murdered cousin and set it free. But the ghost he summons is actually Julian Diaz, the school's resident bad boy, and Julian is determined to find out what happened. Left with no choice, Yadriel agrees to help Julian. But the longer Yadriel spends with Julian, the less he wants to let him leave. 
"A Deadly Education" by Naomi Novik is the start of the Scholomance series, with book two being published later this year. "A Deadly Education" is set at Scholomance, a school for the magically gifted where failure means certain death until one girl, El, begins to unlock its many secrets. Survival is more important than any letter grade, for the school won't allow its students to leave until they graduate or die. The rules are deceptively simple: Don't walk the halls alone. And beware of the monsters who lurk everywhere. El is uniquely prepared for the school's dangers. She may be without allies, but she possesses a dark power strong enough to level mountains and wipe out millions. It would be easy enough for El to defeat the monsters that prowl the school but her powerful dark magic might also kill all the other students.
"Elatsoe" by Darcie Little Badger has an attractive cover with a girl surrounded by the ghosts of animals. Elatso—Ellie for short—lives in an alternate contemporary America shaped by the ancestral magics and knowledge of its Indigenous and immigrant groups. She can raise the spirits of dead animals—most importantly, her ghost dog Kirby. When her beloved cousin dies, all signs point to a car crash, but his ghost tells her he was murdered. With help, she must track down the killer and unravel the mystery of this creepy town of Willowbee and its dark past.
"Legendborn" by Tracy Deonn is the first book in a planned Legendborn series. After her mother dies in an accident, 16-year-old Bree Matthews wants nothing to do with her family memories or childhood home. A residential program for bright high schoolers seems like the perfect escape until Bree witnesses a magical attack her very first night on campus. She sees a flying demon feeding on human energies and discovers a secret society of so-called "Legendborn" students that hunt the creatures down. Bree's own unique magic is soon unlocked and she must decide what to do with this power as the Legendborn reveal themselves as the descendants of King Arthur's knights and explain that a magical war is coming. 
"Raybearer" by Jordan Ifueko is the start of a planned Raybearer series inspired by real-world cultures of Africa. Tarisai has always longed for the warmth of a family. She was raised in isolation by a mysterious, often absent mother known only as The Lady. The Lady sends her to the capital of the global empire of Aritsar to compete with other children to be chosen as one of the Crown Prince's Council of 11. If she's picked, she'll be joined with the other Council members through the Ray, a bond deeper than blood. That closeness is irresistible to Tarisai, who has always wanted to belong somewhere. But The Lady has magically compelled Tarisai to kill the Crown Prince, and Tarisai does not want to be a pawn.
"A Wizard's Guide to Defensive Baking" by T. Kingfisher makes me immediately think of Harry Potter and the Defense Against the Dark Arts classes he took. Fourteen-year-old Mona isn't like the wizards charged with defending the city. She can't control lightning or speak to water. Her familiar is a sourdough starter and her magic only works on bread. She has a comfortable life in her aunt's bakery making gingerbread men dance. But Mona's life is turned upside down when she finds a dead body on the bakery floor. An assassin is stalking the streets of Mona's city, preying on magic folk, and it appears that Mona is his next target. And in an embattled city suddenly bereft of wizards, the assassin may be the least of Mona's worries. 
Be sure to look at a complete list of finalists for all categories. The categories, in addition to what this blog discussed; are Best Novelette; Best Short Story; Best Series; Best Related Work; Best Dramatic Presentation, Long Form; Best Dramatic Presentation, Short Form; Best Editor, Short Form; Best Editor, Long Form; Best Professional Artis; Best Semiprozine; Best Fanzine; Best Fancast; The Secret To Superhuman Strength; Best Fan Writer; Best Fan Artist; Best Video Game; and Astounding Award for Best New Writer.