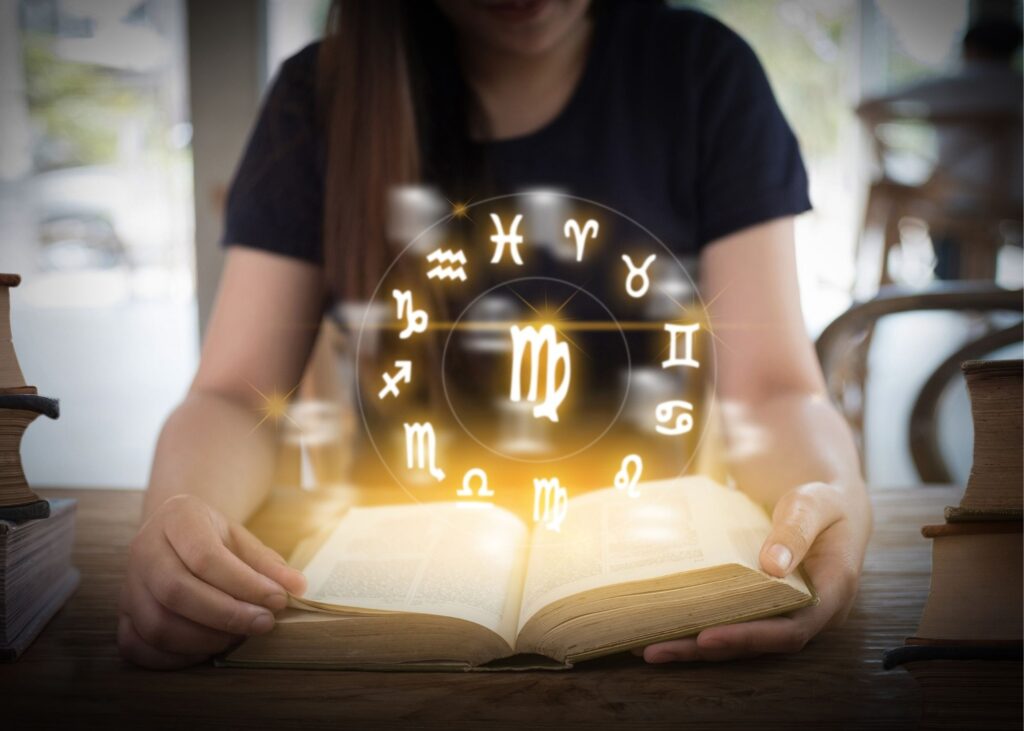 Aries is the cardinal fire sign meaning that they are natural born leaders and unapologetically passionate about what they believe in. Aries are direct, so skip the fluff and get straight to the action. With a confident and fiery protagonist full of determination, "The Once and Future Witches" is a great read for an Aries. 
There used to be witches, but plagues and purges came, along with fire—and now the witches are gone. Little charms endure, passed down through the generations, but these are worn down to nursery rhymes and old memories. Now in 1893, women look for power at the ballot box, and the New Salem Women's Association seeks suffragists to support their cause. On the spring equinox, the long-separated Eastwood sisters—James Juniper, Agnes Amaranth, and Beatrice Belladonna—all feel the energy that arrives in their city and start to use their positions in the women's movement to reclaim real magic. But there is a shadowy sickness in New Salem, and the sisters will need to form alliances throughout the city, discover lost witchcraft, and set down the pain of their childhood, before a dark power destroys the movement and their lives (Library Journal). 
Taurus: April 19-May 20
"Tiger Lily" by Jodi Lynn Anderson 
As a fixed Earth sign, Taureens like stability, dependability, and tradition. With an appreciation for beauty, a Taurus can easily find happiness relaxing and basking in the simplicity of nature. With their symbol being the bull, they will enjoy the headstrong protagonist, Tiger Lily, in Anderson's retelling of Peter Pan. 
Fifteen-year-old Tiger Lily doesn't believe in love stories or happy endings. Then she meets the alluring teenage Peter Pan in the forbidden woods of Neverland and immediately falls under his spell. Peter is unlike anyone she's ever known. Impetuous and brave, he both scares and enthralls her. As the leader of the Lost Boys, the most fearsome of Neverland's inhabitants, Peter is an unthinkable match for Tiger Lily. Soon, she is risking everything—her family, her future—to be with him. When she is faced with marriage to a terrible man in her own tribe, she must choose between the life she's always known and running away to an uncertain future with Peter. With enemies threatening to tear them apart, the lovers seem doomed. But it's the arrival of Wendy Darling, an English girl who's everything Tiger Lily is not, that leads Tiger Lily to discover that the most dangerous enemies can live inside even the most loyal and loving heart (Goodreads). 
The twins is the symbol that represents Gemini meaning that they often have contrasting sides to them. An air sign, they are quick-witted and have an active mind, so a book with an intriguing plot line and complex characters is needed to hold the interest of a Gemini. Bennet's "The Vanishing Half" features twin sisters who couldn't live more opposite lives and will keep readers thinking long after the final page. 
The Vignes twin sisters will always be identical. But after growing up together in a small, southern black community and running away at age sixteen, it's not just the shape of their daily lives that is different as adults, it's everything: their families, their communities, their racial identities. Many years later, one sister lives with her black daughter in the same southern town she once tried to escape. The other passes for white, and her white husband knows nothing of her past. Still, even separated by so many miles and just as many lies, the fates of the twins remain intertwined. What will happen to the next generation, when their own daughters' storylines intersect? (Goodreads)
Cancers can be described as sensitive and with their ruling planet being the moon and their element being water, they have emotions and layers to them that ebb and flow like the tides. Leading with their heart, Cancers are romantics but are also known to be shy and homebodies. Sometimes they just need a reminder to go where their heart takes them…
Harriet Knight has always been the shy twin, but she's decided to change all that by doing things she never would have before. That's how she ends up in the emergency room after leaving a restaurant through the restroom window—online dating is so not for her! The ER doctor is hot, but she doesn't expect to see him again. Then one of her regular dog-walking clients goes out of town, leaving her dog, Madi, with her brother, Dr. Ethan Black. Ethan's had a rough day in the ER, and coming home to find that Madi has destroyed his apartment doesn't leave him feeling warm and fuzzy. But he is determined to help his sister, and if that means Harriet needs to be in his apartment 24/7 to prevent further destruction, so be it. Ethan's anger makes Harriet stutter for the first time in years, and dog sitting is not part of the services Bark Rangers normally provides. But Ethan proves to be an irresistible challenge to Harriet in more ways than one (Booklist). 
Leo: July 22-August 22
"Sweetbitter" by Stephanie Danler
Leos are confident and bold and firmly believe that they are the main character of every story. A fire sign with the lion as their symbol, a Leo is going to want to read an exciting, glamorous book about a courageous protagonist with a big personality who's full of ambition. 
Newly arrived in New York City, twenty-two-year-old Tess lands a job as a "backwaiter" at a celebrated downtown Manhattan restaurant. What follows is the story of her education: in champagne and cocaine, love and lust, dive bars and fine dining rooms, as she learns to navigate the chaotic, enchanting, punishing life she has chosen. As her appetites awaken—for food and wine, but also for knowledge, experience, and belonging—Tess finds herself helplessly drawn into a darkly alluring love triangle. In "Sweetbitter", Stephanie Danler deftly conjures with heart-stopping accuracy the nonstop and high-adrenaline world of the restaurant industry and evokes the infinite possibilities, the unbearable beauty, and the fragility and brutality of being young in New York (Goodreads). 
Virgos tend to be maternal and enjoy being useful. They are often very supportive, loyal and grounded, aware of the space and people around them (makes sense for an Earth sign). A book about family, love, and set in the wilderness is sure to make a Virgo feel warm and fuzzy. 
Weylyn Grey can communicate with animals and manipulate weather, though for the latter he credits his pet pig. He also loves Mary, a biologist who as a child lived with him and his wolf family for three-and-a-half weeks. Lang's first novel tracks the life of this peculiar yet lovable boy from the alternating perspectives of those who knew him—a teacher, a mayor, a foster sister, and Mary. With a wry yet vivid style, Lang emphasizes the eccentricities of those distinct voices, yet Weylyn remains the most captivating character. Big-hearted and good-natured, he's too honest to question lies and wanders in forests with a dreamy smile. But beneath his upbeat façade, he blames himself for natural disasters and will suddenly vanish to protect loved ones. This tale feels comfortable and familiar, imitating Lewis Carroll's casual, everyday description of magic and starring a sympathetic, mature boy with Peter Pan-like abilities (Booklist).
Libra: September 22-October 23
"The Alchemist" by Paulo Coehlo
The scales represent Libras which accurately reflects their need for balance, choices, and  diplomacy. Being an air sign, they are clever, prone to fantasy, and enjoy puzzles and reading other people. Because of this, they are very empathetic but sometimes have a difficult time understanding themselves. Coehlo's "The Alchemist," is a fable with elements of magical realism and is full of choices that help the main character learn about those around him as well as himself. 
This story, dazzling in its powerful simplicity and soul-stirring wisdom, is about an Andalusian shepherd boy named Santiago who travels from his homeland in Spain to the Egyptian desert in search of a treasure buried near the Pyramids. Along the way he meets a Gypsy woman, a man who calls himself king, and an alchemist, all of whom point Santiago in the direction of his quest. No one knows what the treasure is, or if Santiago will be able to surmount the obstacles in his path. But what starts out as a journey to find worldly goods turns into a discovery of the treasure found within. Lush, evocative, and deeply humane, the story of Santiago is an eternal testament to the transforming power of our dreams and the importance of listening to our hearts (Goodreads). 
Scorpio: October 23-November 22
"Rebecca" by Daphne Du Maurier
One of the first things to know about a Scorpio is that they're complex; they can be intense and sometimes view things in black and white. They enjoy things that are mysterious, dark, and compelling but also enjoy exuding these qualities (sometimes making it difficult for them to open up to people). These are some of the reasons why the gothic romance novel "Rebecca" will be an intriguing read for Scorpios. 
"Last Night I Dreamt I went to Manderley Again…"
With these words, the reader is ushered into an isolated gray stone mansion on the windswept Cornish coast, as the second Mrs. Maxim de Winter recalls the chilling events that transpired as she began her new life as the young bride of a husband she barely knew. For in every corner of every room were phantoms of a time dead but not forgotten—a past devotedly preserved by the sinister housekeeper, Mrs. Danvers: a suite immaculate and untouched, clothing laid out and ready to be worn, but not by any of the great house's current occupants. With an eerie presentiment of evil tightening her heart, the second Mrs. de Winter walked in the shadow of her mysterious predecessor, determined to uncover the darkest secrets and shattering truths about Maxim's first wife—the late and hauntingly beautiful Rebecca (Amazon).
Sagittarius: November 22-December 21
"The Puma Years" by Laura Coleman
A walk on the wild side is needed and loved by a Sagittarius. Known for being optimistic, intellectual, spontaneous, and independent, this fire sign is going to love a book that gives them a sense of adventure and freedom all while stimulating their mind. 
Laura Coleman was in her early twenties and directionless when she quit her job to backpack in Bolivia. Fate landed her at a wildlife sanctuary on the edge of the Amazon jungle where she was assigned to a beautiful and complex puma named Wayra. Wide-eyed, inexperienced, and comically terrified, Laura made the scrappy, make-do camp her home. And in Wayra, she made a friend for life. Wayra would ultimately teach Laura so much about love, healing, and the person she was capable of becoming. Set against a turbulent and poignant backdrop of deforestation, the illegal pet trade, and forest fires, "The Puma Years" explores what happens when two desperate creatures in need of rescue find one another (NoveList Plus).
Capricorn: December 21-January 20
"The Parted Earth" by Anjali Enjeti
Responsible, motivated, and disciplined are a few words that often describe Capricorns. They create structure in their lives through their own hard work and accomplishments. But as pragmatic as Capricorns are, they shouldn't let the perfectionist in them get in the way of reflecting on their own emotions or the relationships in their lives. Enter "The Parted Earth"…
Before partition, the bloody 1947 cleaving that established India and Pakistan, Deepa was a happy teen in Delhi, loved by two parents who ran a medical clinic serving all in need. But hatred, politics, and fire destroyed her life. She left India, seemingly if not exactly alone, to live with her godparents in London, but tragedy continued to follow her. Fast forward two generations to Atlanta, where Shanti, who prefers the ambiguity of "Shan," has recently quit her legal firm after not making partner. A tragic miscarriage has forced her to rethink her future, and she finally realizes that she's ready to divorce her unreliable husband. Having lost her Indian father as a young child and being raised by her single white mother means Shan has also been estranged from her cultural heritage. Her older neighbor Chandani, a recent widow, provides Shan with the understanding and motivation to confront and reconnect with her past. Former attorney, activist, and journalist Enjeti has created a first novel that adroitly explores the lasting impacts of families fractured and repaired (Booklist). 
Aquarius: January 20-February 18
"Project Hail Mary" by Andy Weir
An air sign through and through, Aquarians are intellectuals and philosophers. Original thinkers, they want things that stimulate their minds. However, when thinking about book recommendations, a novel with elements of escapism will busy their active imagination to balance some of the overthinking in their day-to-day lives. "Project Hail Mary," a sci-fi novel by Andy Weir, will not only take them out of this world but provides a plot line for them to puzzle through. 
Ryland Grace is the sole survivor on a desperate, last-chance mission—and if he fails, humanity and the earth itself will perish. Except that right now, he doesn't know that. He can't even remember his own name, let alone the nature of his assignment or how to complete it. His crewmates dead, his memories fuzzily returning, he realizes that an impossible task now confronts him. Alone on this tiny ship that's been cobbled together by every government and space agency on the planet and hurled into the depths of space, it's up to him to conquer an extinction-level threat to our species (Goodreads). 
Pieces: February 18-March 20
"My Name is Memory" by Ann Brashares
Pieces are the ultimate romantics. As a water sign, they tend to be very much in tune with their feelings and the feelings of those around them. Pieces tend to be dreamers so a book with an epic romance that spans fate and time with a dash of fantasy is going to be right up their alley!
Daniel has spent centuries falling in love with the same girl. Life after life, crossing continents and dynasties, he and Sophia (despite her changing name and form) have been drawn together-and he remembers it all. Daniel has "the memory", the ability to recall past lives and recognize souls of those he's previously known. It is a gift and a curse. For all the times that he and Sophia have been drawn together throughout history, they have also been torn painfully, fatally, apart. A love always too short. Interwoven through Sophia and Daniel's unfolding present day relationship are glimpses of their expansive history together. From 552 Asia Minor to 1918 England and 1972 Virginia, the two souls share a long and sometimes torturous path of seeking each other time and time again. But just when young Sophia (now "Lucy" in the present) finally begins to awaken to the secret of their shared past, to understand the true reason for the strength of their attraction, the mysterious force that has always torn them apart reappears (Amazon). 
For more reading recommendations, visit with our librarians in Information Services or check out our service Your Next Read!