Hello, friends! How have you been? I have been doing well. Spring is here, and that means we get to go outside more. My mama and sister have been getting our garden ready. I am super happy about the garden, because that means fresh vegetables. My favorite! 
That's not the only fun thing we have been doing. My sister takes art classes, and she got to take me to one. We went to the big Art Center Warehouse where she does her class. There was a lot of neat stuff to look at there.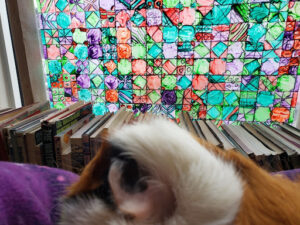 I learned about the color wheel and that there are primary colors and secondary colors.

The primary colors are red, blue and yellow. 

The secondary colors are what you get when you mix primary colors together. Like when you mix yellow and blue together, you get green. Isn't that so cool? Did you know about the color wheel? I love learning new things!

I wanted to paint with my sister, but mama said I couldn't. She said it isn't safe for guinea pigs, and I would be messy and would have to take a bath. I was disappointed, but I don't really like taking baths so I guess it was ok. I still had fun.
Do you like to make art? What is your favorite color? My sister is always drawing and making art. I like to watch her sometimes. She even drew me!
I have to go now. I think I hear mama in the kitchen; it must be snack time. See you soon!
P.S. There are lots of art books at the library. You should check them out if you want to learn something new. Oh, and Trinket says, "hi."
"If da Vinci Painted a Dinosaur" by Amy Newbold
"Aaron Slater, Illustrator" by Andrea Beaty
"Sky Color" by Peter H. Reynolds
"Seen Art?" by Jon Scieszka
"1-2-3 draw pets and farm animals : a step by step guide" by Freddie Levin
"I can draw wild animals" by Helene Leroux-Hugon