"I love spring anywhere, but if I could choose, I would always greet it in the garden." – Ruth Stout
It's that time! Finally! Buds are blooming. Bees are bouncing. Birds are … birding. If you've fought the itch this whole time, you're a stronger soul than I. In my own personal garden I've already planted kale, peas, cauliflower, spinach and carrots. See these little kale babies poking up?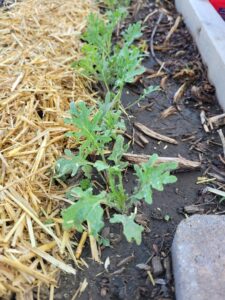 Even if you've already started digging in the dirt, there's still some chores that shouldn't be overlooked. I promise it'll make the rest of the season a lot easier if you have your gardening ducks all in a row. Here's an easy list of things to do before the gardening season flies into full swing.
Inventory your garden equipment (and clean it)

Do some quick figures for compost and mulching needs 

Stock up on soil amendments and fertilizers

Add those soil amendments and compost

Start planting!
Preparation is everything
Checking your garden gear for damage seems like a pretty boring thing to do, but you don't want to go to all the trouble of laying down your drip hoses, just to find out they've cracked or gotten plugged up. The same goes for other tools. Make sure your tools are still firmly attached to their handles and that your gloves and boots are still hole free. Nothing puts a damper on my garden mood like breaking my back fighting a wobbly shovel or dumping my compost when the wheel of my wheelbarrow falls off. Don't overlook your row covers and frost blankets! Would you like to snuggle up under a blanket full of holes? This is also a good time to stock up on labels and stakes, marking string, tomato cages and ties.  Do you like to start your seeds indoors? Now's the time to make sure you have enough peat pots and seed starting soil. And truly, while I don't personally start a lot of my seeds indoors, investing in a seed starting heat mat does work magic for germination rate, but only if it still works! 
Next you want to run some quick numbers to determine how much of each kind of soil amendment you need. Soil amendments seem tricky but they're not. Most soils are fine without heavy amendments, but if you've had garden disappointments in the past and you're worried that your soil might have some type of deficiency, it may be time to test your soil. Soil tests are fairly inexpensive and can save you a lot of guesswork and money. Always do your research and test your soil before adding any amendments to your soil. Too much of any of these amendments are just as bad as too little. 
Now that you know how much you need, it's time to stock up on those soil additives. 
The Science of Gardening
Nitrogen is important for supporting plant growth and helps plants produce chlorophyll (the stuff that makes leaves green). Without chlorophyll the plant will have difficulty absorbing sunlight and producing those necessary sugars and carbohydrates that it needs to survive. For nitrogen you'll need fish emulsion or blood meal (blood meal also helps with phosphorus that enables the plant to use those other minerals in the soil to make roots, seeds, flowers and fruits. The whole reason for gardening!)
For potassium you can add wood ash. Potassium helps plants move those sugars and water all the way  up into their leaves. Without it, your plants could be brittle or stunted. 
Other soil amendments you can add that don't always require a trip to the hardware store are: grass clippings, straw, compost, wood chips and manure. Grass clippings, straw and wood chips help the soil retain moisture meaning less watering for you and a more constant source of water for your plants (less chance your garden will wilt under this hot Kansas midday sun).  Compost and manure do this and more, by improving soil texture and water retention while adding nutrients to the soil itself.
As a general rule, compost and manure should be mixed into the soil to improve soil quality whereas straw, grass clippings and wood chips are added to the top of the soil as a protective layer against frost, weeds and soil aridity. Here's a useful book on starting your own compost and how to use it. "How to Make and Use Compost: the ultimate guide" by Nicky Scott 
Soil acidity: Soil acidity is another number to take into consideration. Soil testing kits can also test for soil's PH to determine how acidic your soil is. Most plants want a very neutral soil. However, some plants like most berries and deciduous trees prefer a more acidic soil. If your soil is too acidic, add compost or other organic materials to the mix. If you want to increase soil acidity add sphagnum peat moss or acidic fertilizers. 
Now it's time to add those amendments and get planting! It's important to mix in amendments before planting so your seedlings benefit from them and you don't risk upsetting the tiny roots of new plants. Generally soil amendments are placed on top of the soil and mixed into the top 6 or so inches. Once everything is good and mixed, it's time to plant. 
Kale, lettuce, onions, beets and carrots oh my! Now is the time to sow outdoors for these hardier plants. Many other seeds can be started inside but the seedlings need to be hardened off before transplanted. Some plants DO NOT like being transplanted so take that into consideration when planting.
Want to try something new and different? Come check out the Salina Public Library's seed library! Pick up one of our growing guides and see what we have to offer. Pick up four free packets of seeds per visit and try growing something new! While you're here, grab a few books on gardening and learn while your garden grows. "The First-time Gardener" by Jessica Sowards is a great one to start with!
"If you have a garden and a library, you have everything you need." – Marcus Tullius Cicero
Maybe you appreciate gardens without having the space for one or you just want to get out for a walk and pick up some tips along the way. Join us for the Master Gardener Demonstration Garden Guided Tour June 7. Registration began on May 7 and goes until June 5 at noon. Horticulture Extension Agent Jason Graves and the Central Kansas District Extension Master Gardener volunteers will take a walk around Kenwood Park starting at 6 p.m. giving a guided tour of the Kenwood Demonstration Garden. It's a perfect way to get some inspiration for your own garden while getting some fresh air as well as learning some tricks to dealing with the sometimes tricky Kansas climate. We hope to see you there! As always, we want to see what you're doing in your own garden. Feel free to send us pictures of all your hard work to me at circ.rebecca@salinapublic.org.
Happy Planting!
Enjoy some photos from my garden!