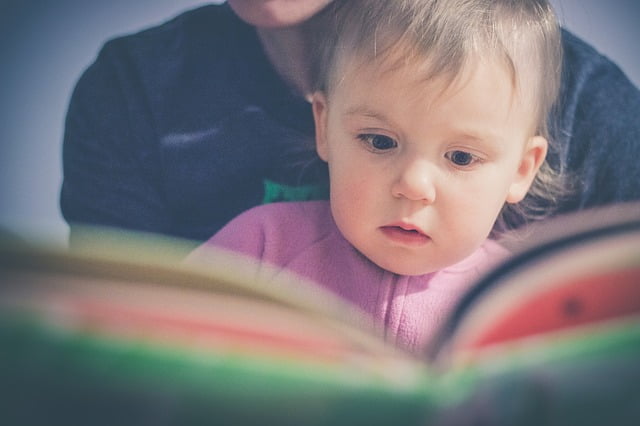 Many of you are familiar with seeing me at the Information Services desk having worked in that department in Salina Public Library for more than five years. You may be a regular or periodic attendee of the monthly Anime Club where I screen four episodes of an anime series or Book Club to New Worlds at Ad Astra where each month we discuss a selected book that is fantasy, science fiction or a graphic novel in those genres. 
Soon you will not see me for 12 weeks but I shall return after maternity leave. I am expecting a daughter to be born in July. You may miss me but don't worry, I plan to be back as a working mother librarian. While I am away, my coworkers will host Anime Club and Book Club to New Worlds so that those programs may continue in my absence. I will also miss all of the regular patrons I interact with but I imagine I will be quite busy with Baby Hazel to keep my mind away from the library. 
Since babies are on my mind, I wanted to highlight services and resources that SPL provides for babies and their parents for bookish babies. 
Brainy Babies is a great program that Salina Public Library hosts in the Prescott Room, specifically targeting infants. This popular program encourages and stimulates the relationship between parent, or caregiver, and child through fingerplays, songs, books and activities. Learn early literacy tips to help give your child a head start. No registration is required, Mondays & Wednesdays at 9:30 a.m. If you have not personally checked this out yet and have a child up to 18 months old, be sure to find some time to do so if you can. Since I typically work Wednesday evenings, I hope that it will work out well to take my baby to Brainy Babies in the morning, to daycare soon after, and then to work at the library. 
In addition to storytime at the library, we provide information on how to implement do-it-yourself storytime at home. Six categories of do-it-yourself storytimes are available to choose from: Bedtime, Family, Farm, Feelings, Movement and The Library and Reading. Each selection contains a list of picture books to choose from using our digital eBook service Hoopla; a YouTube video with a storytime song or song lyrics to sing with your child; and an activity to do with your child that is related to the topic, such as making paper plate animals, bedtime yoga; creating a collage; and more. This resource is useful for parents who are not able to make story times very often or even if they are, it is a great way to do story time with your own child while at home. Also you could adjust the activity based on their age like for a baby, such as reading the story and singing a song, but without the activity meant for older children.
This year, Salina Public Library began the 1000 Books before Kindergarten program. Kids will receive prizes for every 100 books read. For example, when 500 books are logged, your child is given a book bag and a book. When the program is completed with 1,000 books read, your child is given a shirt and a certificate. Plus, they even get to pick out a book of their choosing! If you are interested in signing up right now, there is a sign up form and tracking sheet available online. According to the FAQ, "1,000 Books Before Kindergarten is a fun, exciting, and free program aimed to start your child on the path to reading success! This nationwide challenge for you and your child is an easy way to get them ready to learn and read by sharing books together and earning prizes along the way! Any child from birth to 5 years old can participate."
Since books count that are read to children, even infants can be a part of this program. Also, the same book can be counted multiple times if your child has a favorite book they like to be read multiple times. Even books that are read to your child at story times, such as Brainy Babies, can count on your tracking form. 1,000 books may seem like a lot but there is no need to race, especially if starting the program as an infant. 1,000 books can go by surprising quickly! The FAQ points out, "1,000 books may seem totally overwhelming but we promise it's not as hard as you think! 3 books a day for 1 year = 1,095 books. 1 book a day for 3 years = 1,095 books. Ask our staff for suggestions. We are here to help you on your journey to 1,000 Books Before Kindergarten."
As you can see, it may not take as long as you think to read 1,000 books before your child is in Kindergarten. I definitely plan on signing up my baby for this program soon after she is born this summer to start reading to her as soon as possible and I encourage all of you to sign up for this program as well if you have a young child to foster the love of reading with. 
Besides programming and services for parents and babies, there are plenty of books for both available to check out from Salina Public Library. 
Board books contain much less text than picture books and therefore are more appropriate for babies' attention spans. Fortunately, we have more than 500 board books for people to check out with their library cards. You may not have known that Salina Public Library offers this option or if did perhaps not know there were so many to choose from. Here is a list of board books found in our catalog listed from most recently published but you can sort the search results however you want, such as by author or title. 
There is a board book topic for any topic or mood you are in to read to your baby and let them hold. The highlights for me are board books that involve animals. In our catalog there is sometimes an age range next to the word "Rating" to help you decide what may be the best to bring home to read to your child, although it is only a guide and you can definitely check out a board book with an older age range than your child if you believe they will be able to pay attention. 
A newer board book title about baby animals and targeted to babies is "Can Tapir Play?" by Sabina Gibson. In "Can Tapir Play?," readers will see Tapir slide and roll in the mud while tiger cubs learn to leap and baby monkeys attempt to swing and climb. Other books in this series that Salina Public Library owns include "Eat Up, Triceratops" and "Sleep Tight, Polar Bear." 
 Several DK Baby Touch and Feel board books are available to check out from Salina Public Library, which are fun for parents or caregivers to read as well as fun for babies to interact with the different surfaces on the pages. The books in that series available in the youth services board book section are "Baby Dinosaur," "Bible Animals," "Merry Christmas," and "Sophie and Friends," meeting Sophie, everybody's favorite French giraffe, and all of her friends.
The "Baby Basics" books were created to encourage tactile exploration, support hand-eye coordination, and help develop strong cognitive skills. We have a couple of those that you are able to check out: "Jungle Animals" and "My Animals."  
Baby Einstein books are available to check out as well to start learning in a fun way at an early age while still a baby. We offer: "Bard's Notebook: World of Words," "What does Violet See?: Birds and Nests," "Baby Santa's Very Merry Christmas," "My First Book of Colors," and "Touch & Feel Christmas." 
In "Haiku Baby," "the simple delights in a baby's natural world — a bird, a fish, a leaf, a snowflake, a raindrop — are celebrated in the traditional Japanese poetic form, the haiku. In just 17 syllables, a moment, a season, the elements are joyfully captured. Betsy Snyder's peaceful little board book has tabs to encourage little hands to turn the pages and adorable artwork to delight everyone!" For something poetic to read aloud, you may want to check this out to read to a baby. 
Designed for babies 6 weeks to 1 year old, Art Baby books use high-contrast images to provide visual stimulation as babies begin to make visual connections with the world around them. These wordless picture books for the youngest of readers are sure to capture the interest and attention of babies everywhere. The use of black and white shapes with bold colors creates stimulating patterns that babies love. In this series, we have "Spots and Dots" and "Hearts and Stars" to check out.  
SPL also has a couple books in the Bright Baby series to check out, "Animals," "First Words" and "Spring: Touch and Feel." "First Words" provides the youngest readers with the fundamental first words that will form the foundation of their vocabulary. Babies and toddlers will love the brightly colored images on every page, and the board book format is the perfect size for little hands to hold.  A combination of colorful pictures and simple words will help to build your child's vocabulary, color association, and sensory perception. With clear photography, bright colors, and simple text labels, Bright Baby board books help babies and toddlers to develop and build early vocabulary through the introduction of first words and pictures.
You can also find books on how to teach your baby to communicate at an early age with baby sign language. A board book that you can check out regarding this topic is "My First Baby Signs." Baby signs are simple gestures that allow infants and toddlers to say what they need, what they see, and even what they feel long before their vocal cords are developed enough to let them use actual words. This book includes the most popular signs and provides parents a place to begin "talking" with their little one from the very beginning. In addition to board books, we have more books on sign language for babies, both physically and digitally, such as "Teach Your Baby to Sign: An Illustrated Guide to Simple Sign Language for Babies," "Baby Signing Essentials: Easy Sign Language for Every Age and Stage," "Baby Sign Language," and "Baby Sign Language Made Easy: 101 Signs to Start Communicating with Your Child Now."
A book for babies and about babies that I want to highlight focuses on baby girls around the world. "Global Baby Girls" puts baby girls from around the world in the spotlight — celebrating their strength, diversity, and potential — from Peru to China, from Russia to Mali, conveying their potential to change the world no matter where they are born. An important message as a baby, such as my future baby girl Hazel, grows up to remember. A book on a similar vein, "Global Babies" gives glimpses into the daily life, traditions and clothing of babies from around the world.
As you can see, Salina Public Library has many books and resources to encourage bookish babies, fostering the love of reading and learning. If you want any recommendations to bring home for you and your baby, be sure to ask the Youth Services department for books in the juvenile section and the Information Services department for books in the adult section. All staff love to help!