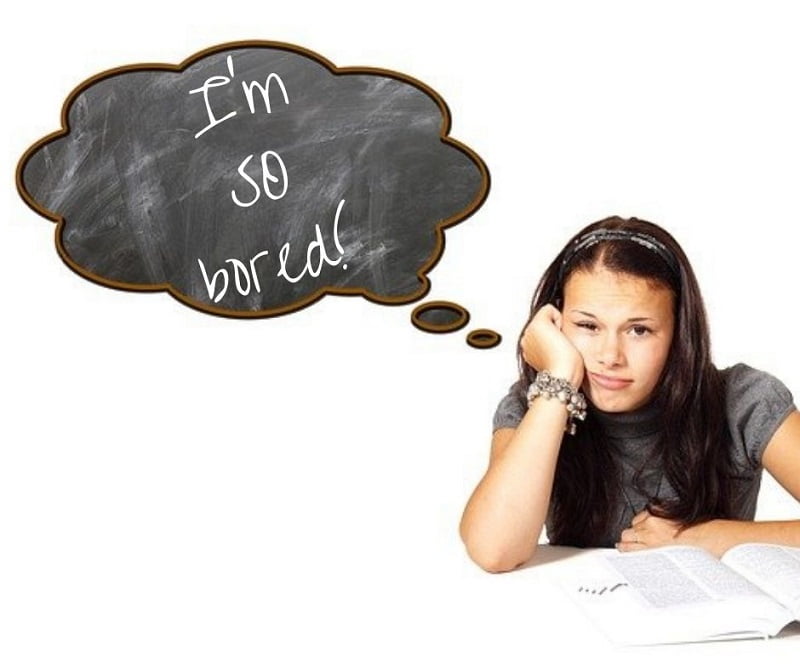 Apparently, July is Anti-Boredom Month. I just recently discovered that this is an actual thing for myself. Alan Caruba started National Anti-Boredom Month in the 1980s as a way to combat the moping around that happens in the summer after 4th of July festivities and before back-to-school planning happens. This monthly observance encourages everyone to identify what makes us bored and find ways to battle it.
When fending off boredom, it is important to know what the symptoms are and why we are truly bored. We often associate being bored with having nothing to do, but that is not always the case. Many times, we have plenty to do or are even doing something, but the task at hand does not excite our minds. It may be repetitive such as laundry, grocery shopping or paying bills. Sometimes what needs to be done is not challenging enough, and we may lose focus or interest all together. When this happens, we can become irritable, tired or begin to not care about how well we fulfill a task. Knowing why we feel like we are bored is important and could help identify an even deeper issue, such as mental health, financial struggles, etc. If this is the case, please seek out assistance as soon as possible from a professional source.  
Oftentimes, people seek out stimulation to relieve the boredom, which most of the time is probably just what we need. Depending on what we are seeking out, it may be good or bad for us, which can lead to new, healthy habits or addictions that are not always the best for us. Studies have shown that too much screen time is not a healthy habit, but scrolling through Tik Tok or YouTube is where many people find themselves when they are bored. I am sure most parents can identify with the child who is hungry, but just ate an hour ago. Once we've identified our causes for boredom, it is important to approach boredom with a set of positive challenges to keep it at bay. Instituting creative and healthy ways to beat boredom will no doubt improve our everyday lives. 
Here are some ways to keep yourself and your family from being bored:
Play a game

– Whether it is a board, card, scientific, video, or an outdoor game, this form of engagement is an excellent way to fight boredom. If your game collection is out of date or games are not easily accessible to you, head into the Salina Public Library's media section where we have a wide selection of table top, console, and outdoor games to choose from.

Go outside and do a physical activity

– Find a buddy and hike a trail at one of the parks in town or take your dog for a walk around the neighborhood. Swimming, riding a bike, or lifting weights at the gym are excellent choices. Whether it is inside or outside, exercise provides stimuli, produces endorphins which increases happiness, allows for fresh air and sunshine while improving health. Movement is good for your body.  

Learn about something unfamiliar or try a new hobby – Visit a museum, art gallery, or zoo, read a book / listen to an audio book, start a garden, learn a language, or take a class. The Salina Public Library's calendar of events is full of interesting activities to do this summer for people of all age groups. We also offer Rosetta Stone if exploring a language peaks your interest. Find your next read by searching through the online catalog or stopping in to check out what is on the shelves.
Clean, organize, or decorate a space

-Tackling a cluttered cupboard, closet, or even the garage brings about a bit of satisfaction for a job well done. Painting a room can add just the right amount of brightness needed. Additionally, donating any items you no longer need, allows someone else to get a blessing. 

Cook or bake

– Making food in our own kitchen with ingredients we enjoy gives us two ways to be satisfied. For me, when you can control the quality of the ingredients and the presentation, your food tastes better.   

Create

– Even if you usually do not create, just trying can help break the boredom cycle. I recently completed my first DIY door wreath. It took me longer than maybe some others would, but when it was complete, I was nothing short of proud of myself. Creative Bug, brought to you by Salina Public Library is a spot to seek out new ways to show your creative side.

Volunteer – Helping someone who needs something more than you often makes us reassess why we were bored in the first place. Many places are seeking assistance from volunteers. Get to know what volunteer opportunities are available in Salina. If you are looking for a volunteer opportunity, contact the Salina Public Library or fill out the volunteer form on our website.  
Socialize

– Visit with a friend or neighbor over the phone, video chat, or in person. Just a simple check in with those you care for can do wonders for their mood as well as yours.

Get out of town

– I realize the price of gas makes driving, flying, etc. not exactly on the affordable side right now. However, with a little bit of research, it could land you a great time at an economical price. Consider going to an air bed and breakfast a town or two away. Take a train to visit a relative, book a cruise package with your sisters, or split the cost of a road trip with a few friends who you enjoy spending time with. Whatever it is, a change of scenery is always welcome.  
Keep yourself from falling into the boredom trap and take some time to explore new things. Get out from under the normal lineup and stretch yourself to try different experiences. You just might end up discovering you have a talent, learning about something unique that interests you, or developing a new hobby. Remember, the Salina Public Library is always here to assist you with your inquiries by providing a space to gather, discuss, create, and get excited about what you are enjoying.