A fallen leaf is nothing more than a summer's wave goodbye – Unknown
It's that time again! Time to reap what we've sown and enjoy the fruits of our labor. There's still a little growing season left to squeeze out of Kansas. Always pay attention to your plants' cold hardiness zones; some plants just aren't tough enough to tolerate Kansas winter. Beets, radishes and carrots are all good choices for August planting as well as leafy things like kale, spinach and lettuce.
Hopefully you stopped by our seed library and have something delicious and beautiful to show for it. Here's a picture of some of my corn that I got from our seed library (it's not quite ready for snacking just yet)! But my spinach and kale is. Look at this beautiful salad bouquet!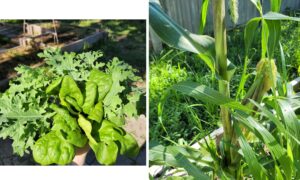 The seed library will be back next year so if you missed it, you only have to wait until next spring. In the meantime check out these canning and preserving books. There's lots of yummy tips and tricks in there. Don't let all your hard work go to waste. Pickle those beets! Dry those beans! Can those carrots! 
But it's not the end just yet! August in Kansas is a great time to give your plants the last fertilizer of the season and beef up your mulch layer that might have settled throughout the year. Think about it like putting a new blanket on our plants roots to prepare them for cooler weather. This is also nearing the last time you should prune your trees and shrubs as they will be slowing down and going dormant soon. If not being able to garden in full swing gets you down, just head on over to the library. 
Did you know that the Salina public library has items that aren't just books?  We have a set of garden tools ready to borrow in our Library of Things as well as other ways to enjoy nature including binoculars, outdoor games like disk golf and corn hole and even a telescope! Get outside! Get some fresh air, but remember to stay hydrated. It's definitely still hot out there.
Autumn is a second spring where every leaf is a flower- Albert Camus
Fall is right around the corner, but even though the growing season is almost over for most non-cold hardy vegetables, don't despair! There are still plenty of things you can do to enjoy the rest of the warm weather. How about a trip to one of our Kansas state parks? Well you're in luck! State park passes are here!  The library is providing daily vehicle permits to patrons free of charge for 28 state parks including Mushroom Rock, Kanopolis, Kaw River, Tuttle Creek, Wilson Lake and more. Permits are only good for one day and expire at 2 p.m. the day following the validation date which is perfect for a day trip or a last minute adventure before the end of the warm season. Each patron 18 years and older can have access to ONE free state park pass per year. Come snag one before we run out. 
Life starts all over again when it gets crisp in the fall- F. Scott Fitzgerald "The Great Gatsby"
Autumn can also be a time where we take inventory of our lives. Most of the hard garden work is done and time slows a little down. It can be harder to get outside and stay active as the weather cools and the rains come and the frosts are on the horizon. If you find yourself being stiff and achy on the colder mornings, maybe it's time to loosen up with some yoga. Here at Salina public library we have several yoga-themed events on our events calendar and even a yoga mat for borrowing up by the front desk.
Fall Yoga Moves
Fall Yoga Chair
Fall Yin Yang Yoga
One last thing to mention before I myself settle into preparing for winter is that August 18 is the last of the public health screenings by Salina Family Healthcare. They offer blood pressure, pulse, oxygen saturation, and blood sugar checks. Patrons can receive health education, talk with a nurse, receive assistance with discount program applications (purple card), and schedule appointments at Salina Family. Don't miss it! It's a perfect health snapshot. We hope to see you there!