My home is my own personal sanctuary.  It is the place where I can be 100% authentically myself with complete disregard for what condition my hair is in or if someone requires my attention.  It is where I relax and unwind after a long day.  Stocked with all my favorite snacks, drinks, comfy pillows, soft blankets, artwork that sparks happiness, etc., this space is where I can snuggle up with my furbabies on a cold winter evening, stream a movie while enjoying Thai take out with a friend, have long phone conversations with my sister, or take part in the not so fun tasks such as laundry and washing dishes.  No matter what I am doing inside my home, having a spot that is functional, comfortable, and pretty is a requirement.  
The place in which I reside is also a reflection of me on so many levels.  It showcases my choice of color, texture, patterns, and lighting, preserves memories that I hold dear, and highlights what brings me joy.  For someone who has an infatuation with home decor, although fun, it can be daunting to put the scheme of your home into an effortlessly flowing, cohesive look.  That is why identifying a decor style is fundamental.  After years of decorating and redecorating my spaces, I have narrowed down my specific home decor style.  I tend to gravitate towards a mixture of two styles.  We will get into those specifics a little later, but knowing what I like has always been important.  
The first and most obvious reason for this is that it makes the decorating decisions easier.  Yes.  All of the decisions over all the things.  Face it, there are multiple types of decorating styles.  Decisions like what to keep and what to let go of and what bigger design elements or projects you may want to start saving for are all part of the planning process.  Deciding if you really need that decorative pillow that called your name in HomeGoods because it will add to your space appropriately, or if you just appreciate it for its beauty.  In other words, it will help you edit your choices and not let you end up with a bunch of things that look good but do not make sense together. 
Secondly, it will help you to be cognizant of how to mix the types of interior design styles represented in your household.  It is possible to have different home decor styles present and intermingled in a home.  This is actually essential to do so because it creates a ton of interest and ends up telling the story of everyone who lives there.  Lastly, it will allow you to know which ideas and inspiration to act on because you will have to set some guidelines.  Not every awesome idea or look needs to make an appearance in your home decor.  You have to decide what are the most important factors to incorporate into your home.
Now you understand why it is beneficial to know your home decor preferences.  So now, we can discuss some of the common home decor styles so you can identify what you like.  There are several, but for the sake of time, I will refer to six styles and the focus will be on living room spaces.
TRADITIONAL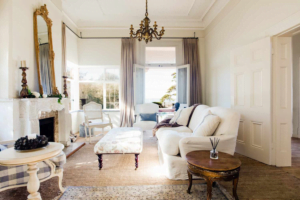 Details, details, details.

Furniture with curves like rolled sofa arms, tufting, and curved legs on tables.

Floral or organic patterns mimic those same curves.

Items are typically placed in pairs like matching table lamps on either side of the sofa.

Muted color palette.

Dark wood tones.

Antique items are often incorporated with newer pieces.

Traditional style will kind of always be on trend so it stands the test of time.

It is easy to mix this style with another style.
For more traditional design style ideas, check out New Rooms For Old Houses: Beautiful Additions For The Traditional Home by Frank Shirley.
MODERN
Clean, sleek lines and minimal detail.

Not a lot of texture usage.

Asymmetrical layout.

Veined marble, refined metals, and glass.

Limited use of accessories.

Graphic patterns follow the clean line look.
For more information regarding modern design style, check out Kaleidoscope: Modern Homes In Every Colour by Amy Moprea Wong.
RUSTIC OR INDUSTRIAL
Tons of texture.

Unfinished raw materials – wood, stone, and metal.

Exposed elements like wiring, pipes, brick walls, and beams.

Non-functional repurposed items used as decorative accessories or features.
For more rustic/industrial home design ideas check out Make It With Burlap: Rustic Chic Home Decor and More by Cheyanne Valencia or Salvage Secrets Design & Decor: Transform Your Home With Reclaimed Materials by Joanne Palmisano.
TRANSITIONAL
Balances somewhere between modern and traditional. 

Combines elements of the two styles together to create a classic and elegant look.

Neutral color palette, organic textures, minimal artwork and accessories, and comfortable furniture.

Being matchy-matchy does not matter.
For more ideas on how to style in the transitional method, check out Home Style by City: Ideas and Inspiration from Paris, London, New York, Los Angeles, and Copenhagen by Ida Magntorn. 
ECLECTIC
Anything goes as long as everything means something to you.

Homeowner defines the aesthetic. 

Items are collected over time and are a mix of high-end and low-end or new and vintage.
For more information on how to eclectically furnish your home, check out Flea Market Finds Before & After: Home Decorating With Makeover Miracles by Leisure Arts, Inc.
MID-CENTURY MODERN
Simple yet clever.

Easily identifiable by the tapered style of legs.

Somewhere between classic and unconventional.

Influenced by minimal Scandinavian design.

Plastic, fiberglass, vinyl, lucite, and plywood.

For more information about mid-century modern design style check out

Mid Century Modern: 15 Interior Design Ideas

by Ivy Ngeow.
There are a plethora of other options and combinations of styles that you could pull ideas and inspiration from, but the previously mentioned ones are referred to quite often in the design world.  You now know about the design styles to choose from, why deciding on one is important, and how it can help bring everything together in a space.  Designing one's home does not happen overnight.  Selections that speak to you, make you happy and accommodate the kind of lifestyle you live should take some time as searching for the right pieces is part of the fun.  In the end, once everything has come together, it is worth having that place to call your own and that you love to be in.  If you want to further research your design style, check out 150 Best Interior Design Ideas by Francesc Zamora.  Happy decorating!