The month of October is known for three main holidays or celebrations – Halloween, Breast Cancer Awareness, and Pride.  While these days are amazing to engage in, did you know there are many, many ways to celebrate in October?  First and foremost, it is Autumn, which happens to be my most favorite season.  Fall has a whole vibe all its own.  It brings on cozy and layered apparel, cold weather comfort food recipes, and then there is the foliage.  October is packed with food-centric holidays, such as National Dessert Day.  As a self-declared foodie, I appreciate this.  There are also creative celebrations, such as National Fine Art Appreciation Day.  October is chock full of fantastic ways to celebrate and I have created a condensed version of several (mostly foodie) reasons to celebrate something for each day in October.  While these may not be for everyone, there is bound to be something for everyone.
October 1: World Vegetarian Day
I personally could almost be a vegetarian, but I like some things like chicken and turkey way too much to completely sever ties with them.  If this is something up your alley, finding a plant-based version of many popular dishes is simple.  In the spirit of World Vegetarian Day, try some vegetarian recipes in the book Vegetarian Recipes For Everyone by Deborah Madison.
October 2: International Day of Non-Violence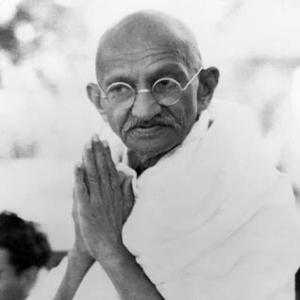 The day represents a time to spread the message of peace and tolerance and is celebrated on Mahatma Gandhi's birthday.  Gandhi's work advocated for nonviolent protest to stand up for freedom and civil rights.  To learn more about Gandhi, check out All Men are Brothers: Life and Thoughts of Mahatma Gandhi as told in His Own Words by Mahatma Gandhi. 
October 3: 'Mean Girls' Appreciation Day
Who does not love the 2004 movie Mean Girls?  One of my fav's from that time frame, quotes from the movie are ingrained in pop culture, and the movie featured prominent acting talent.  The movie was written by Tina Fey who is a Saturday Night Live alum and starred in the movie alongside Lindsay Lohan, Rachel McAdams, Tim Meadows, and Amanda Seyfried.  To get your Mean Girls fix and experience "On Wednesdays, we wear pink" or "Stop trying to make 'fetch' happen", check out the DVD or audiobook here at the Library and throw on an extra-large pink polo shirt!
October 4: Cinnamon Roll Day
Cinnamon rolls…I mean, need I say more?  Ok, I will.  Whether for breakfast or a late-night hankering fulfillment, cinnamon rolls are perfect for chilly weather.  In my opinion, these are best served warm with freshly brewed coffee or a glass of milk.  For Cinnamon Roll Day, try making some from scratch.  The Salina Public Library has several books on baking with yeast and dough to give you a starting point.  Take a glance through the catalog to find what suits you.  If you are new to this type of baking, even if they do not look that pretty, they are sure to taste delicious with maple, caramel, cream cheese, or any flavor of icing.
October 5: National Be Nice Day
People should always be nice to each other, but on this day, keep it at the forefront of your mind and commit to having positive interactions.  Compliment a co-worker whose contributions sometimes go unnoticed, surprise a family member or friend with a "just because" gift, or donate to a local organization.  You never really know what someone is going through, so just be kind.
October 6: Garlic Lovers Day
I do not know about you, but for me, this is one of the most important seasonings you can add to your dishes.  You can never have too much garlic!  For Garlic Lovers Day, order your favorite garlic-centric dish such as a pizza with extra garlic dipping sauce, garlic knots, or garlic chicken and broccoli.  The possibilities are basically endless because garlic is delicious in a plethora of savory dishes.  Get some inspiration in the User's Guide To Garlic by Stephen Fulder.
October 7: National Frappe Day
Plain black coffee serves its purpose – caffeine.  However, iced coffee is not only delicious and refreshing, it affects the body in a different way than the traditional hot brew.  Drop for drop, you are getting the same amount of caffeine.  However, most people drink hot coffee at a different rate than cold coffee, which impacts how quickly the caffeine kicks in.  The faster you drink it, the faster the effects are felt.  I do not know about you, but I prefer my caffeine fix to come with a quickness.  
Frappes originated in Greece when a businessman was unable to locate a hot water source to make instant coffee.  He used cold water and ice instead, and the rest is history.  There are many different flavor combinations and establishments where you can experience a frappe-style beverage, so pick your favorite and enjoy.
October 8: National Pierogi Day
If you have never tasted a pierogi, you are seriously missing out.  Pierogies are nothing short of tiny heavenly plump pockets of deliciousness.  The first time I tried one was when I went perusing local shops in Boston.  They come stuffed with your choice of meats, cheeses, potatoes, or veggies, pierogies are fried in butter, and topped with the likes of sour cream or some sort of savory gravy.  If you are feeling froggy, make some dessert pierogies with apples and cinnamon or strawberries and cream cheese.  Maybe even make a quick glaze with confectioner sugar and milk.
October 9: International Beer and Pizza Day
Pizza is an all around popular dish, no matter how you prefer to top it.  Why not wash it down with an ice-cold beer for the perfect pairing?  The bitterness of the beer will cut the richness of the pizza, leaving you with a perfectly balanced palate.  To learn more about the different brews from Kansas, check out Kansas beer: A Heady History by Bob Crutchfield.
October 10: National Angel Food Cake Day
Angel food cake is a delicious blank slate with its light and fluffy texture.  Grab one from the grocery store or local bakery and top it with coconut icing, chocolate frosting, or berries and whipped cream for a quick and easy sweet treat.  
October 11: Southern Food Heritage Day
Southern food has long embodied some of my favorite cuisines.  From Po' Boys and gumbo to fried chicken and peach cobbler, the South knows how to throw down in the kitchen and has a rich history to boot.  Test your Southern cooking skills by starting with some simple recipes like red beans and rice or banana pudding.  Use the Southern Heirloom Cooking: 200 Treasured Feel-Good Recipes by Norma Jean McQueen Haydel.  Not only do these dishes showcase the delicious flavors of the South, but they are packed with history.  While making a Southern meal, look into the history of the dish you decide to make.  Then you can feed your belly, your mind, and your soul simultaneously.
October 12: National Gumbo Day
The state food of Louisiana is gumbo.  With ingredients such as fresh shellfish or sausage, delicious stock, along with bell peppers, onions, and celery, homemade gumbo is versatile and packed with flavor.  You are able to utilize what you have on hand as there are no set rules.  Add your favorite hot sauce or Cajun seasoning for an extra kick to celebrate this day.
October 13: ​National M&M Day
Grab a handful and pop them in your mouth.  Better yet, sort them by color before eating them.  I love blue ones.  What can't you do with an M&M?  The options are endless: bake them in cookies or bars, put them on top of ice cream or pies, decorate a cake, or eat them all on their own.  While the original plain M&Ms were created in 1941, these days there are several other varieties, including peanut, peanut butter, mint, coffee, and caramel.  Choose your favorite way to enjoy these candy-coated chocolates and celebrate National M&M Day!
October 14: National Dessert Day
If you have been looking for an excuse to bake a pie or whip up a banana split, National Dessert Day is the perfect day to do it. Indulge in your favorite delicious dessert on this day, or try a new recipe.  You cannot go wrong when it comes to dessert.
October 15: National Cheese Curd Day
If you do not know what a cheese curd is or have never partaken in one, what are you doing with your life?  No one ever said the name cheese curd was the most appealing, however, these deep-fried blobs of cheese are so insanely tasty that most can overlook that.  Whether you chow on some cheese curds for a snack, enjoy them as an appetizer before the main course, eat them as a side dish, National Cheese Curd Day is the time to get your cheese curd on.
October 16: National Liqueur Day
Grab your cocktail glass and raise your pinkies—it's time to toast to National Liqueur Day.  A liqueur is an alcoholic drink composed of spirits and other flavorings such as sugar, fruits, herbs, and spices.  Often served with or after dessert, they are typically heavily sweetened and un-aged unlike its cousin beer.  Sipped straight or mixed into a cocktail, liqueurs can add richness, sweetness, and warmth to nearly any happy hour.  Mix up your favorite drink or try something new to celebrate this day by checking out That's The Spirit: 100 Of The World's Greatest Spirits, Liqueurs And Digestifs To Drink With Style by Jonathan Ray.
October 17: Wear Something Gaudy Day
Gaudy refers to the tasteless use of overly bright, often clashing colors or excessive ornamentation on clothing.  On this day, grab the loudest, flashiest, and gaudiest getup in your closet and celebrate Wear Something Gaudy Day.  Compare your choice of attire with friends, family, and coworkers, have a contest for the gaudiest outfit, and enjoy a day filled with laughter and fun!
October 18: National Chocolate Cupcake Day
There is something about a chocolate cupcake that feels decadent, even though it is a handheld cake.  Whip up a batch of chocolate cupcakes to celebrate this dessert-themed holiday. Layer on the chocolate flavor with some chocolate frosting or go with another classic combination, such as buttercream or peanut butter frosting.
October 19: National New Friends Day
While old friends are staples, there is always room to make new connections.  You never know where you will find a new acquaintance who can become your new best friend.  So for National New Friends Day, strike up a conversation with a stranger or make a plan to hang out with an acquaintance, and find that common ground that could lead to friendship.  Explore the Salina Public Library's calendar of events for opportunities to connect with individuals who share similar interests.
October 20: National Brandied Fruit Day
Finding fresh peaches or strawberries in the middle of winter is no easy task.  However, preserving your fruits in alcohol makes it possible to enjoy seasonal flavors all year long—and National Brandied Fruit Day is the perfect time to try this.  All you need is the fruit of your choice, brown sugar, white sugar, your favorite brandy, and at least one month of preserving time.
October 21: Back to the Future Day
The Back To The Future movie series is an iconic 1980s flick.  October 21 is symbolic in the popular and epic movie series "Back to the Future," as the day Marty and Doc travel to help save his family.  If you have not watched this series yet, head over to the Salina Public Library and check out the trilogy on DVD.  Do you also need a DVD player to watch this or other movies?  We have you covered in that area as well.  Whether you are already a fan or a newbie, pop some popcorn and sit down to enjoy this movie tonight.
October 22: Eat a Pretzel Day
While I prefer soft and chewy, slightly salted pretzels with cheese dip, other types of pretzels have long been a snack staple.  Having been present in North America since sometime in the late 18th century, pretzels come in a variety of flavors, shapes, sizes, glazes, and even as pizza.  Be sure to enjoy some pretzels on this day.
October 23: National Boston Cream Pie Day
Boston cream is a weakness of mine.  A donut, pie, cake, anything Boston Cream affiliated is alright by me.  That sweet delicious custard paired with chocolate is so satisfying.  Grab something Boston Cream from your local bakery or make your own for National Boston Cream Pie Day.
October 24: National Bologna Day
Bologna is not on my list of favorites, but some people really enjoy it.  This luncheon meat usually contains pork and various seasonings, but it also can be made out of other meats such as beef and there is even a vegetarian bologna.  If you have never tried it, make yourself a bologna sandwich in honor of National Bologna Day.
October 25: National Fine Art Appreciation Day
National Fine Art Appreciation Day falls on the birthday of artist Pablo Picasso.  To commemorate the day, try your hand at any artistic expression you enjoy, whether it be painting, dance, photography, music, or otherwise.  Art is subjective so engage in something that makes you happy.  Peruse the Salina Public Library's calendar of events to find out when the next Gallery 708 showing is taking place.
October 26: National Pumpkin Day
With Halloween in close proximity, the pumpkins are out in full force and the possibilities of how to use one is vast.  Create an amazing carved pumpkin for your doorstep from Pumpkin Carving!: A Show-How Guide by Renee Kurilla, toast pumpkin seeds with your favorite seasonings, or blend pumpkin flesh into baked goods for seasonal flavor.
October 27: American Beer Day
Recalling the taste of beer is not the most pleasant in my opinion.  That being said, there are many individuals who enjoy it and there is actually more to American beers than those bitter, flavorless brews.  In fact, the American craft beer movement has ushered in a golden age of beer.  For American Beer Day, check out your local brewery for some new-to-you beers.
October 28: National Chocolate Day
Chocolate, whether dark, milk, white, and spiked with nuts and other goodies, is on my list of life's greatest pleasures.  If you have not already treated yourself on National Chocolate Cupcake Day, or even if you already have, today is another good day to indulge in chocolate.  Make a chocolate-centric recipe, such as cake, brownies, ice cream, homemade candy, or splurge on some quality chocolate that you can let melt in your mouth piece by piece
October 29: National Cat Day
I am a dog mom, however, if you are a cat parent, you know cats have many characteristics to love and celebrate.  They are absolutely adorable, cuddly (sometimes), and amusingly judgmental.  Today, give your feline a little extra love by extending playtime, treating it to a fun new toy, or offering a bit of catnip.
October 30: Haunted Refrigerator Night
Moldy casserole.  Chicken that regrew its legs.  Spoiled milk.  A mystery blob wrapped in tinfoil.  Your refrigerator can be a scary place if not maintained.  Today is the day to conquer your procrastination and banish the ghosts of foods past by cleaning and organizing the fridge.  Start by tossing any old or spoiled food.  Then, clean the interior surfaces and produce bins.  Finally, reorganize your food.

October 31: Halloween
After crafting costumes, carving pumpkins, and setting up a scary vignette at the front door, Halloween is finally here.  Kick back and admire your spooky work with a few candy bars before the trick-or-treaters snag them all.