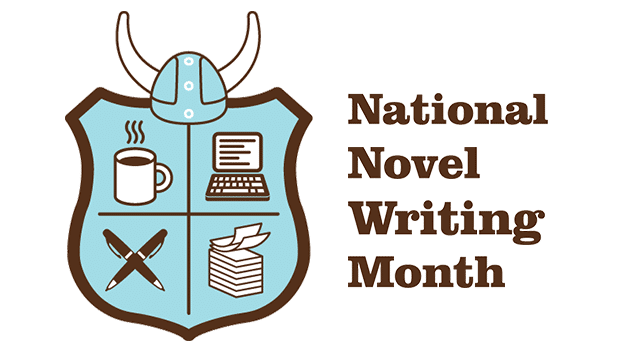 Come Write In Spaces

NaNo at SPL
Each November, the non-profit organization NaNoWriMo invites writers across the world to participate in National Novel Writing Month. Beginning in 1999, the challenge asks writers to write 50,000 words of a novel in the span of 30 days. NaNoWriMo as a program looks to encourage all writers at any stage in their writing journey to emerge from the challenge with a first draft of their novel. It has become increasingly popular with the advent of social media and in 2022 the non-profit recorded 413,295 individual writers who participated in programs related to National Novel Writing Month. The program is community-led and encourages writers to connect with each other and with businesses and organizations participating as writing spaces or holding events. 
Realizing how daunting this task can be, the non-profit offers many different tools and resources to writers to help them along the way. These range from online tools, writing activities to help writers prepare ahead of November, and in-person events/writing spaces. The first step to participating in NaNoWriMo through the organization is to create an account on their website nanowrimo.org. From there, participants can decide to set their own independent writing goals, set an official challenge goal (which comes with helpful tips and resources in your email), explore the how-to materials, join forums with other writers, and track their overall writing progress. You can also join the group devoted to your local region, to connect with other local writers and get notifications about upcoming events in your area. NaNoWriMo is also an excellent opportunity for kids to flex their writing skills through the Young Writers Program. It works similarly to the adult version, just geared with advice and practice for younger writers! You can sign up for the Young Writer's Program through the website ywp.nanowrimo.org.
If you are looking for a space to write or connect with other writers, make sure to explore what community spaces near you might be holding in-person events. Places like bookstores, libraries, and other community centers can sign up with NaNoWriMo to function as a Come Write In Space. These Write In Spaces may hold writing workshops and events as well as simply designate a place for writers to come and get their creative juices flowing. When you join your local area group on the NaNoWriMo website, you should be able to see when and where events are happening, as well as coordinate with the Municipal Liason who works to make sure NaNoWriMo is as successful as it can be in your community. 
Here at Salina Public Library, we encourage writers of all stripes to continue honing their craft year-round, but would love to see some writers visit us during NaNoWriMo! On November 1 and 15 from 5-7:45 p.m., the Campbell Room is reserved for any writers who want to come in and use the space. We also have an Adult Writer's Group that meets twice a month, so if you are looking for advice or opinions, they would love to have you attend! On November 2, 9, 16, and 30 from 5-6:15 p.m., the Youth Services Department will hold a Come Write in Space for teens in the Prescott Room, registration is required. For more information about these events, take a look at our online Event Calendar! Good luck, and happy writing!